We bought a house with a pink front door. Seriously!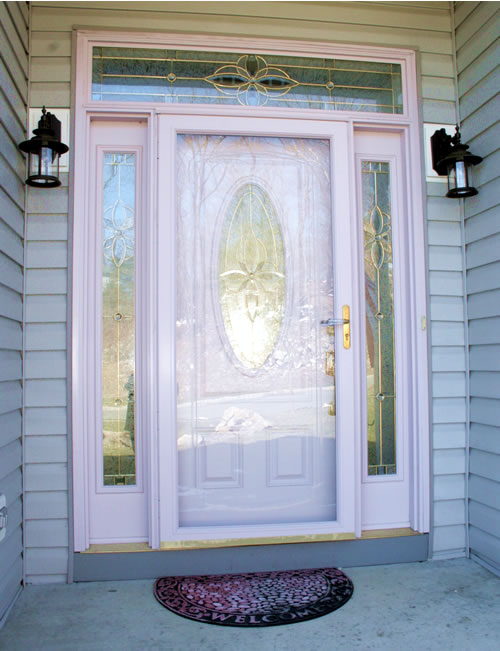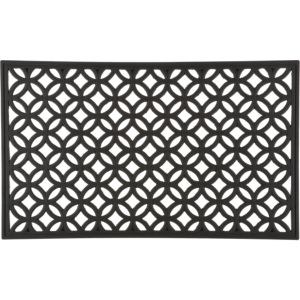 While our real estate agent fiddled with the lock box, we couldn't help but notice the pink paint, worn out welcome mat and the dirty lights. We were skeptical of the house before we even step foot inside. And yes, the inside of the door was pink as well.
Since moving in, we painted the door blue with white trim, updated the welcome mat, cleaned the lights and added a potted plant. We also painted the gray shutters black for a little more pop.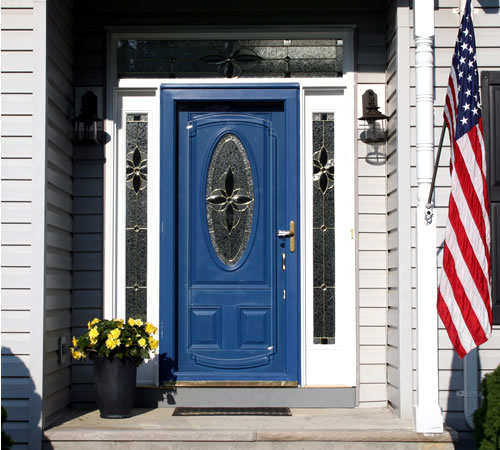 Simple projects with a simple price tag of just $50 plus paint and time.
During my project, I was inspired by reading about before and after front door projects on other blogs. Here are a few that really stood out:
White to Green
Here's a great transformation of a bungalow from www.urbannestblog.com – they too painted their shutters black, but opted for a fabulous pop of green for their door. Really gives their house a crisp finish with lots of personality (wait – am I talking about a fine wine?).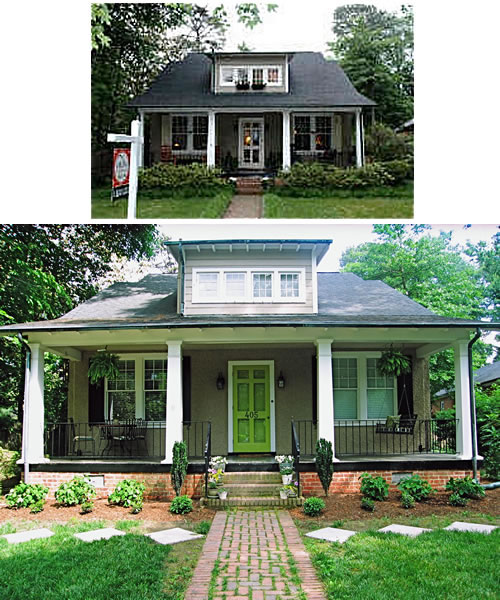 White to Black
Here's a blogger who made a dramatic update while her husband was out – the "ask for forgiveness not permission" approach. Ditching the screen door was smart! She is my idol!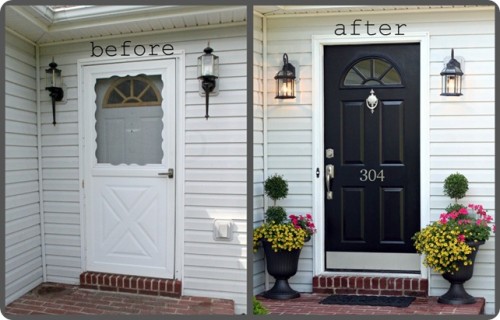 Read more at 320 Sycamore:
Red to Blue
Now here's a blogger who loved her red door, but decided to go blue for a change, just because! The door looks fabulous both ways!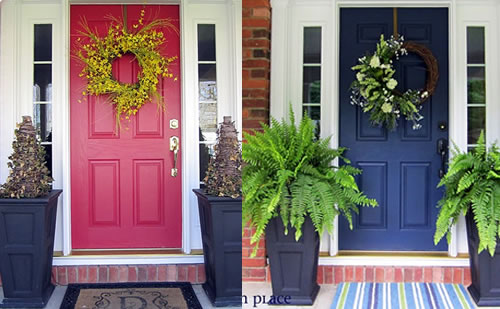 Read more about it at On Sutton Place.
Natural to Black
I really love this example – I hear many men say "you don't paint real wood, ya know" – but this is a great example of why you SHOULD!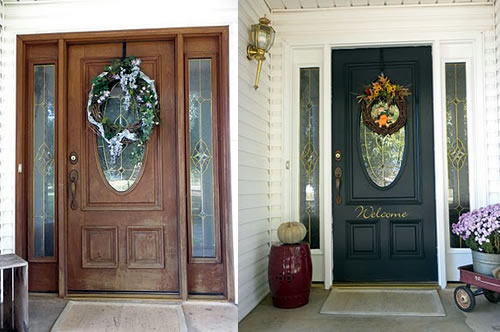 Read more about it at A Meek Perspective
Staging Your Front Door
Thinking about selling? Start with the front door! Here's a fun before and after with an insanely small budget – can you find the differences?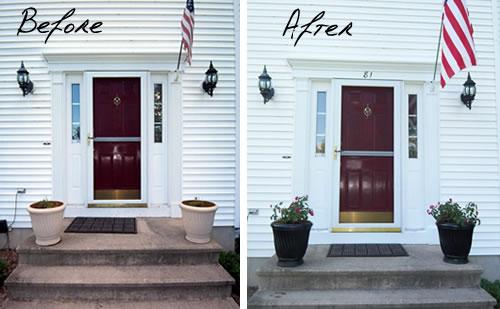 Swept the steps, cleaned off the door mat
Hosed down the area to clean out the cobwebs and gunk out ($0)
Painted the wood trim around the door ($0 – homeowner had paint in the bsmt)
Added house numbers over the door ($5)
Spray painted the urns ($3 for can of Kryon)
Added "live" plants ($2 – incredible deal at IGA)
Replaced the flag with a new (albeit cheap) one from Michaels ($5)
That's a whopping grand total of $15!
If you are getting your house ready to sell, check out these practical design tips for staging your front door.
Need more help finding the right color for your front door? Check out these popular front door colors from House Beautiful.
What color is your door? Are you thinking about painting it? What color?