Color tells a story. It can even describe an entire decade. I attended a Benjamin Moore Webinar presented by Doty Horn (BM's Director of Color and Design) about color trends over the decades in hopes of better understanding the context for the color trends that we see year to year. (note: Doty is a rock star, IMO).
But what I learned surprised me, which I'll share with you at the end of this post (no cheating by scrolling down!).
There is an interesting rhythm of color over time. We tend to define time in decades, and illustrate them by external events and the aggregate emotional state of being at that time. There are wars, political changes, industrial and innovation changes, art and culture influences, and so on.
I'll do my best to summarize each decade with key phrases, starting with 1880.
1880: Victorian Period, Grand, Glamour.

1890: Innovation, Gilded Age, Art Nouveau, Mauve, Cobalt Blue.

1900: Bungalow Movement, Silent Movies, Immigrants, Cubism, Organic/Simple Décor, Frank Lloyd Wright.

1910: Grand Central Station, Norman Rockwell, WWI, Working Women, Craftsman Style, Home Magazines (E.G., Good Housekeeping), Use Of Bolder, Richer Tones W/White Contrast.

1920: Soldiers Home. Women Empowered, Roaring 20's, Flapper Dress, Jazz Era, Bob Haircut, Art Deco, Soft/Muted Colors.

1930: Great Depression, Escapism, Wizard Of Oz, Practical, Simple, Mix & Match, Finding Joy In Color (E.G., "Depression Glass"), Frank Lloyed Wright Falling Waters

1940: WWII, Rosie The Riveter, Telephones In The Home, Tupperware, Polaroid, Shoulder Pads, Simple Design, Big Band, Movies, Willingly Making Sacrifices For The War, Dorothy Draper (1939 Book Decorating Is Fun!, Subtitled "How To Be Your Own Decorator")
1950: War Over, Women At Home, Suburban Sprawl, TV's In The Home, Poodle Skirts, Elvis, I Love Lucy, Youthful Attitude, Baby Boomers Emerge, Convenience, 2 Car Garages, DIY, Barbie, Fiestaware, Formica.

1960: Civil Rights Movement, Youth Culture, Protests, Alternative Fashion, Mixed Patterns, Bold/ Psychedelic Colors, Acid, Bowl-Cut Hair, Beatles, Empire Waistline.

1970: Watergate, Vietnam Ends, VCR, Atari, Mood Rings, Earth Shoes, SNL, Saturday Night Fever, Grounded Colors Toned Down, Organic.

1980: "Me, Money & Materialism" ~ Doty Horn, Celebrity President, Berlin Wall, Live Aid, DINKS, Yuppies, Minivans, MTV, Michael Jackson, E.T., Miami Vice, Unemotional Time, Color Colors, Spacious Rooms Without Boundaries, Natural Light.

1990: U.S. as World Leader, Bill Clinton, Internet, Y2K, Environmental Awareness, Retro, Green Decade, Recycling, Natural Materials And Fabrics.

2000: 9/11, Economy Shifts, Wall Street Declines, Ecommerce, Green A Way Of Life, Social Networking, Rebirth Of Color – Not Afraid To Bring Color In The Home, HGTV.

Ok, now did you see it? Notice a pattern?
Look at the even numbered decades compared to the odd numbered decades. There is a back-and-forth pattern between edgier, cooler, less emotional colors with a return to warmer, softer, more organic colors. There is a curious ebb and flow from decade to decade, driven by the world around us and our emotional state of being.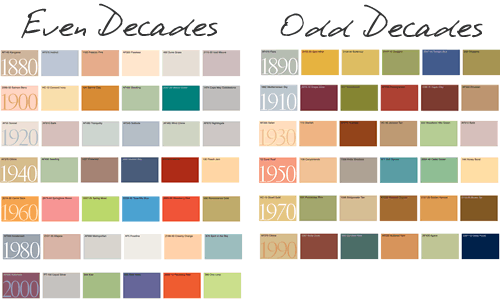 Now, think about the house you grew up in. Your first house as a decorating "grown up" and the house you live in now. How do you think your style and color preferences are impacted by the decades you've been exposed to?
By the way, I had not read Dorothy Draper's "Decorating is Fun" book – and after this research, I decided to order it, as well as "Entertaining is Fun" for my birthday. I'll let you know how I like it!
Now if you're interested in looking FORWARD in time, you can read my summaries of Doty's forecast for 2011 color trennds and (for those who plan ahead) 2012 color trends. It will be interesting to see if this decade continues the pattern.