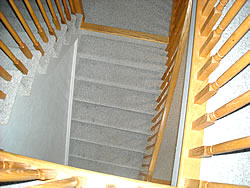 *This post was from 3 houses ago (a.k.a. as "The Lion House"). Because I still get so many questions about this project, I've updated this post.*
When we first looked at this home, I was rather turned off by the staircase. It was carpeted in dirty gray Berber carpet which wrapped around the edges, suggesting mere yellow pine underneath. It was almost a deal-breaker. I knew I'd be painting stairs sooner than later.
Because the stairs are clearly visible from the foyer and family room, we had to do something, but without breaking the bank. So I got busy (understatement).
Painting Stairs: The Plan
Remove carpet (yellow pine underneath)
Paint treads espresso and rails to match (I went with "Stealth Jet" from Behr)
Paint risers and spindles white to match trim in the house
Note: I should mention, the gray carpet was also in the upstairs hall…we added hardwood to the upstairs hall and the stair landing.
Painting Stairs: Before and After
I'm thrilled with the results, and it has truly changed the heart of the home.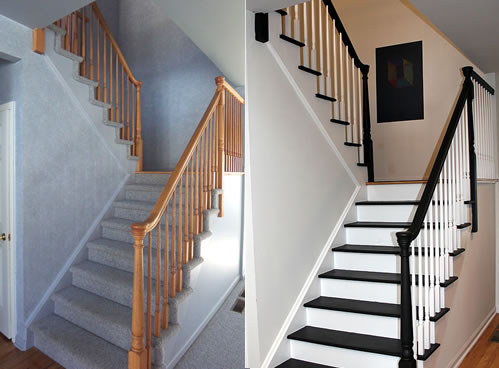 If you're considering doing this in true DIY fashion, hopefully these before and after shots will inspire you. And after the pictures, I've included some FAQs and practical tips to help you along.
So first, the before and after shots, then on to the pictorial evolution of this labor of love!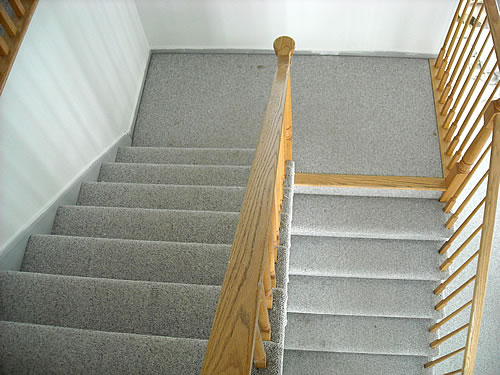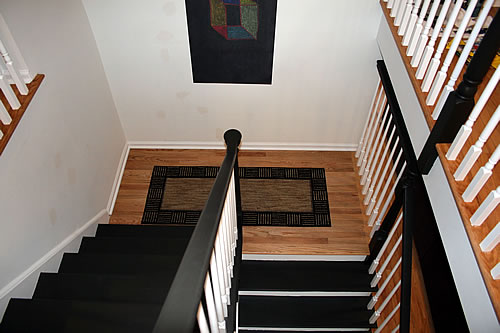 Note: the art is a placeholder…a chalkboard wallie adorned w/my 10 year old's original work. 😉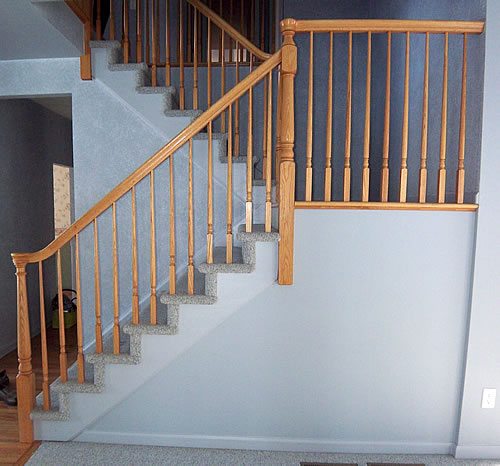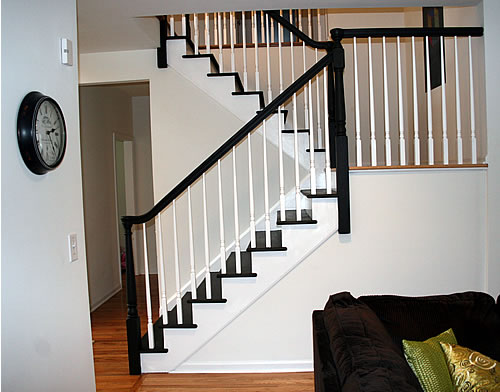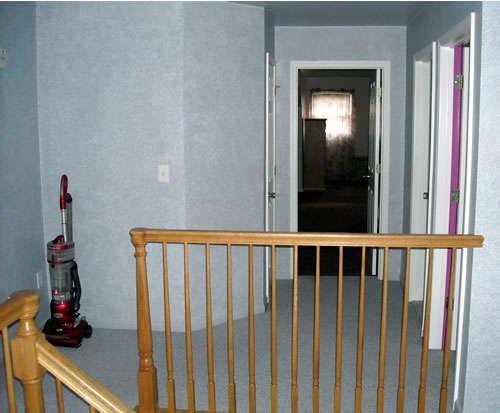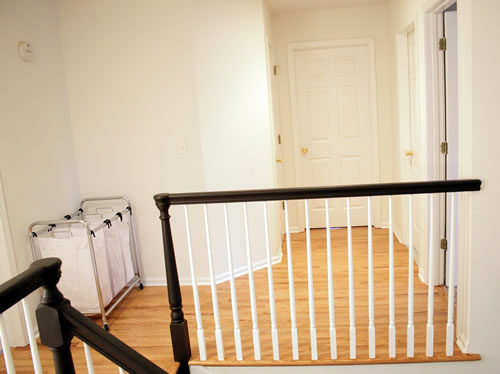 I should also mention that we changed the foyer light.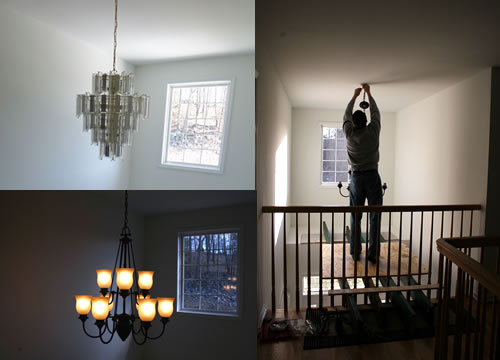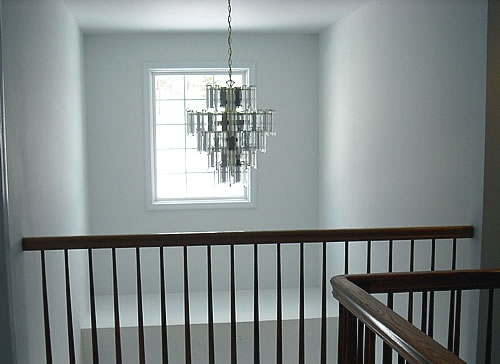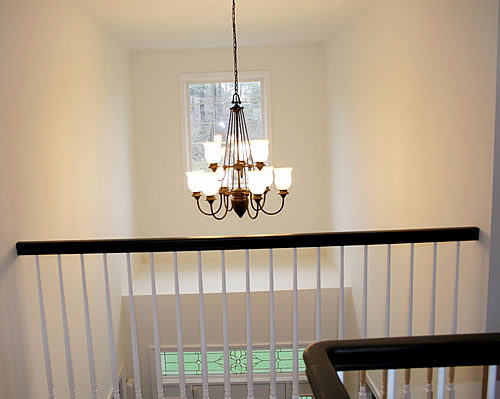 Painting Stairs: FAQs and TIPS!
Q. What kind of paint should I use?
For the risers and spindles, use white semi-gloss with primer already in it.
For the treads and rails, use a porch and floor paint. For the first coat, tint primer with your selected color. I opted for "low luster" rather than glossy to show less dust and be less slippery.
Q. What prep work do I need to do?
Start with a light sanding, and then wipe down with a damp microfiber rag.
Be sure to tape before you paint – and skip the stuff on sale, I like the nice blue Scotch painters tape.
Q. What order should I paint in?
I did the steps first since I didn't want the naked boards to get scuffed up while I worked on the more time-consuming spindles (plus it made me feel like I was making  progress a bit faster).
Start with the white paint on the risers.
Next, do the dark paint on the treads. Timing is key here – you'll need to let the treads dry at least 8 hours between coats. I found that 2 coats covered it well.

TIP: Paint every other tread until complete, then switch and do the others.

Then move on to the white paint on the spindles. Put on your favorite music and go for it. It'll be awhile.

TIP: be sure to put an old towel or drop cloth over the stairs as you paint the spindles to avoid splatter.

Once the spindles are done, pat yourself on the back. Or better yet, treat yourself to a mani/pedi.
Then tape the top of each spindle and paint the rails and posts.
And finally, go back over your work to do a little touch up as needed.
Q. What is the best way to clean the stairs after they're painted?
I found that quickly wiping them down with a damp microfiber rags works much better than my stick vacuum. It's faster, and easier! That was an unexpected bonus.
Q. How well will the paint hold up over normal use?
It's hard to say at this point since I just completed the project, but the steps were done about a month ago with just two coats, and they're holding up just fine so far. I'll let you know if that changes. 😉
Q. How long did it take?
I won't lie to you. It took some serious time and a persistent attitude:

14 treads: about 1 ½ hours
15 risers: about 1 ½ hour
98 skinny spindles: about 25 hours (no, that's not a typo!)
5 posts: about 1 hour
Handrails: about 2 hours
Do the math…that's about 31 hours.   Plus add a little extra time for taping and touch ups. Yes, that's a lot of time, but (now that it's over) well worth it.  So, anyone else game to try this? Any questions I didn't yet address? Ask away!
If you'd like to see all the projects from this house, click here!
And if you'd like to follow along on my current As-Is home project, please sign up below!