I have a project in my mind that I've not had the opportunity to do just yet.  If ever we finish the basement, my vision is to create a faux fireplace focal point and avoid the "box with cheap carpeting" look.  But it's got to be fun and kid-friendly.
My original idea was inspired by this image from Better Homes and Gardens.  Rather than using molding, why not "rescue" an old mantle from a junk shop, refinish and paint it and then add chalkboard paint in the middle where the fire should be?  You'd have a natural display ledge above for artwork, and you can either draw a fire or whatever inspires you on the chalk section.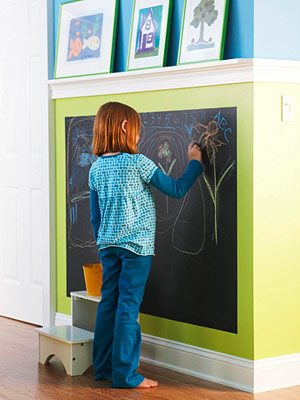 Here's an interesting idea from Apartment Therapy that really goes over the top with chalkboard paint.  Fun, huh?  Maybe not for everyone, but I love the possibilities.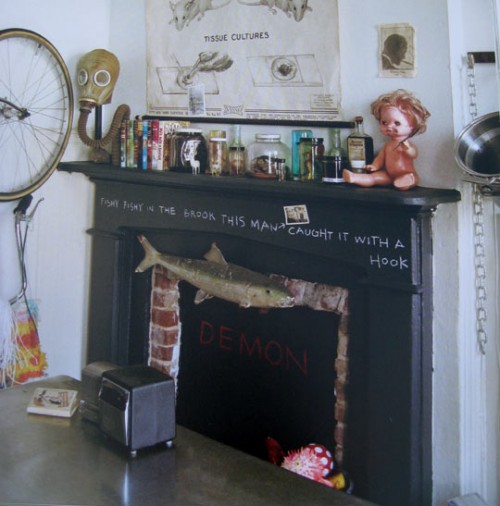 While we expect to see a mantle in a family or living room, what about the bedroom? I found several ideas for using a mantle as a headboard.  That works great if you don't have a king sized bed.
Here's one from Apartment Therapy where they left the space open.  Would you have painted the inside a different color? (No, I'm not suggesting chalkboard paint here…would be too messy).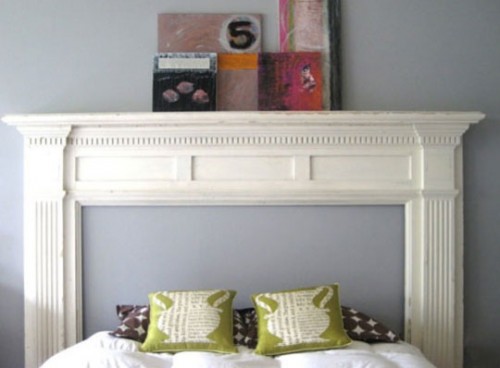 This one from Southern Living added a padded section in the headboard.  Ideal if you're a restless sleeper.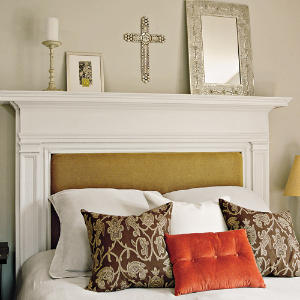 What about bathrooms?  This little gem from Country Living took an old mantel and incorporated into the Jacuzzi tub retreat.  Not sure I'd want a mirror there.  Just sayin'.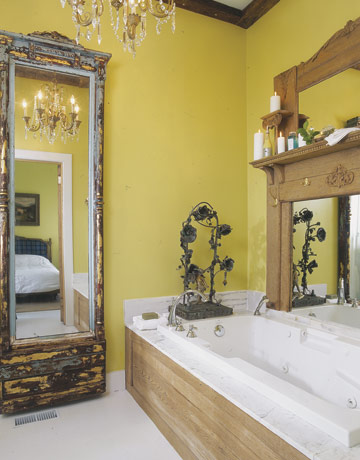 How else can you imagine using a mantle?
And…for the bonus question…do you spell it "mantle" or "mantel?"  I see it both ways and am in search of a consensus! 😉