For the past year or two I've taken notice of a blue colonial on my street that I pass daily. I'm not sure if it was the house itself, or the perpetual renovation action around it. Dumpsters out front, various contractor trucks coming and going.
And seriously, this wonderment went on for a long time.   In some places it may have been acceptable to knock on the door, introduce yourself as a nosey neighbor. But not here in Connecticut (lol). So I just let my imagination run wild.
Well, I finally found out what was going on.  They just put it on the market, and I LOVE it!   And not just because it matches my favorite vintage beach blue fan I gushed about in an earlier post (although that may have something to do with it). Not only does that house have history (our street was named after the family that lived here in the 1800's), but it's beautifully renovated with modern amenities while retaining it's character.
First, here's the outside. Very colonial, yet the color makes it a bit playful.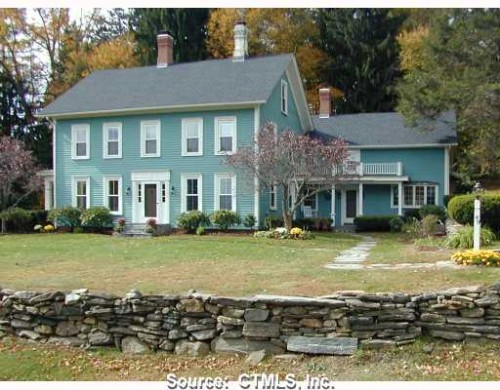 This is the room that sold me. I love, love love the built in bunk beds. See how strategically they work with the closets? This is a great idea for any square kids room that has the space for it! I especially like how they share a window for natural light above and below deck.
And of course, any improvement-oriented homeowner knows that the kitchen and bath are key investment areas. And I was not disappointed!
I love the layout of this kitchen. And check out those floors! The only thing I'd change here is add a retro fridge from Big Chill, and perhaps the chandelier.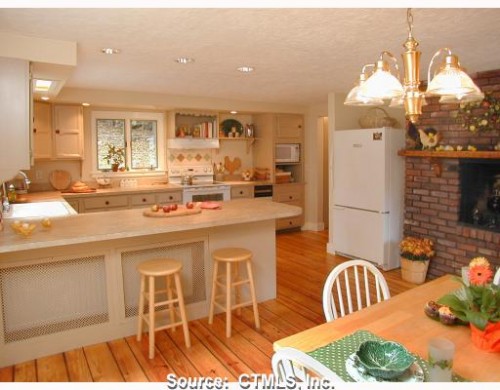 On to the bathrooms. The master bath is neutral but not boring. I really like the latte tiles on the tub. A claw foot tub would have worked well in here too. Wish that brass wasn't there, but it's still very nice. ***UPDATE*** The house was for sale again, and it looks like the brass was replaced!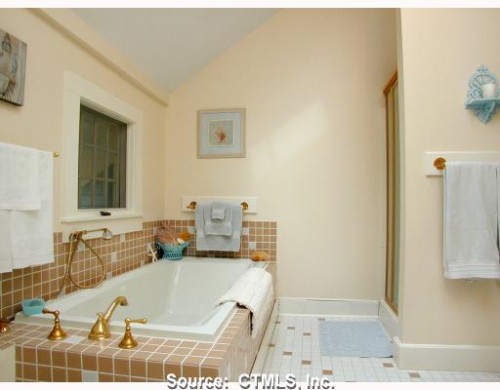 Here's the guest bath. I like the floor and the airy color scheme.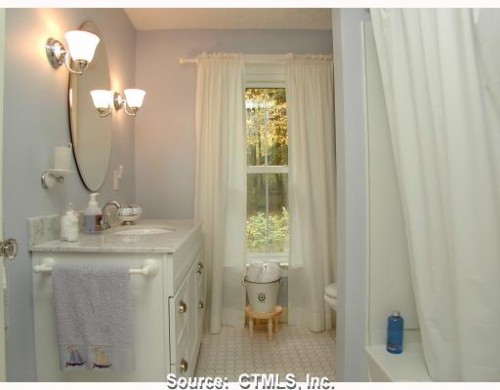 Couldn't you imagine sitting on this front porch at the end of the day sipping a fresh squeezed lemonade…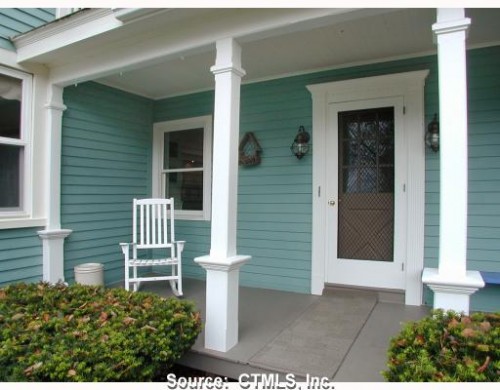 And enjoying THIS view?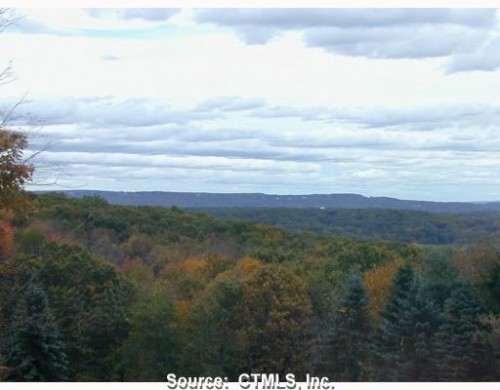 Nuff said!
So, anyone want to be my neighbor? Or, better yet…anyone interested in a white colonial so we can buy this beauty? 😉
And yes, by the way, this home is across the street from the unique barn-converted-to-post-and-beam house I referenced in my post about sliding barn doors.
Have you ever driven by a home and wondered what renovations were being made inside? Or am I the only one who daydreams about this stuff when I drive around. It get's particularly crazy during heavy trash month. I can hardly keep my eyes on the road!