Thanks to Christa for this very helpful guest post about something we may not always think about.  Deck rails not only make a big difference in the aesthetics of an outdoor space, but goodness – they are doing a very important safety job as well! Form and function are key here!
If you are someone who entertains a lot, then you probably have a deck for added space. It is important that your deck be complete with deck railings as this adds safety for all your guests. I am sure you would want your deck to add to the overall architectural style of your home as well. If you are not sure of how to achieve this, you might need help. This is why I am outlining 9 tips below of how to choose deck railings that are not only safe, but complement your home architectural design.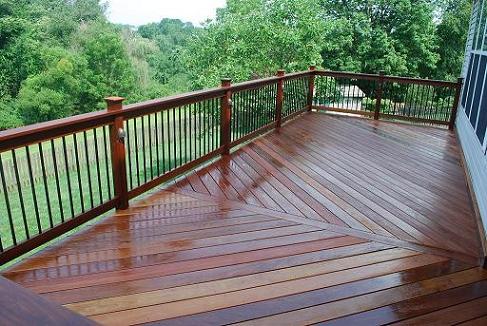 1. Building codes
Before going out and purchasing the materials for your deck railing, it is important to check with your local Town Planning Department on what type of material is legal, as some materials are not legal in some municipalities. They should also be able to give you guidelines on measurements like heights. The average height of a deck railing is normally 36 inches and the space between the rail posts should be no less than 6 inches apart. This takes into consideration access for adults and children.
2. Deck railing types
There are a lot of deck railing types to choose from, among them are; hardwood, wrought iron, glass, steel pipes, and vinyl. After getting the all clear on what types you can use, it is best to use a deck railing that has longevity, and complements the architectural style of your home.
3. Durable decks
Decks deteriorate, sadly, resulting in injuries and even deaths. It is important that you choose a material that is durable. Hardwood is stylish but it does deteriorate due to wear and tear and so requires a lot of maintenance. Wrought iron and steel railings rust and require sanding and scraping. Vinyl railings require the least amount of maintenance as they just require washing because they do get dirty from time to time.
4. Deck railing designs
Some materials such as wood and metal allow you the option for various stylish designs. It is important if you are building your deck railing from scratch to know which material can be easily manipulated to give you your desired style.
5. Precut and pre-paint your deck railings.
If you are building your deck railing from scratch, it is a good idea to precut and pre-paint or stain your deck railings, because it can be difficult to paint intricate places after you have built and installed them.
6. Do not attach to deck
Do not attach your deck railing to the deck surface, instead attach it to its frame. Attaching it to the deck surface renders it weak and unsafe.
7. Deck railing systems
In an instant society, everything is made easy these days. You will, as a result be able to purchase deck railing systems. These systems come complete with parts designed to work together and is easy to install and most of all safe, as the manufacturers ensure that these parts fit together snuggly. These systems are designed to give you whatever finish you desire to add to the style that best works for your home.
8. Affordability
Home improvement can be very costly and in this economic climate, anyone would want to know that they are spending the least possible and is not compromising so much on quality or style. Deck railing systems are a good way to go as they are stylish, easy to install and prevent you from having to build your deck railing from scratch, especially if you plan to secure the services of a professional builder.
9. Protecting your view
If your home has a view then I am quite sure you won't want to mess with that view. Using glass railings will work in this case as you will still be able to see your view through the glass. On the other hand, if your home does not have an appealing view, then choosing the right deck railings, could enhance the overall interior and exterior view of your home.
When entertaining, wouldn't you want to know that your guests feel safe in your home, so that you can focus on being the best host possible and indulge in the compliments that they probably will give you about your deck style, instead of worrying that a small child might slip through the railing gaps? These tips are sure to help you achieve just that.
Author's bio: Guest Contributor Christa Blair writes for Buildables.Net and has written several posts about deck railing designs and ideas.