When you have an entire house to renovate in just six weeks, you cut corners where you can to help the budget and schedule. In my  mind, the hall bathroom (Teen Bathroom) was not the highest priority.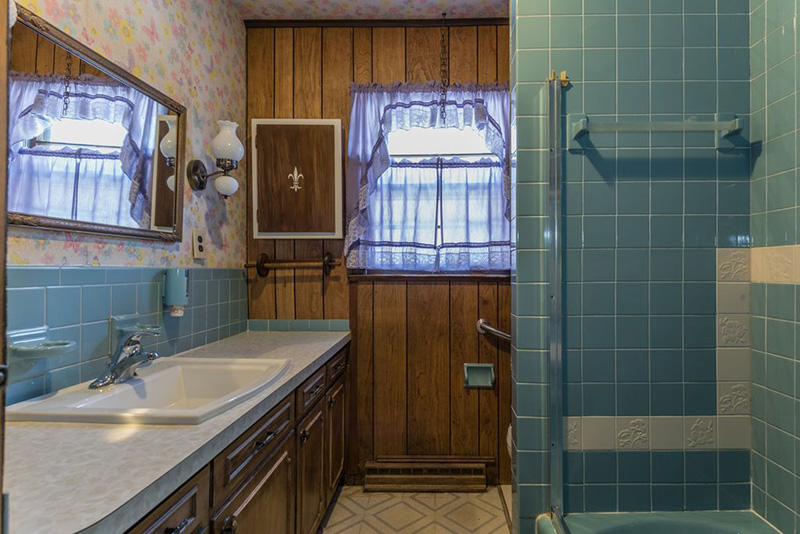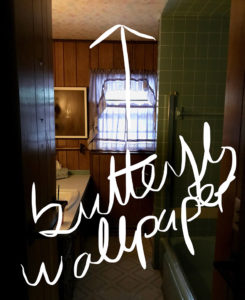 Remodeling Priorities
It's not that the teen bathroom wasn't important. It was just so incredibly bad that anything we did would make it better. For example, have you ever seen butterfly wallpaper on the ceiling before? No need to go crazy here.
Of course, my minimal remodel idea didn't last long.
Of all the rooms we renovated, this was perhaps the most dramatic.
Teen Bathroom Remodel After
What started as a basic plan to remove the paneling, tile the floor and throw some paint on the walls quickly escalated (in a good way) with smart short cuts.
Turns out it was easier to add bead board than drywall the entire bathroom. The reflection from the floor tile brought more light into the room.
One of the biggest risks we took was painting the blue tile in the shower. It looks great, but to be honest, It's not holding up very well. This would have been a better idea if it were a seldom used guest bath instead of a teen bathroom with heavy use. Live and learn.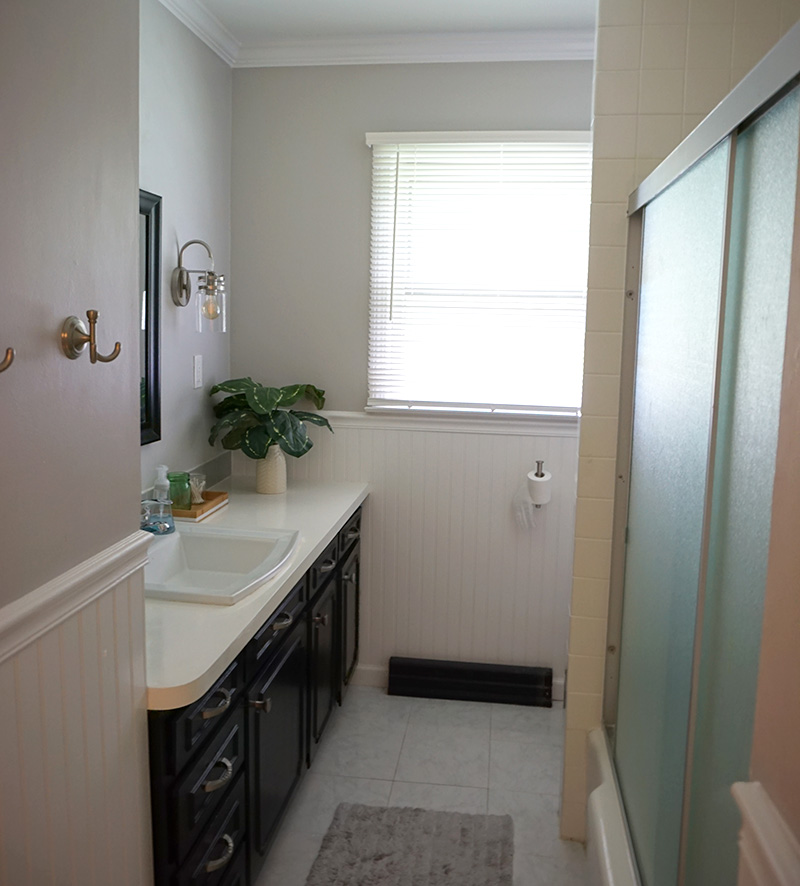 The commode area was downright disgusting.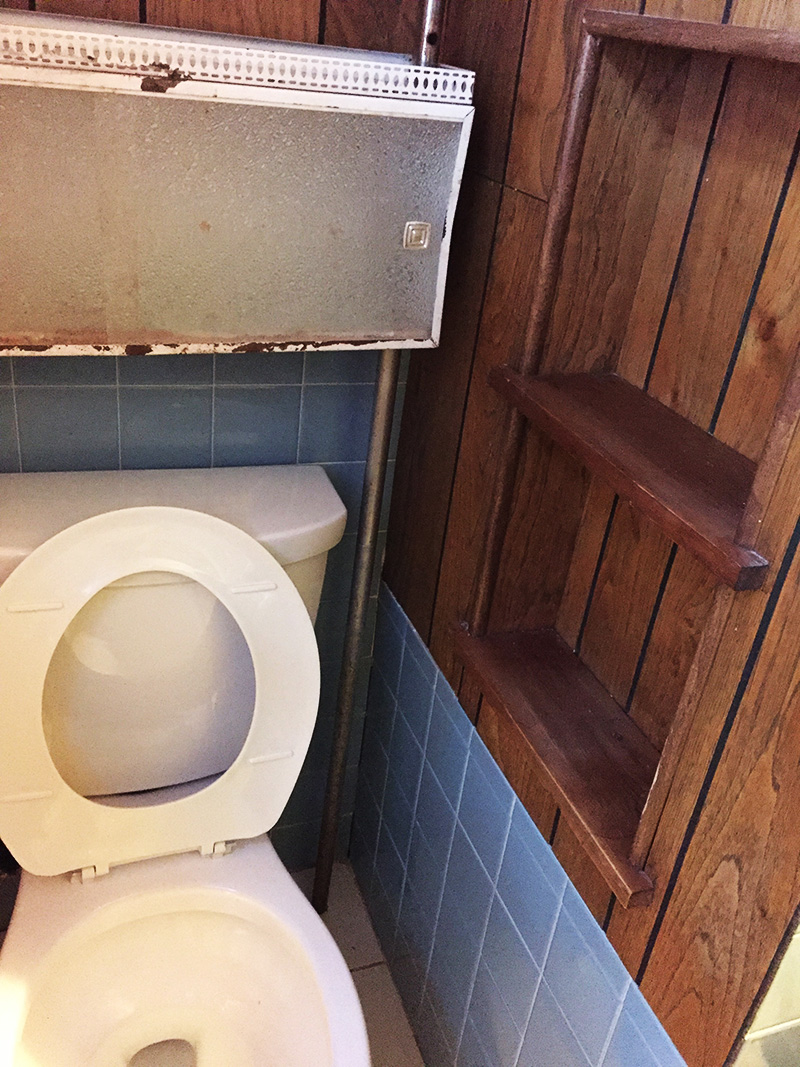 We took everything out and started fresh (hello new toilet).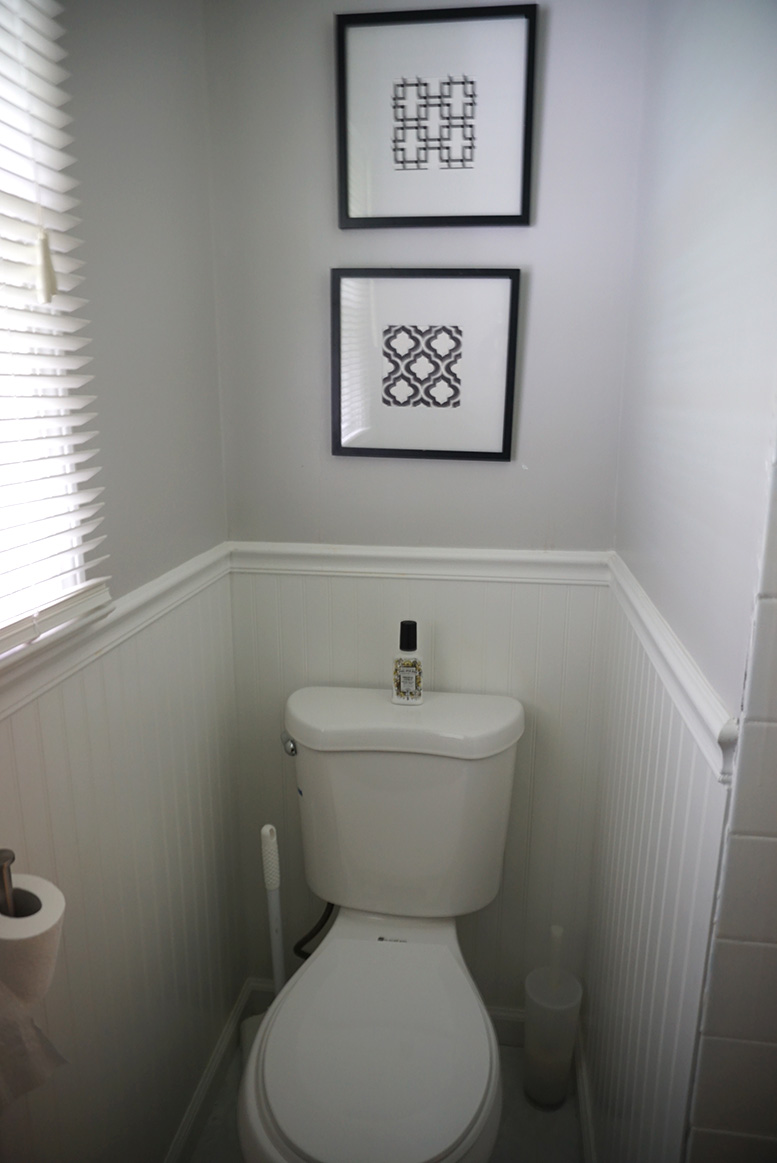 We didn't have budget to replace the countertop or vanity, so we painted it! It's holding up much better than the paint on the shower tiles.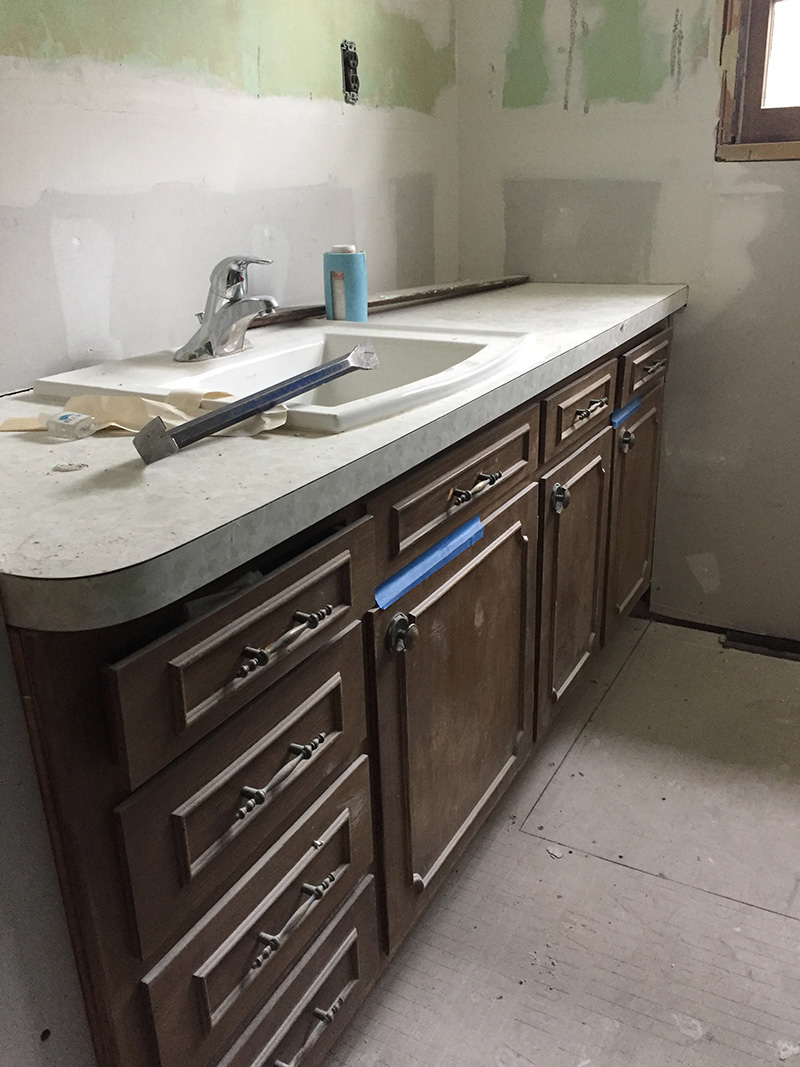 New pulls on the painted vanity made it look new again for minimal cost.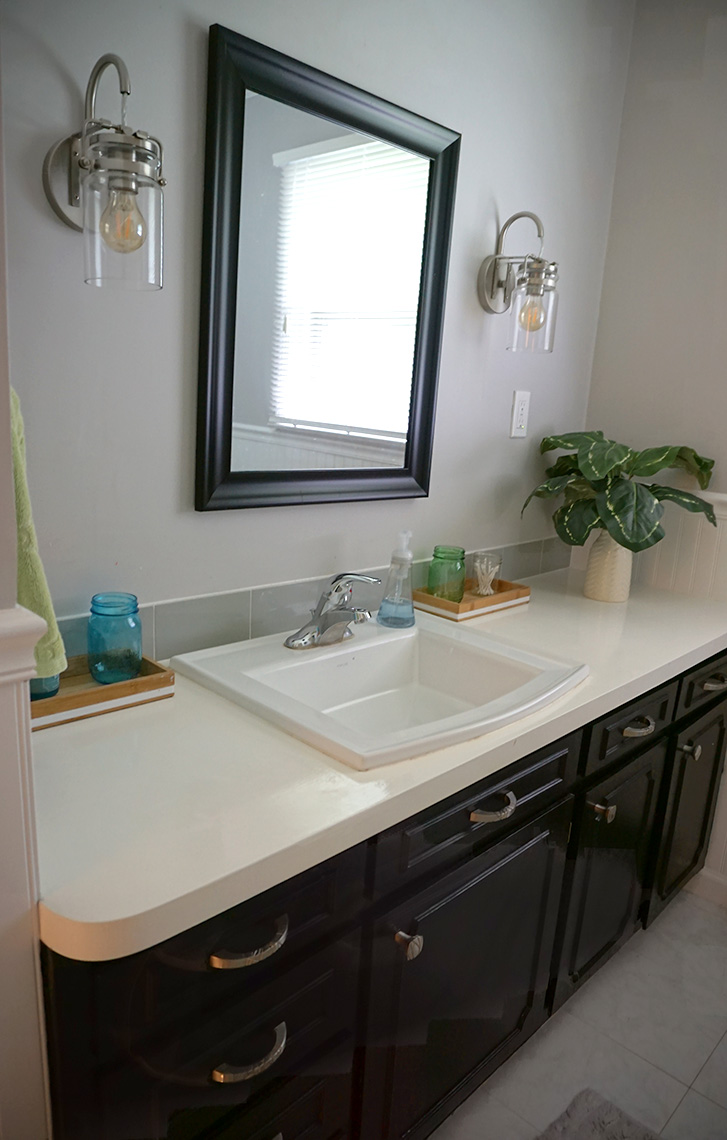 We had some gray subway tiles left over from the kitchen, so we added a small backsplash.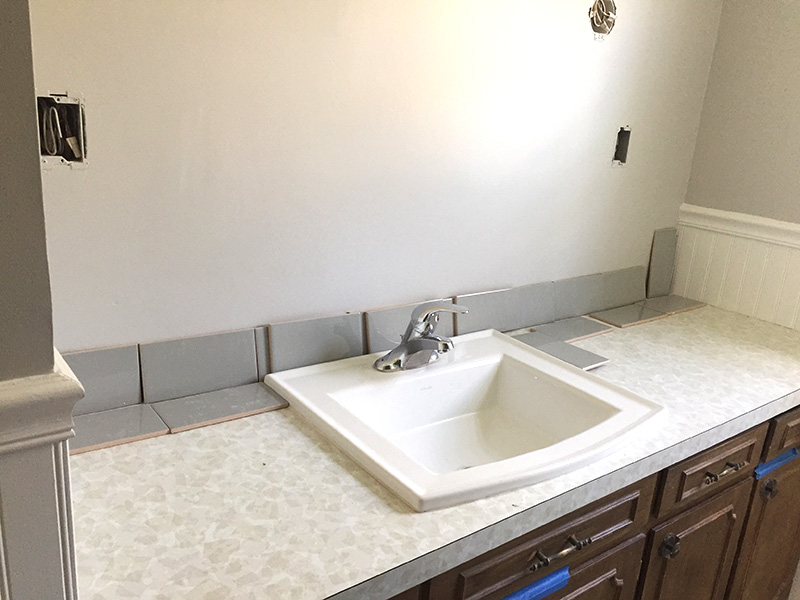 I love the black and white contrast, and adore those sconces from Lamps Plus. The Mirror came from Target.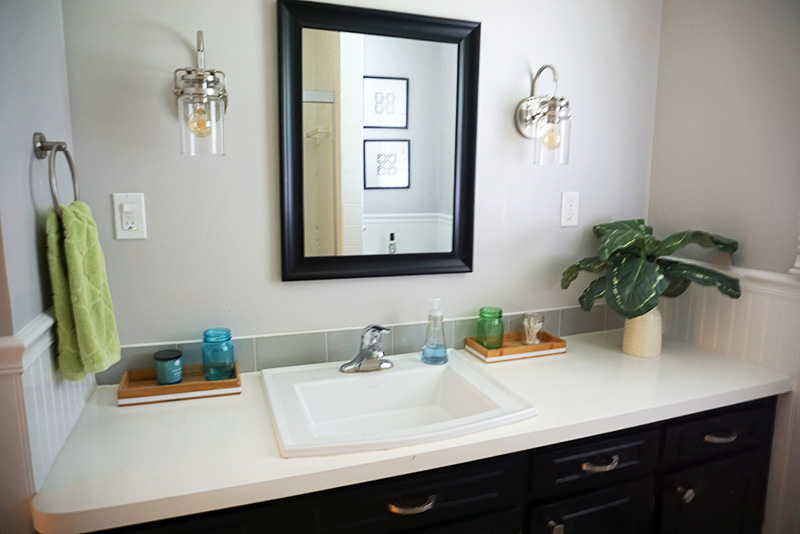 Do you have teen girls? If so, you know they have stuff. Lots of stuff. So it was imperative to keep the closet somewhat organized. I love alliteration, so we created labels for buckets for everything. For some reason, I chose the letter B.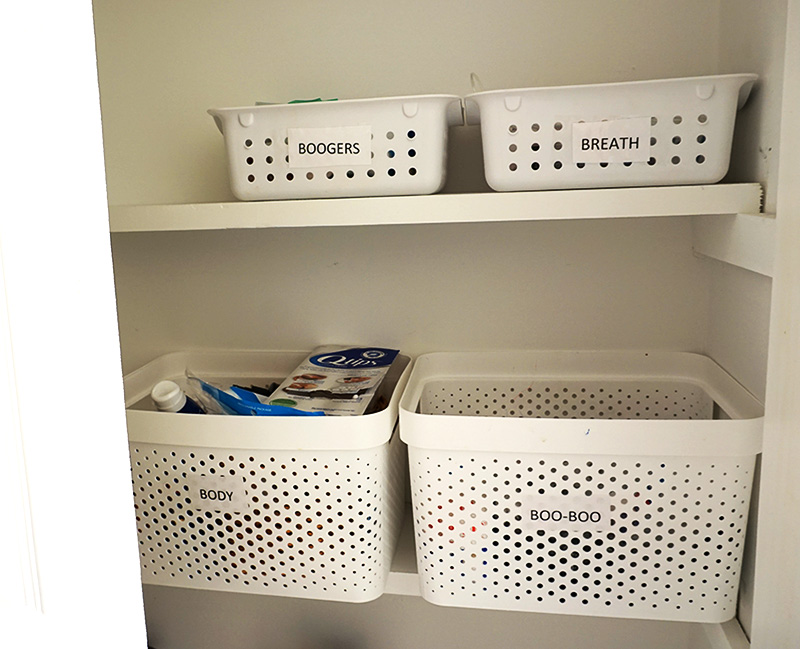 Behold, the full menu of bathroom bucket labels. Fun, but hopefully clear enough for them to keep it somewhat organized.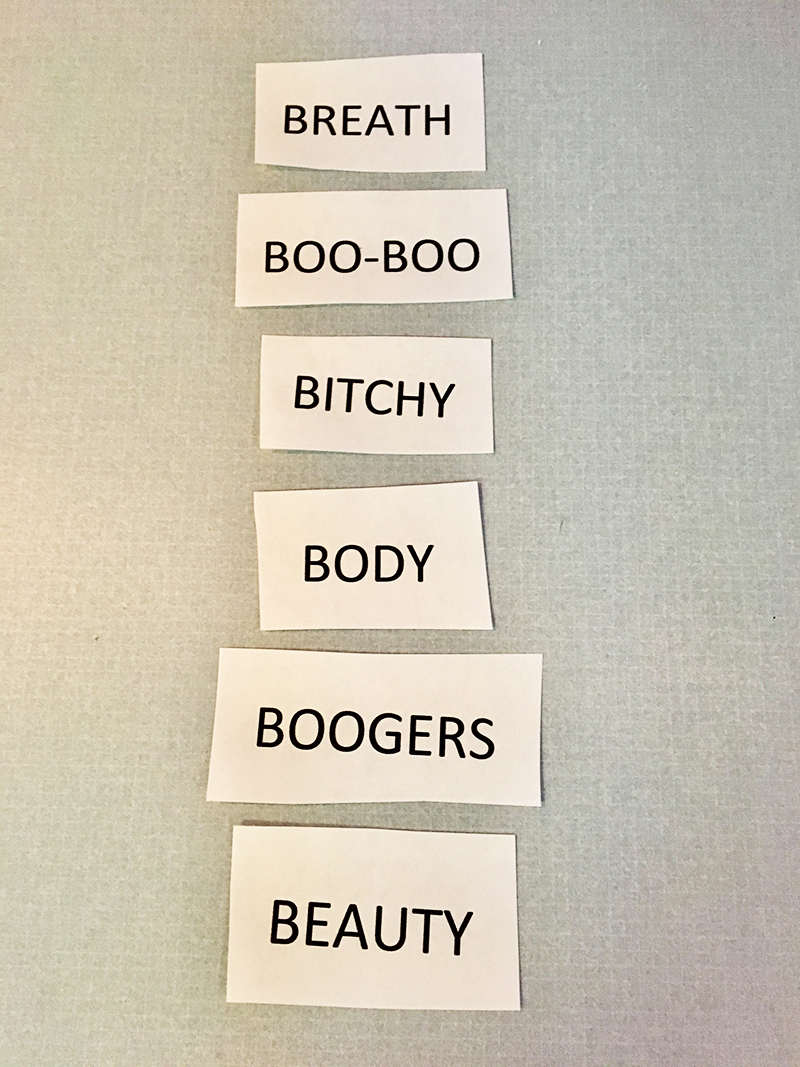 Confession: this teen bathroom isn't always as picked up as it is in these photos, so I hope you appreciate this brief moment in time with me.
This post is part of the renovation series, as introduced in the "My As-is Home, Only Better" post. I'm excited to share with you. To keep up with the journey, make sure you're signed up!

And be sure to check out other Bathroom posts for ideas and inspiration!