Do you do mornings well? It's tough to get yourself up, prepped, and out the door and to your favorite coffee shop to start your caffeine intake. If you're like me and prefer your morning coffee while in your pajamas, then keep reading.
I take my morning caffeine routine seriously and am excited to show you how to build your own in-home coffee bar that will motivate you out of bed every morning! I'm sharing everything you need to know, include equipment, accessories, bean info and recipes!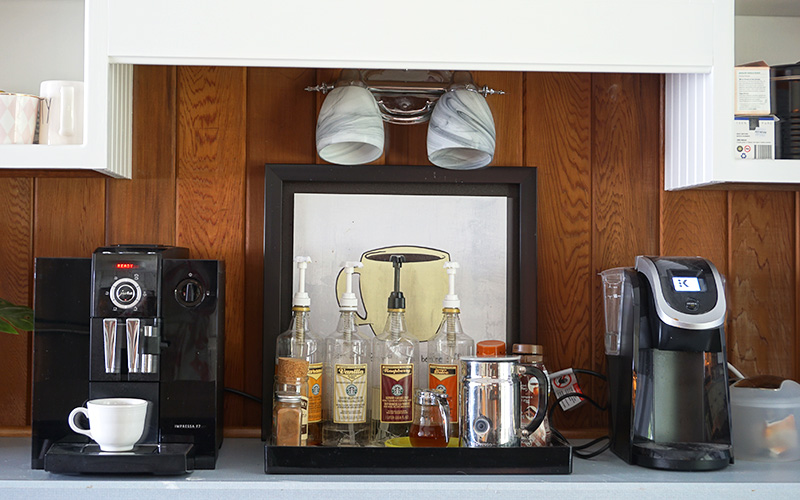 Coffee is such a versatile experience – take it black or fluff it up – there is no right or wrong. I set up my first coffee bar at a house I rented for a year (read about it here). Since moving to my As-Is Project home, I've raised the (coffee) bar to a new level. As soon as I saw the dated desk and cupboards section of the eat in-kitchen area, I knew my coffee bar had found its forever home.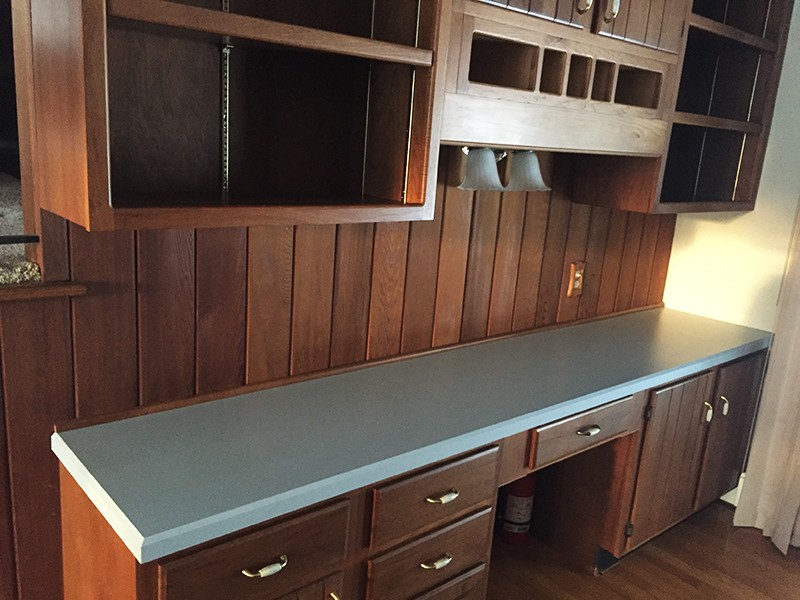 So much storage – and a blank canvas. We painted the cupboards and shelves white and changed out the hardware, but left the backsplash and countertop as a nod to it's retro past.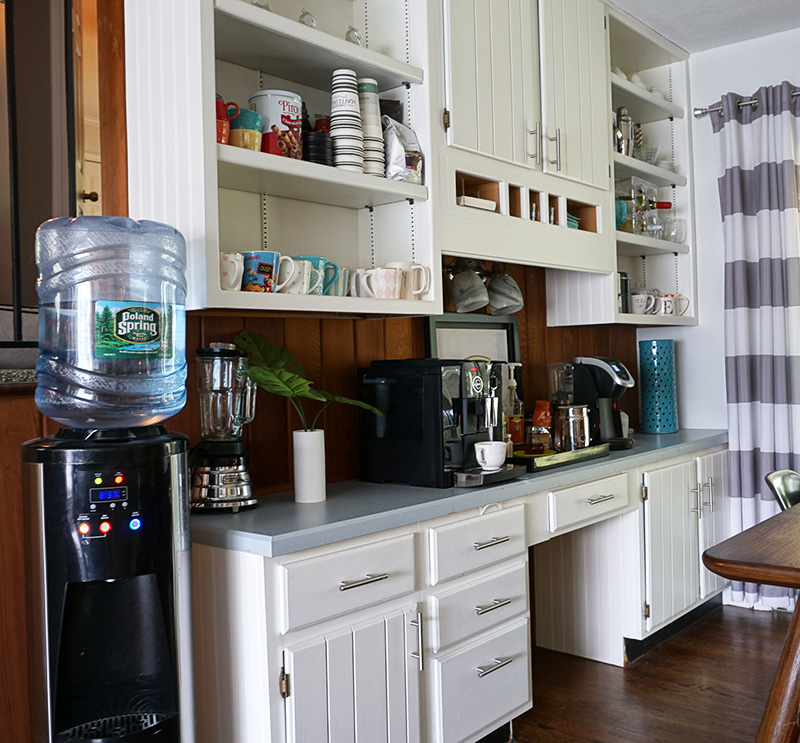 Coffee Bar Must-Have Accessories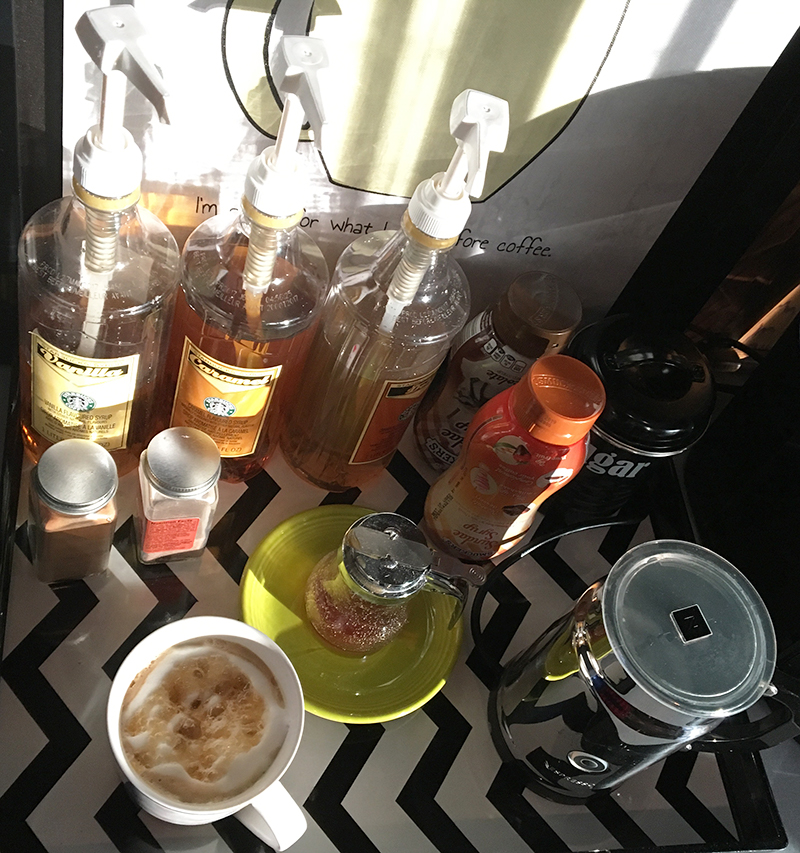 The components of a DIY coffee bar are as simple or extravagant as you want it to be:
Coffee Maker/Espresso Machine
Frother
Flavored syrups
Drizzle syrups
Sugar cubes
Flavored sugar sprinkles
Spices
To-go cups
I also keep a Keurig available for the kids – they use it to make hot cocoa, teas and hot apple cider.
A good coffee bar had easy access to all the coffee accessories you will need.
I stock mugs, to-go cups, coffee beans and extra supplies on the shelves above the bar.
For convenience, I added poland water dispenser next to the coffee bar. It dispenses cold water for our daily water bottles, and hot water for a short cut to a cup of tea (the kids' favorite).
About the Coffee Equipment
Now I have to talk a bit about my coffee machine. It is a Jura, and it is life! It grinds the beans fresh for each cup of coffee, and can choose the strength of each cup. Now they can be a bit pricey – but well worth it (well balanced by your savings from your local coffee shop). You can find a great deal on a refurbished Jura at 1st in Coffee and really step up your morning coffee game!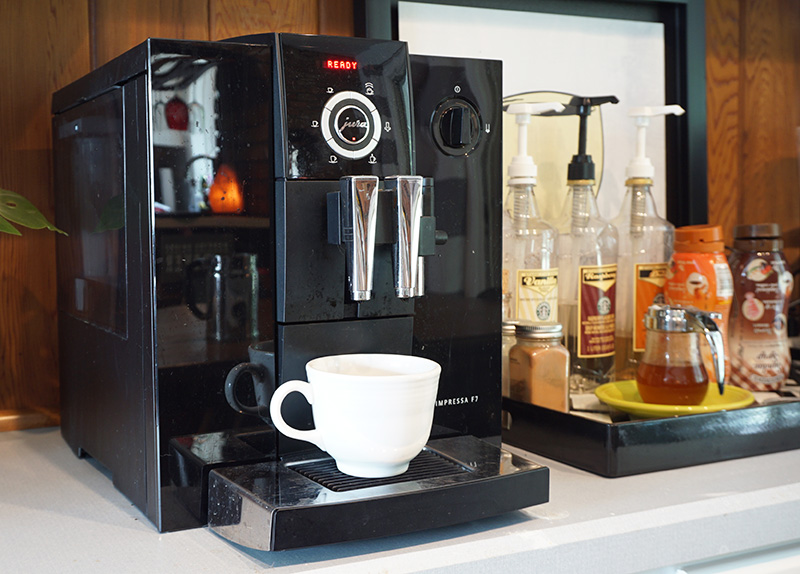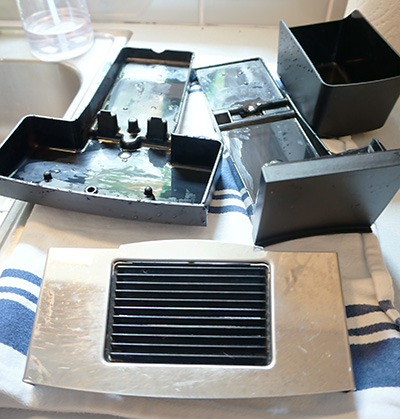 I love how simple it is to use and maintain. It tells you when to empty grounds, fill water, change filter, and run the insanely easy cleaning cycle.
Emptying the grounds takes about 2 minutes – I just quickly wash the components and slide them back in.
While the Jura comes with a frothing unit built in, I prefer to use the Nespresso Aeroccina. You can steam whatever kind of milk you prefer, and even make a hot or cold froth.
A little trick I've learned is to add a squirt of flavored syrup in the froth instead of into the coffee itself. So good! Clean up of the Nespresso is so easy too. Check it out the Nespresso and other coffee accessories, also available at 1st in Coffee.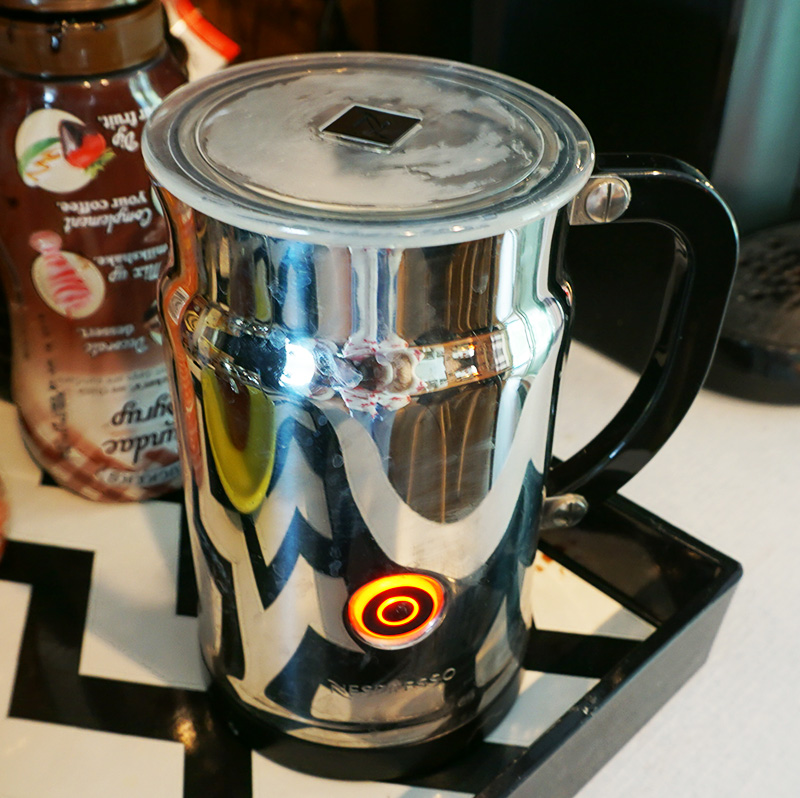 About the Beans
Beanology is real thing. There is science behind a good cup of coffee, as explained in this article "The Chemistry and Physics Behind the Perfect Cup of Coffee" from the Smithsonian.com website.
If you need help navigating the vast world of coffee beans, consider a coffee subscription service to get a sampling of coffee sent to you each month. Bean Box offers a great coffee subscription that sends you four artisan coffees every month.It's a great way to try new things!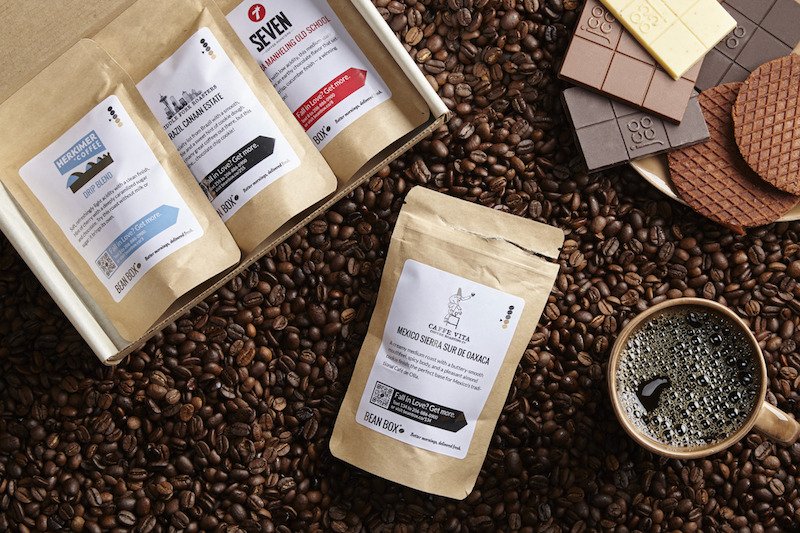 If you're not ready to commit, try their Delux Coffee + Chocolate Tasting box. Great gift idea too!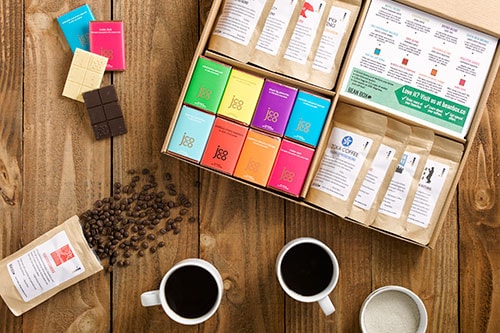 Coffee Recipes
My favorite morning jolt starts with a great cup of coffee PLUS a shot of espresso. I dress it up with a froth of reduced fat organic milk froth flavored to fit my mood.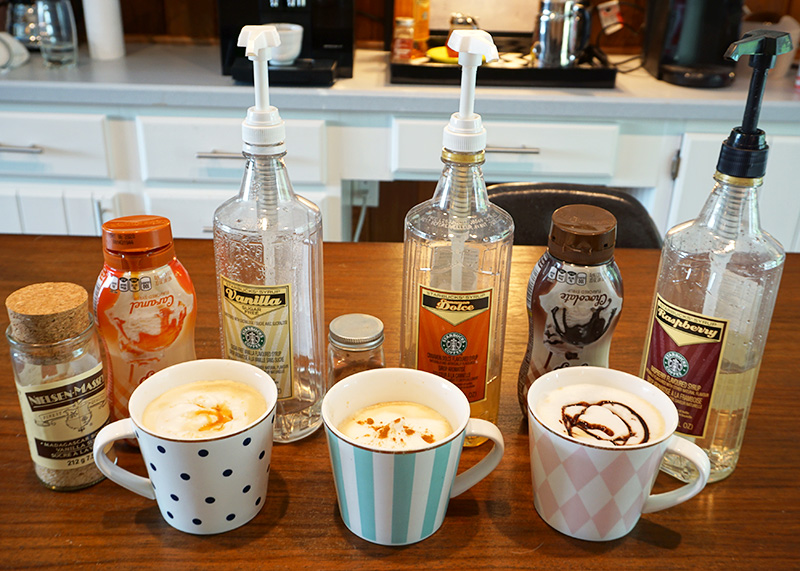 My favorites, left to right above:
Add a squirt of skinny vanilla in the milk for the froth, then top with vanilla sugar and drizzle with caramel sauce
My fall go-to is a squirt of Cinnamon Dolce in the froth sprinkled with a little cinnamon on top
Some days I add a squirt of raspberry in the froth and drizzle chocolate sauce on top
While I have my favorite recipes, you can find more than enough ideas on Pinterest. Please share, how do you like your coffee?
Note: If you read about my Coffee Bar 1.0 at my last house, you might be wondering where the wine bar went. No worries, I have a new 2.0 wine bar as well, and will share that later. Meanwhile, Please make sure you're signed up on the YHOB email list so you don't miss anything!
Note: links to purchase in this post are affiliate links.