Have you noticed that when you go to the store to buy toothpaste, there are so many choices that it's overwhelming?
Do you want whitening, tartar control, fluoride, sensitive, gel or paste, sparkles, or one of my favorite…"pro-health night toothpaste" (huh?).  And the price points are varied as well, anywhere from $2 to $5 – quite a dramatic range for a simple tube of toothpaste.  Seriously, it's too much! Lol
Paint is confusing as well.  Paint manufactures are trying to differentiate themselves on quality, ease of use, environmental friendliness, value and color trending.
For most homeowners, color selection is the most prominent decision point.  It doesn't matter how well the paint goes on and stays on if the color is wrong.  Companies like Benjamin Moore and Valspar have been successful in becoming opinion leaders in color trends.
I was recently approached by Glidden to sample their new reformulated paint.  They are so confident in the quality of their product that they asked me to compare it to the popular Benjamin Moore Aura paint.  Here's the kicker, the price did not change, just the product.
So of course, I had to see for myself.

Here are the paint test sheets when dried.  Do you see any difference?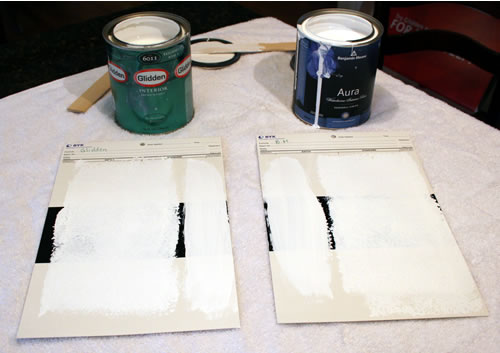 Will I consider buying Glidden paint for my next project?  Sure! But, like most homeowners, I want to make sure it's a color I can live with.
Here are a few tips to help you find the right color for your project:
Test, test, test! You've heard this before for a reason…colors look different in different lighting.  Spring for a quart or test-sized can and slap a few brush strokes on the wall and observe the color at different times of the day.
Don't fear bold colors. If you want a contrasting deep brown, a latte will look washed out against neutral furniture.  Go with the chocolate brown, and brighten the contrast with trim and furnishings.  Here's a great example from Pottery Barn where dark walls work well with white accessories.
Balance and flow. Coordinate colors choices for rooms that are visible from other rooms, and keep the balance of colors throughout a floor.  For example, a brick red living room would not balance well if the other rooms on that floor are light neutrals.  Select a few coordinating colors that place nice together, then mix and match them throughout your home.
Accent colors. Look for accent color inspiration from a color wheel.  You can find punchy accent colors by selecting a color on the opposite side of the wheel, or next door to your selected color.  Or how about mixing shades of the same color for a tone-on-tone effect?
Bottom line…paint remains the best bang for your buck to update a room in your home.  Why not tackle a room this weekend and try something new!  What's your next paint project, and which brands and colors are you considering?
BONUS GIVEAWAY! Post a comment to be entered in a drawing to win this oh-so-cute mini paint kit to make it easier for you to test colors before you commit.  Yes, it even comes with the shameless plug Glidden T-Shirt.  You can never have too many paint supplies, right?