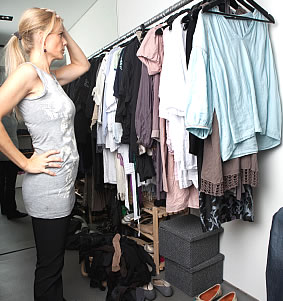 Every day I go in my closet to get dressed, and ask myself that question. But I don't always get an easy answer.  Now if I'm only wearing 20% of my wardrobe (the norm), then I'm wasting a lot of time looking at the other 80% in pursuit of what to wear! What a waste of time!
So this season, rather than just shuffling clothes back and forth for the new season, I took a long hard look at what's in my closet, and ended up with what feels like a brand new wardrobe!
So are you game? If so, block out about 2 hour…no…make that a 4 hour chunk of time. This is serious work! But having a functional closet of clothes that make you feel good is worth it!
Full Disclosure: Anything that covers your bottom has to audition to be featured in your closet or to qualify for storage. Pants, skirts, dresses, suits. Yes…try them all on. If you don't feel good in them, donate them. Life's too short to wear ill-fitting clothes that don't make you feel good, and there are so many people in need who would truly appreciate what you have. So put on your best undergarments and turn up some motivational music. We've got some work to do!
Still with me? Ok. There are two parts to this project: 1) storing the off-season, and 2) bringing in the new season.  The first part is actually more time consuming. But that extra effort will make next season's changing of the closets much easier and it will prep your closet for this season.
Step 1: Take everything out of your closet – just like TLC's "What Not To Wear" but without the attitude (I love that show).  If you don't have enough room to work with, tackle work clothes first, then play/casual clothes. Lay them in piles on your bed: pants, skirts, tops, suits/jackets. Keep a laundry basket handy for clothes destined to be donated.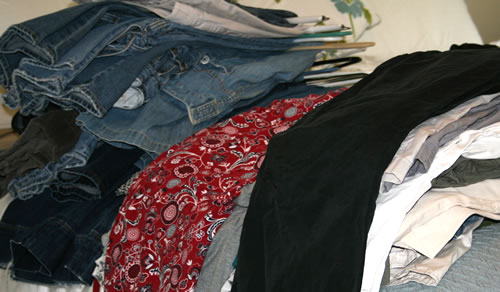 Now, start trying things on. Here are the ground rules:
If you wore it this past season and you feel good in it, it's safe. Put it into storage. If it needs mending, put it in a "to mend" pile. If you didn't wear it this past season, donate it. Doesn't matter if it fits or not.
Too small? If you really really really want to wear it next year and promise to lose 5 pounds to make it happen, then you can keep it as motivation. Otherwise, donate it.  If you need to lose more than 5 pounds to make it work, donate it and when you do lose the weight, treat yourself to something new!
Too big? First of all, congrats on your weight loss. Feel free to keep one or two nice outfits for those bloatie days. We all have them. Donate the rest.
Styles change. Just because that jacket with the shoulder pads was all the rage in college doesn't mean it's fashionable today. If you're unsure of current styles, invite a fashionista friend over to help. Friends LOVE to give style opinions!
Ok, let's review. You now have off-season clothes stored that you know will be good to go next season. Just think how much future time you've saved. Go ahead, pat yourself on the back!
Ready for the new season stuff?
Step 2: Ok, you know the drill. Try on anything that covers your bottom. If it fits and you feel good in it, it stays. If it doesn't – it gets donated. If it needs mended, it goes in the "to mend" pile. Too wrinkled? Toss a load in the dryer for 10 minutes with a damp towel.
You're almost done…just tend to those in need of mending before putting them away.
Whew! That was a lot of work. But look at your closet! More breathing room means less wrinkles and a quicker answer to the daily question "what should I wear today?"  And feeling good about how you look? Priceless!
Just for fun, here are a few bonus tips that might help you feel better about your closet and your wardrobe:
Splurge on new hangers!
While your closet is empty…does it need painting?
Is there enough lighting in your closet to see your wardrobe?
Hang belts, scarves and handbags on hooks.
Now this post focused on WHAT to keep in your closet. Please feel free to add your tips and any links to great blog posts about organizing closets to this list! We're all in this together!