Got a Tween? Yea, it's (mostly) a girl thing.
If she is too old for bunk beds and trundles, then it's time to ban the bunnies and butterflies from her room. The key is to be adaptable! She's going to change her mind many times.
What is a "Tween?" This Tween Definition from the Urban Dictionary really nails it:
A girl ages about 9-14…too old for toys, but too young for boys. Very easy to market to, will usually follow any fashion trend set for them, will most likely go through the phase of 'finding themselves' as they 'grow up'.
In other words, they're a moving target (and hold on to your wallet!). They want to express their individuality, yet also fit in with their friends. It's a confusing time! Their opinions are driven primarily by pop culture, friends, and hopefully tempered by her family's values. And they will change their mind more than YOU do.
Fear not! Here are some helpful tips in finding a fabulous design to make your tween happy and keep you sane (within reason).
Adaptable color
Unless you personally enjoy painting, pick a neutral color for the walls. Spice up a neutral base with funky colors for trim, expressive rugs, throws, pillows and dramatic wall decals or murals.  Oh, and be sure to opt for a comforter with a duvet. 😉
Here's a great example of a neutral room that can change on a dime!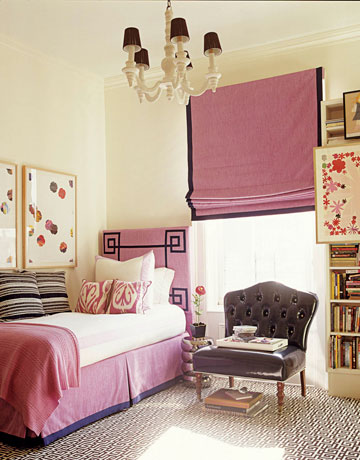 Photo source: House Beautiful
Here's another great example of neutral walls with a splash of electric blue in the bench and chandelier. Keeping the bedding neutral will allow breathing space for a tween's need for flair AND allow for change.  And isn't that rug fabulous?
Photo source: Apartment Therapy
Theme?
Don't do it. Seriously!  Today's "in" theme is tomorrow fashion disaster. Walk into any Justice store and you'll be overwhelmed with peace signs. But design "peace sign" room and she'll be bugging you for something different next year.
But if you must do a theme…create a basic foundation and keep the thematic elements interchangeable. Here's a cute French poodle room that would be easy to transition from by changing the bedding and rug. Other colors would mix nicely with the black and white core of the room.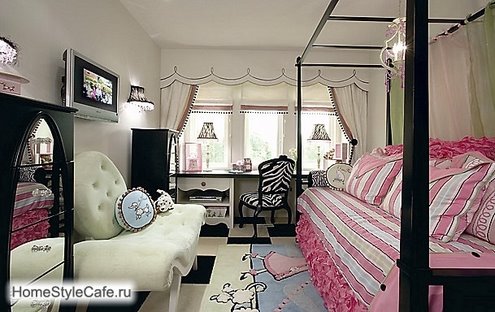 Photo Source: HomeStyleCafe.ru
Curb clutter or at least reach a compromise!
Tweens tolerate clutter a lot better than parents. What we see as clutter, they see as a personal expression or "flair." So start your design plan with fewer larger pieces of furniture, and art because that "flair" is going to build up whether you like it or not. (Note: I love the black chandelier wall decal and silver night table!).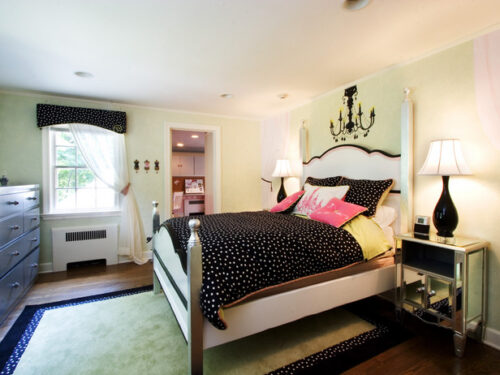 Photo source: HGTV
Tip: Nix the busy bedding. Opt for solids or subtle patterns in the bedding. A bright throw at the end of a white duvet is crisp and timeless.  Let your tween express herself with colorful throws and create toss pillows.
Tip: Tweens come with a lot of "stuff." Built-in bookshelves are a great way to contain that stuff. Use buckets or cubes within a storage unit for a cleaner look.
Tip: While the big bed-in-the-middle-of-a-bookcase may appear on the surface to be a win-win solution, think about how much clutter it actually highlights. Instead, add built in shelves on the same walls as the door to the room so it's not the first thing you see when you enter the room. I like the wall mural in the example below, but all the "stuff" would drive me crazy!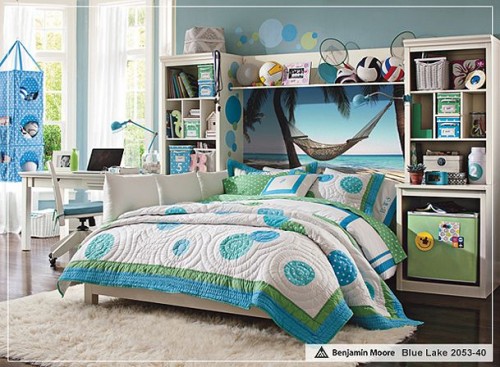 Photo source: Pottery Barn Teen
Idea: Why not just go ahead and paint one wall with magnetic paint as her "flair" gallery – it will at least keep it contained to one spot (maybe). Here's an interesting use of a magnetic wall for a poster display.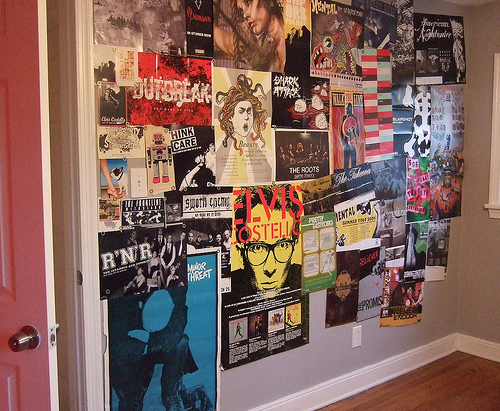 Photo source: Flickr
Find inspiration through collaboration
As much as you're just dying to design her room they way YOU want, you've got to share the planning stage. Go through magazines together, watch HGTV, and browse online. Think of it as fun girl time. Bonus: if she feels like the room is her idea, she'll probably do a better job keeping it picked up.
Like it or not, pop culture does play a role in tweens' opinions. Here are bedrooms from a couple iconic teens that just might sway your tween's opinion: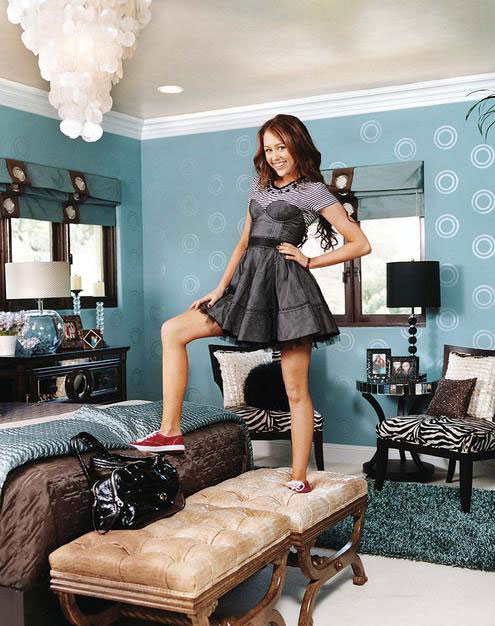 Photo Source: InStyle Magazine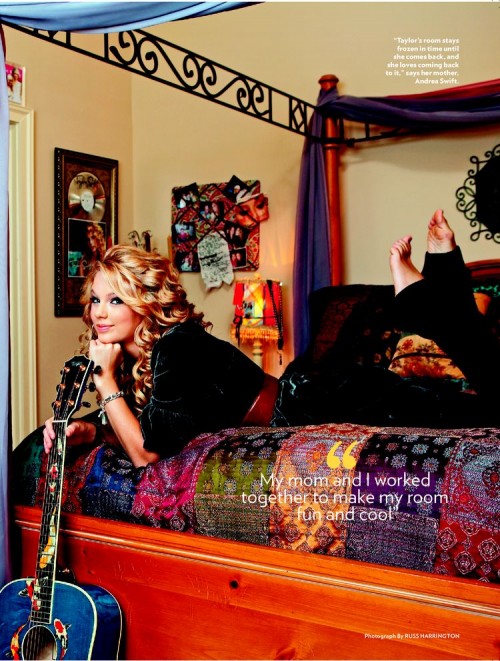 Photo source: People Magazine
Work together and have fun. Your tween will love her new room, and you will love the time you spend together.  Plus you can live vicariously through her youthful design style – you can get away with more whimsy as a tween than as a "grown up." Have FUN!
As for my tween, we've had a lot of fun changing her room around together.  Here's the post about showing her latest three designs. And for my tween-wannabee? I caved to a pink room, but negotiated a non-princess room.
How have you helped your daughter's room grow up?