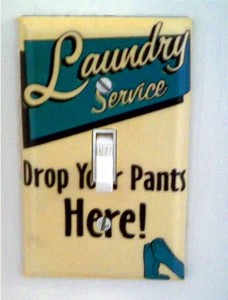 Yea, it's a fluff post (ha ha ha) but think about how many loads of laundry you do every day! Don't you (and your laundry room) deserve a little fun?
I only have a laundry closet to work with, but if you have an actual laundry ROOM you could really go nuts!
And if you're stuck with laundry in the basement, check out this article I wrote last year entitled "Laundry Down Under: 10 Easy Ways to Update Basement Laundry Rooms"!  (Sorry for the shameless self-promotion, but it's one of my favorite articles and just wanted to share it with you!)
Gotta go…washer just buzzed (again!).
But let me leave you with some propaganda: