My laundry room is just an upstairs closet off the main hall.   But it's also the only "room" in my home that I haven't at least painted!
I actually started this project over a year ago by adding "Laundry Room Flair" with cute knobs, writing on the wall and a fun switch plate cover.

But what you didn't see was the INDSIDE of my laundry room closet!  Oh the shame! Ok, I'm baring my soul and messy innards of my laundry closet here, so be kind!  Here is the "before" picture.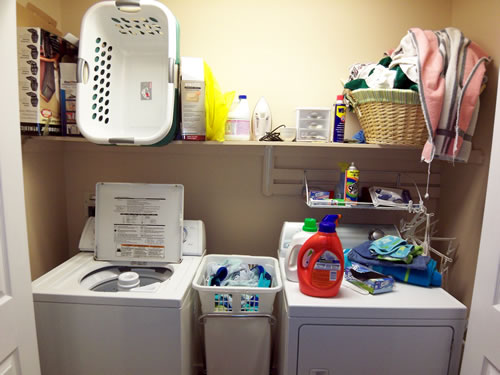 Now I realize that by posting this picture, I actually have to get this project done.  Give me a couple weeks and I'll show you the "after."  Keep me honest and don't let me off the hook!
Ok, in the meantime, let's look check out some well-done laundry rooms:
I like the use of color and consistent bins.  But it almost looks too staged – what are the odds that the towels, hanging laundry AND laundry in the dryer will all be color-coordinated?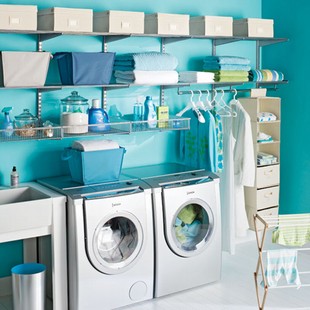 source: Stacksandstacks
This one is a bit more realistic – showing multiple uses of the space.  I think I'd bump my hip on the counter after I tripped over the pretty pail on the floor.  While I'm not a wallpaper fan, I think it adds some fun personality on the cupboards.  Overall, a fun and eclectic design.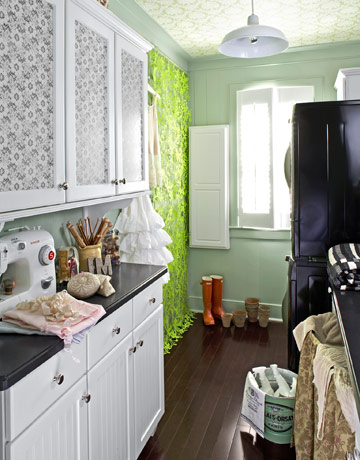 source: Country living
When was the last time you exercised in the laundry room?  Hmmm, not a bad idea – you can challenge yourself to stay on the treadmill until the load is done, and watch a little HGTV while you're at it!  Just be careful not to drip any sweat on the clean clothes. lol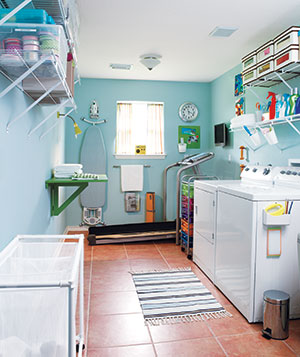 source: Real Simple
Here's a great use of a small space – even the ironing board has décor duty!  Note the use of one large simple piece of art – small items in a small space get lost and become clutter.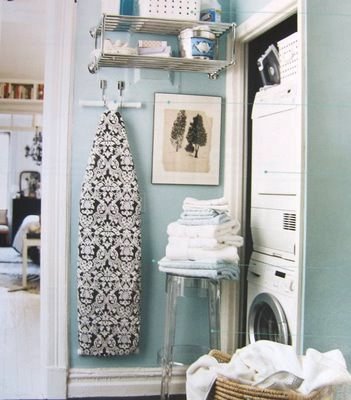 source: Domino
Fun use of stripes, and note the track lighting.  Now Showing (drum roll) – mom doing laundry! But seriously, you've got to have lots of light to find stains no one bothered to tell you about and collect any money left in the pockets (that's my tip)!  I also like the use of shelves on the side walls – gives the room a bit more dimension.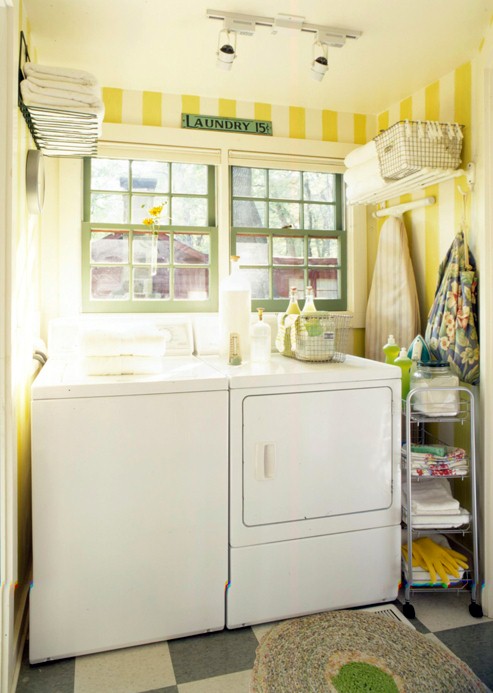 source: Better Homes
Ok, lets get our heads out of the clouds and back to reality – what tips do you have for my humble little laundry closet?  I should tell you that the color will have to be blue (because I'm using leftover paint from my kids' bathroom), but I'm looking for easy (and inexpensive) organizing and decorating ideas!
***update – yes, I got it done! Check out my new laundry room closet!***