I miss my old laundry closet in my last house. It was 2nd floor, and it's only purpose was providing clean clothes.
Now I have a laundry room off the kitchen, which forces certain mudroom functionality on a space overwhelmed by needs, especially since I no longer even have a mudroom. There is great temptation to overwork this little space.
Here's how the room looked when we moved in.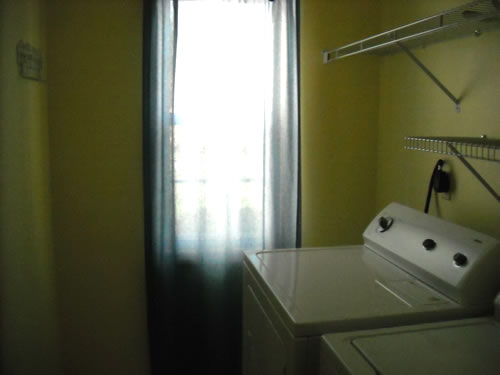 All we did was update the curtain, the overhead light fixture (which you can't see in this picture, you'll have to trust me), and added colorful storage bins to stylishly hide clutter.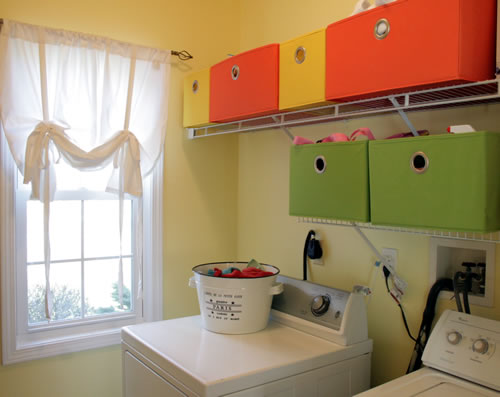 This was my inspiration room (from Crate and Barrel):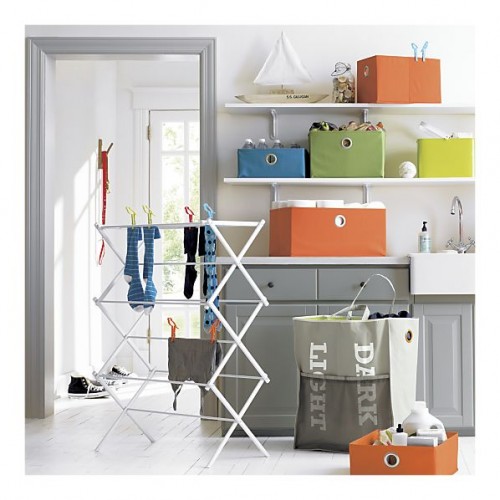 While I love the pop of color against the soothing gray palette, I was happy leaving one room unpainted in this house, since it was a rather happy yellow. That, and I'm tired of painting. Seriously!
One of my favorite organizational obsession is microfiber rags. I use them for everything. So I found this pretty french pail to keep them at arms reach after I launder them.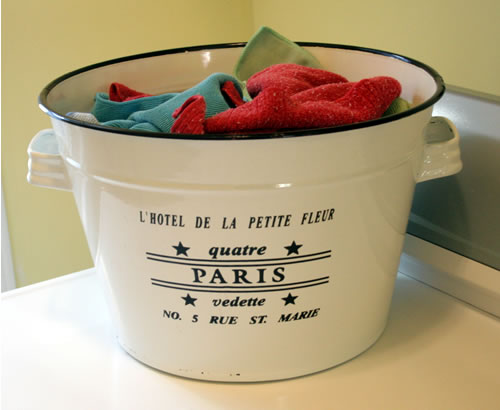 We installed a coat rack from our last home, but I don't let the kids hang their backpacks in there. This is my room, not theirs. 😉 And I do have  a few taller cleaning essentials stored in this space, but they're good about staying the corner, since I'm the only one who uses them. Don't you think the orange sweeper offers a nice pop of color?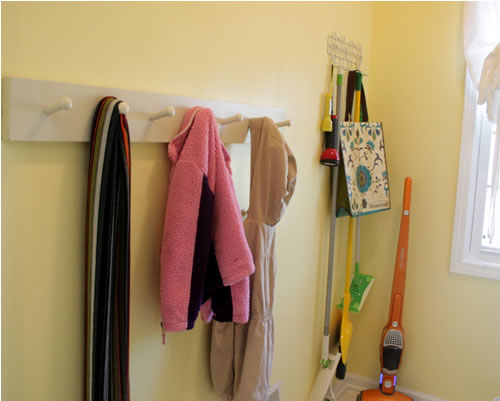 There's more to the organizational story than meets the eye in photos. By purchasing a new tall kitchen step-on can, I was able to move cleaning products out of the laundry room to underneath the sink. I was also able to move paper storage to the pantry from the laundry room by using a small shelf unit that was formerly in this room.
If I'm expected to run a dozen loads of laundry per week, I can't let this room multitask to the point of clutter mahem.
This is Mom's room. Keep out!