A big "thanks" to Bahram from Dulles Glass and Mirrors for this post! I'm all for anyone with suggestions for making spring cleaning fun and interesting! Get out that Windex and look for ways to add sparkle to your home with these great tips that go beyond smoke and mirrors!
Spring is approaching, and with it comes the boring ritual that has become spring cleaning. This year, in addition to the mundane scrubbing, why not liven up some drab areas of your home with a little sleight-of-hand sparkle. Here are five tips using mirrors and glass that will add a touch of brightness to any room, without expensive remodeling. Guaranteed to be a lot more fun than using a mop!
1. Discover Mirrored Tile
When it comes to decorative mirrors, you can't just throw the average mirror on a wall and call it a day – chances are it won't be big enough to really make a difference in a dark room. Large designer mirrors are expensive and heavy, and usually require a professional to install.
This is where mirrored tile really shines, pardon the pun. Available in a wide variety of sizes and colors, mirrored tiles are reasonably priced and make a great DIY weekend project. The 12×12 or 18×18 are best for wall projects; the smaller mosaic sizes are great for backsplashes and similarly sized areas. Create a large rectangular shape over your sofa, or get creative with a 4′ by 4′ diamond shape. Transform that tiny dining room by mirroring an entire wall. Create a faux floor mirror complete with frame. Use your imagination – mirror tiles are extremely versatile!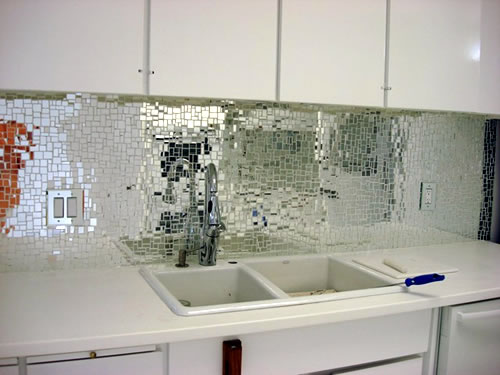 (source)
2. Get Framed
A less permanent way to create a large "mirror" is to use a grouping of smaller square or rectangular mirrors in identical, clean-lined frames. Black frames work for a wide variety of design themes, including traditional, modern or home offices. Use silver or gold frames for formal or Art Deco looks, and white frames for cottage, beach or shabby chic styles, or for children's rooms. Hang them with little or no space between the frames – another reason to choose frames with very clean lines. Basic laser-powered levels are available for less than $100 and can help with this sort of precision hanging.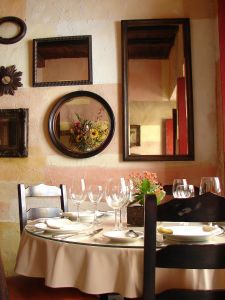 3. Go Skinny
An even easier option is to choose a grouping of long, narrow mirrors. This is a fantastic way to create a foyer or entranceway where you don't have one, or wherever space is limited. Two or three mirrors are best; any more and it starts to make the wall look cluttered and disjoint. This also looks terrific over a sofa or in a narrow hallway.
4. Open Up Some Doors
Is your kitchen outdated and dark? You probably already know that you can lighten the place up by painting ugly cabinets a light color. But not all cabinetry is an eyesore – a lot of it is made from exquisite woods and is quite beautiful. If you love your cabinets but have grown tired of the endless expanse of wood, put that paint brush down and consider replacing all-wood doors with wood framed glass doors, especially on upper cabinets. It's not necessary to replace every door – sometimes just a few change-outs can make a big difference.
5. Corral Your Clutter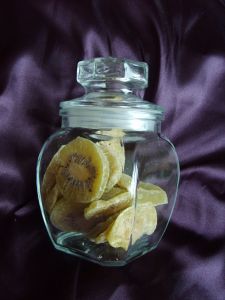 Doors with glass fronts allow you to see what you're storing – which may or may not be a good thing. Make even the most ordinary things appear more interesting by storing them in glass containers. A collection of various pasta shapes and beans stored in an assortment of simple glass jars adds sparkle on the shelf and is a lot more interesting to look at than a row of boxes. The same holds true for buttons, pushpins, nails, paperclips, loose change and more -the list is truly endless. You don't even have to buy new containers – just wash out and reuse old spaghetti sauce, pickle and jam jars. Crafty types can take it a step further and fashion fabric tops for the lids, but this isn't necessary.
With a little imagination, you'll be surprised what glass and mirrors can do for your space!
About the Author

Bahram Nasehi is a Vice President and partner at Dulles Glass and Mirror. He is instrumental in the developement and manufacturing of custom cut glass products including wall and bathroom mirrors, vanity mirrors and glass shower doors.