The master suite is supposed to be a retreat to sooth the soul at the end of a long day.
But we just weren't feeling it from this house when we first viewed it online. It felt dark, dated, and yes, it looked like a lot of work! The reddish-brown carpet and pink walls almost sent us running.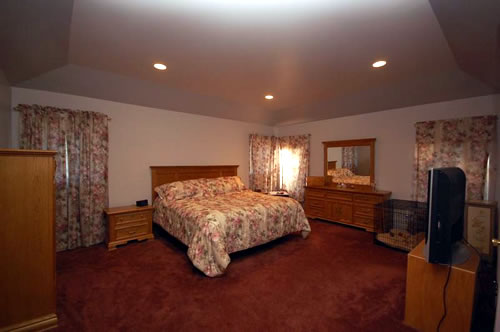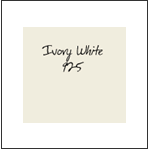 But the layout was good, and we like the many windows for natural light.
So we persevered, and lightened it up with Benjamin Moore Ivory White paint (it looks a little lighter in the pictures than it really is). We also ripped up the carpet to replace it with a more neutral variation of brown, tan and beige. Whew!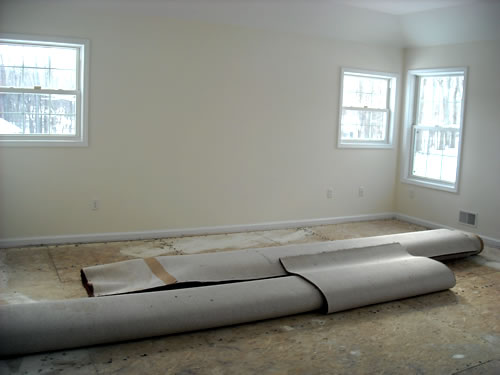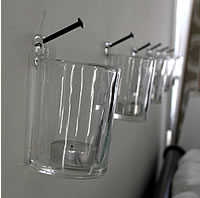 Adding our existing furniture and made it feel like home (and saved money!).  I like the contrast between the light walls and the dark furniture.
The simple glass votives over the bed are hung in a linear fashion for a minimalist, contemporary feel. They are vintage Pottery Barn – not expensive and so many ways to use them!
We did invest in new window treatments, but kept the cost down by buying "off the rack" rather than custom. The panels are from West Elm, white voile sheers from Pottery Barn, and bronze double rods from Crate and Barrel.
We also added the chair in the corner (from HomeGoods). I love the clean line of it.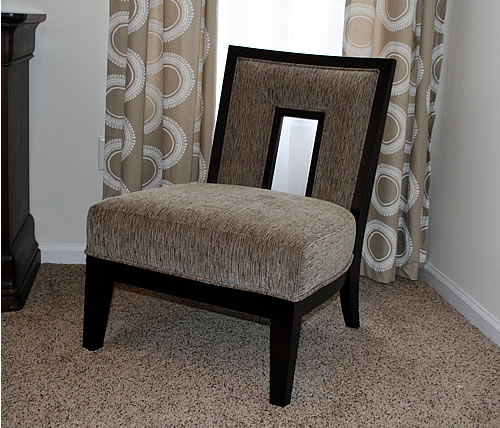 We purposely kept the colors in this room very calm and subdued. We played off our favorite print from our favorite jazz hangout (the DeerHead Inn in Watergap, PA) to bring a subtle splash of turquoise against the neutral palette. While this room is not very loud from a color perspective, we find it very soothing. And, as a Mom, I love that it hides dirt. 😉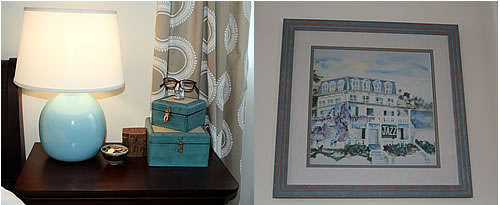 So let's review side-by-side…which room would you have better dreams in:
Here's another view – notice the opening to the sitting room on the left? Yea, that's another project!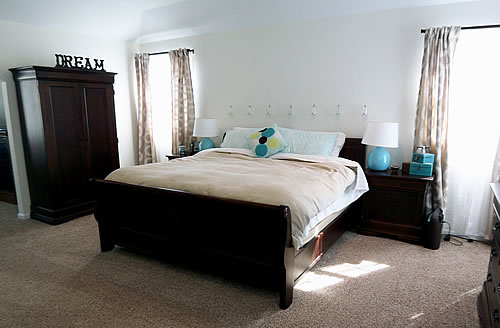 Here's the "before"…stay tuned for the "after" post! We'll try to create a sitting room using what we already have. Time to start digging through the basement and garage!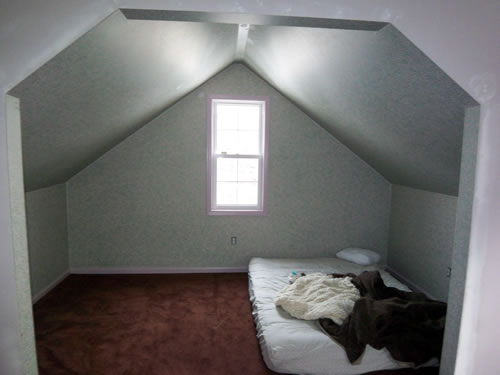 Any suggestions for this sitting area? What do you find relaxing about your bedroom?