Do you dream of a new kitchen with a vintage vibe? If your home falls into the mid-century modern era (circa 1933 – 1965), a retro kitchen may be just what your home needs.
Mid-Century modern is an architectural, interior, product and graphic design that generally describes mid-20th century developments in modern design, architecture and urban development from roughly 1933 to 1965.
An easy way to make a retro statement in your kitchen is through your appliances. No, not your grandmother's avocado appliances, but retro styling on the outside with modern technology inside.  But how do you do it, with confidence?
I wrote about the Big Chill Appliance Company in my post Bold and Beautiful Kitchen Appliances back in 2009, and was thrilled to recently interview Orion Creamer, co-founder and product developer for Big Chill.
He and his uncle Thom Vernon founded the company in 2001, starting with bold refrigerators, and has since expanded to include all kitchen appliances.
"The ubiquitous stainless steel appliances weren't the right fit and we wanted to steer clear of the dreaded 'white box'." ~Thom Vernon
We are told by conventional wisdom (the dreaded "they say…" syndrome) that you should only consider matching stainless kitchen appliances if you ever want or need to sell your home at some point.
Phooey. A kitchen well-done is a kitchen well-done.
According to Orion, customers typically start with one item, mostly the refrigerator. It adds a nice dimension and can easily stand alone in a kitchen design. The best way to start is looking at Pinterest and Houzz to get ideas (or…ahem…this blog!).
Can you guess what the most popular colors are?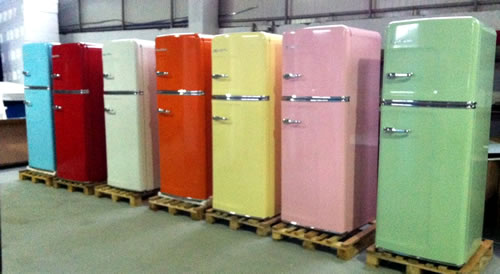 If you guessed 1) white, 2) red, then a tie at 3) blue and yellow, you're right. Custom colors are also available.
Can you guess Orion's favorite? Orange. Great energy in that color!
So let's look at some beautiful examples of retro kitchens with (dare say) a little mix and match appliance at times!
I think you'll agree that these kitchens are beautiful, AND memorable. Now then, what do you think of moving towards patterned appliances? Or is that going a little too far?
If you'd like more retro eye-candy, check out Big Chill's Facebook page and Pinterest boards.
Note: I did not receive any compensation or encouragement to do this post. I just a have a genuine crush on their products. 😉