Marissa Mayers sure stirred it up this time!
To be completely transparent here, I'm a huge advocate of telecommuting.
But I see both sides of this story. The company is in trouble and perhaps time spent bonding in person will generate the next big idea. Maybe?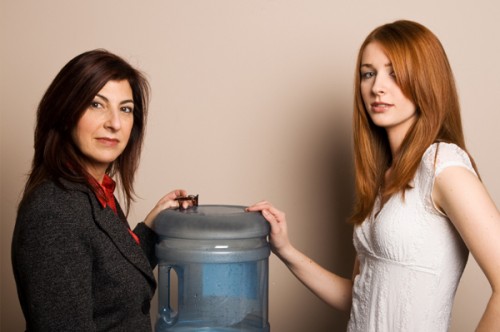 I just think it's ironic that while Yahoo telecommuters have shed the sweats and show up for face time, Marissa just had a nursery built next to her corporate office for her new baby. Awkward.
You can decide for yourself if that makes sense. But in the meantime, let's look at some pretty and productive home offices for those who DON'T work at Yahoo, shall we?
I'll share my favorite office idea first. I love everything about it, including the orange bike casually parked by the fireplace.
You can't go wrong with black and white, and ANY pop of color you'd like to add to it.
French doors provide pretty boundaries with just enough privacy. So pretty.
Any crevice can be transformed into a happy, productive space. Love the green accents and the clip boards (I'm going to steal that idea for my office). And the desk curtain probably hides ugly but necessary stuff. Brilliant.
In my dreams, if I had the space, I'd create a workspace suitable for collaboration. Would be much quieter than my local Panera as well.
And here's a fun little article about the behind the scenes of working from home. Kelly Ann Collins, a marketing and public relations strategist, disagrees with Yahoo's new policy discouraging work from home.
To be fair, we should also consider the option Marissa has personally chosen for herself. Bring your baby to work. Would you see that as a distraction or a convenience?
But hey, it can work. As proven by Zutano.
Time will tell if face time makes an impact in the strategic direction of Yahoo, and I wish them well.
But one thing I know for sure – people are more productive in pretty places. What does your office look like? And if it's not a home office, what latitude do you have to spruce it up?