Have you ever drooled over kitchens used in commercials?  Well, I finally got my chance to see the process in action.  My two girls and I were asked to be in a milk commercial that was shot locally.  The spot would be shot in a large, lovely kitchen in town.  So of course, I couldn't wait to see it.
My girls and I show up, and to my surprise, I couldn't really see the kitchen at all!  There was so much video equipment in the room, and most decorative accessories were moved out of the way to not compete with the focus of the shot.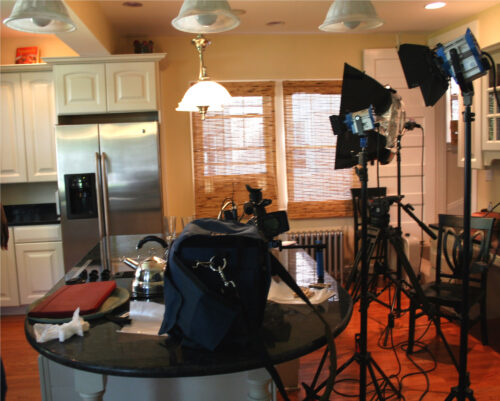 Here's another view: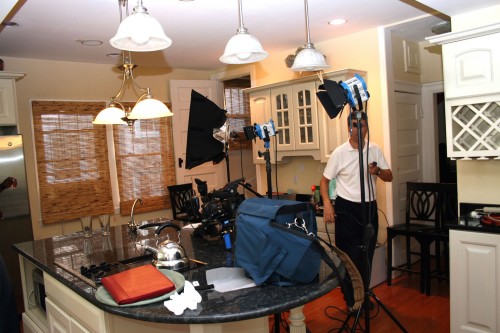 The kitchen has wood floors, black granite, high ceilings and beautiful cabinets.  In fact, it even has the same exact appliances I have in my house!  But it's so hard to focus on those fabulous details with camera's lights and wires strewn everywhere!  So I guess you'll just have to use your imagination.
My older daughter surprised me by really getting into character for her part (granted, it's just a 15 second commercial).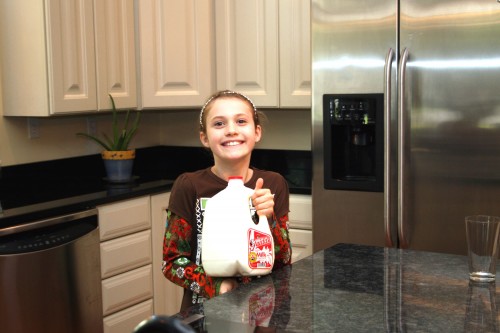 Ok, without further adieu, here's the commercial (pay close attention, it's only 15 seconds!:

Now, was it just me, or does the logo in the closing frame completely cover our faces? I feel like the little green guy in the Disney Monsters, Inc. movie. And does that really say "super cow" across the bottom? lol