When my kids and I first toured our as-is house, I was totally feeling the vibe from layout and potential of the house. But I was in for a surprise when I peeked into the the master bathroom from the bedroom. Not so much the size of it, but the padded forest green toilet seat. No thanks!
As I evaluated the little room (which didn't take long), the kids came running in, excited to tell me they had decided who would take which bedroom. I sighed, I guess we were doing this. I needed to make this work. But the green squishy toilet seat had to go.
Before we get into the project itself, let's look at the context – the room this bathroom is attached to.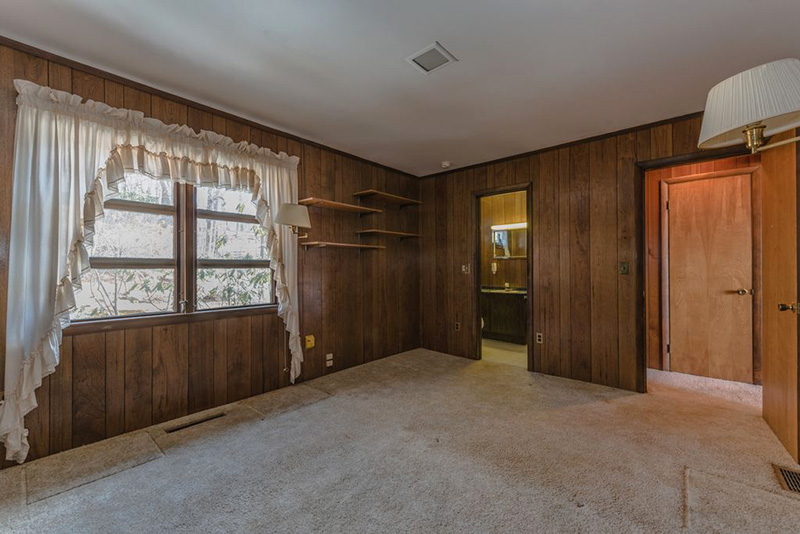 They liked their paneling! Here's what the master bedroom looks like now.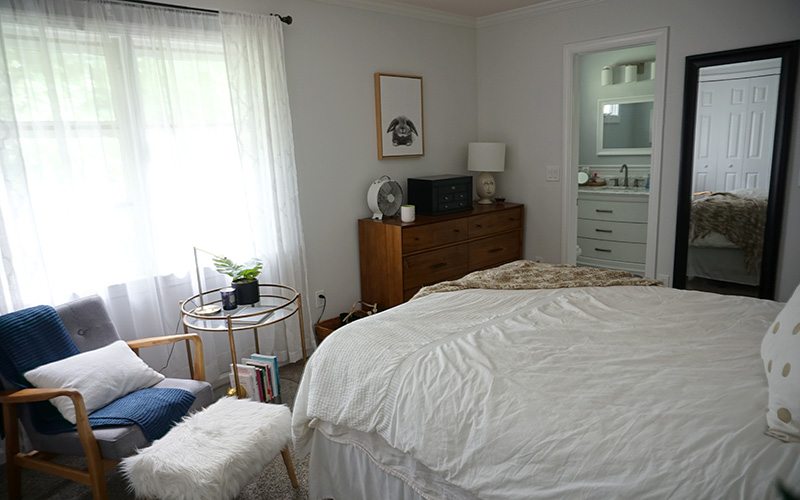 The Plan
To make this small space work, it had to be bright, offer adequate storage, and be minimalist in design.
Before and After
I didn't have budget to edit the layout of the room, just the finishes. But a new vanity and toilet were non-negotiable! This bathroom went from dull…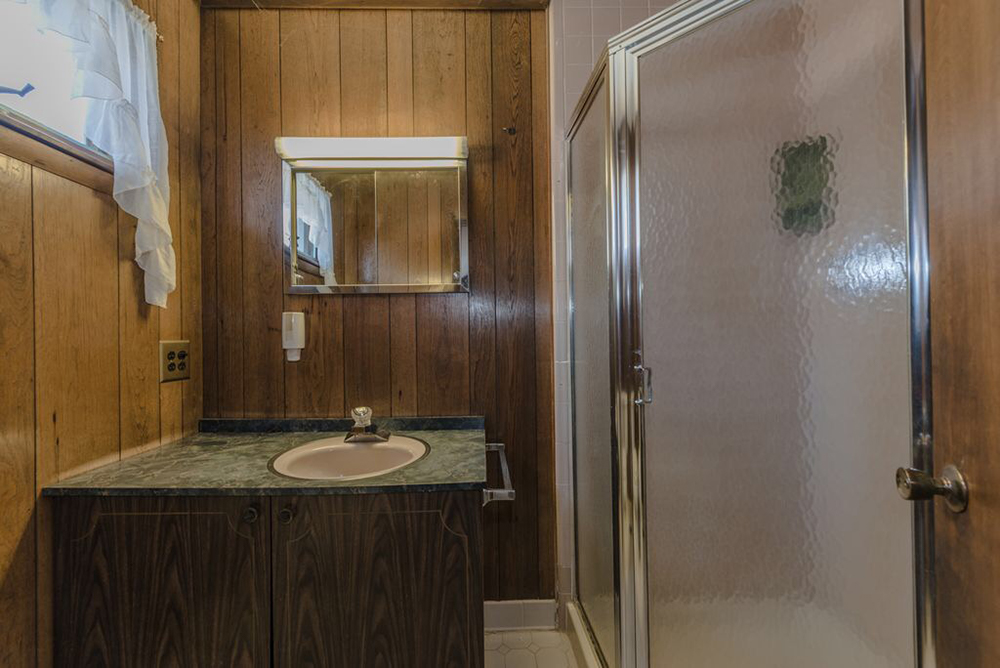 …to bright! Keep on scrolling to see how we did it!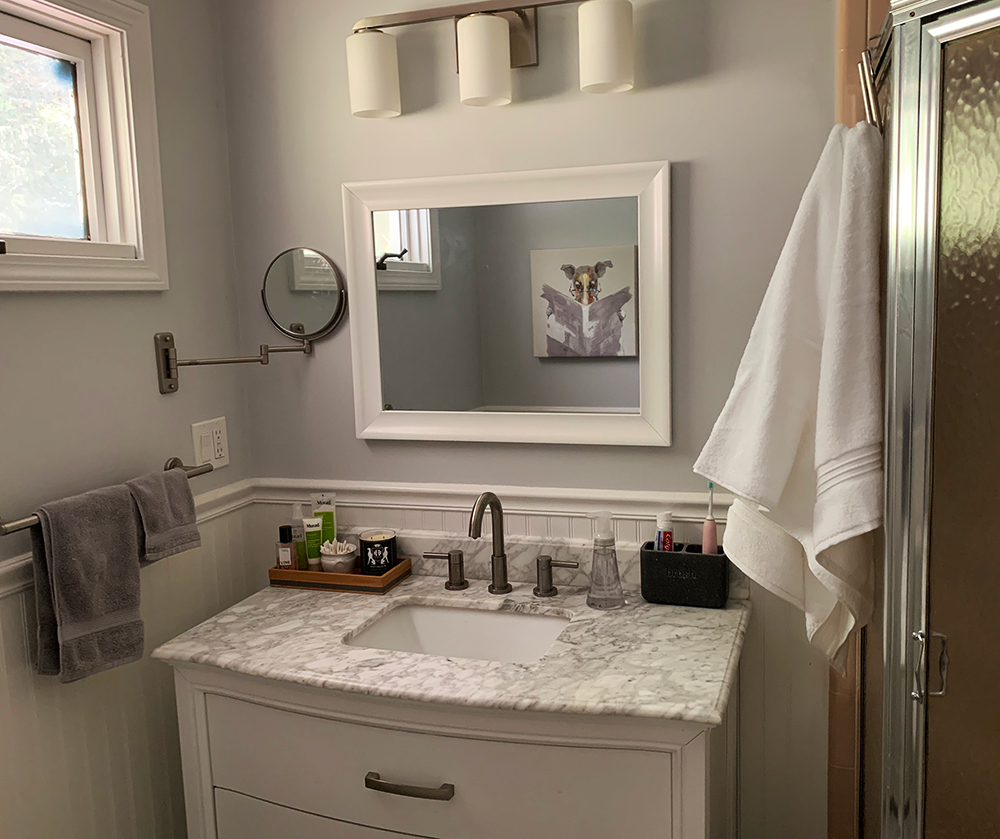 Deconstruction and Reconstruction
There wasn't much I could salvage, other than the shower (a project for another day). So I started by deconstructing the walls, floor, vanity and toilet.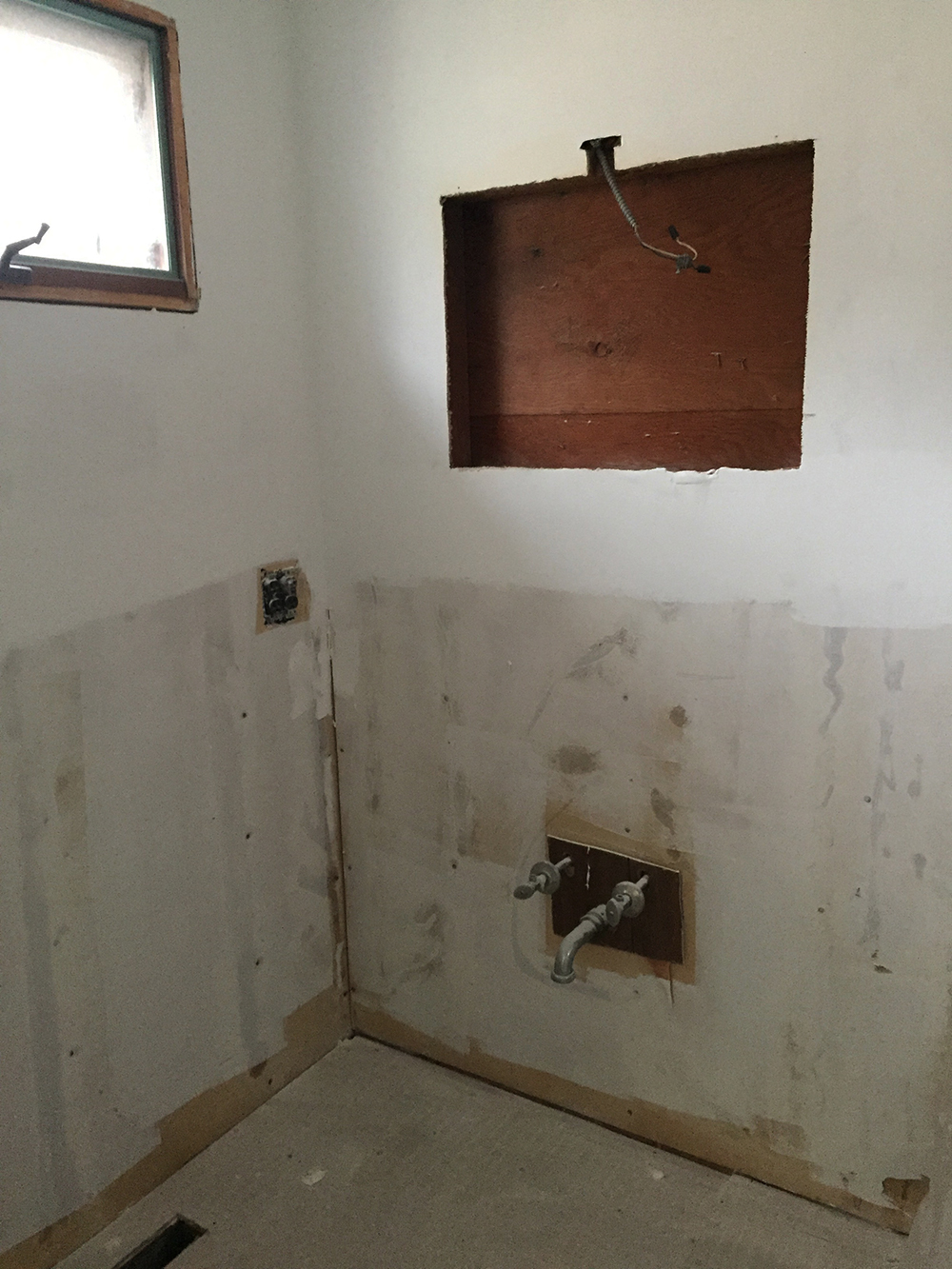 Paneling gave way to drywall and beadboard. The laminate floor, yellowed with age, was replaced with marble tiles.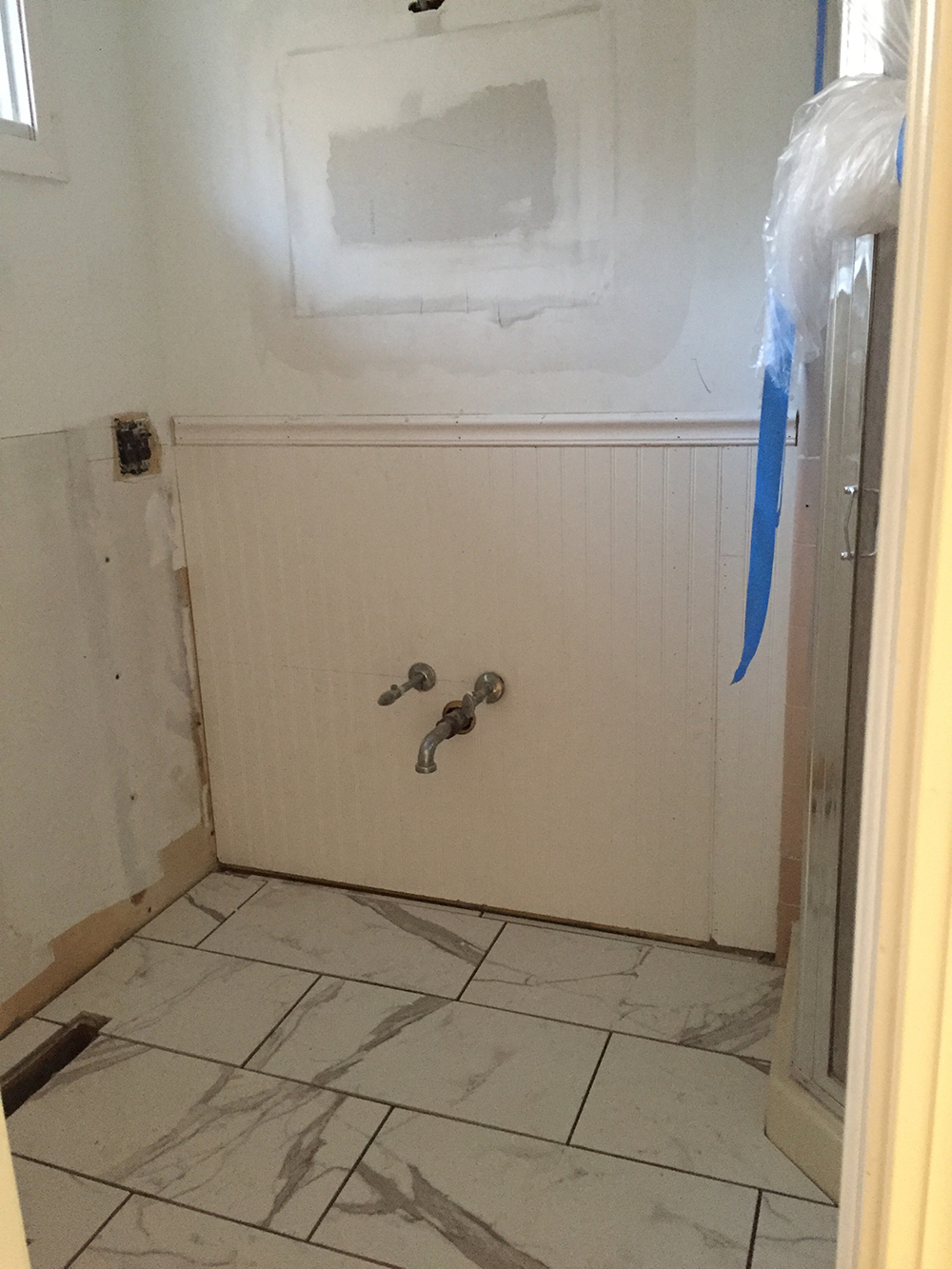 The new vanity was key for storage. I find drawers much more efficient for storage than under-sink areas. (Shout out to Rob, my plumber!)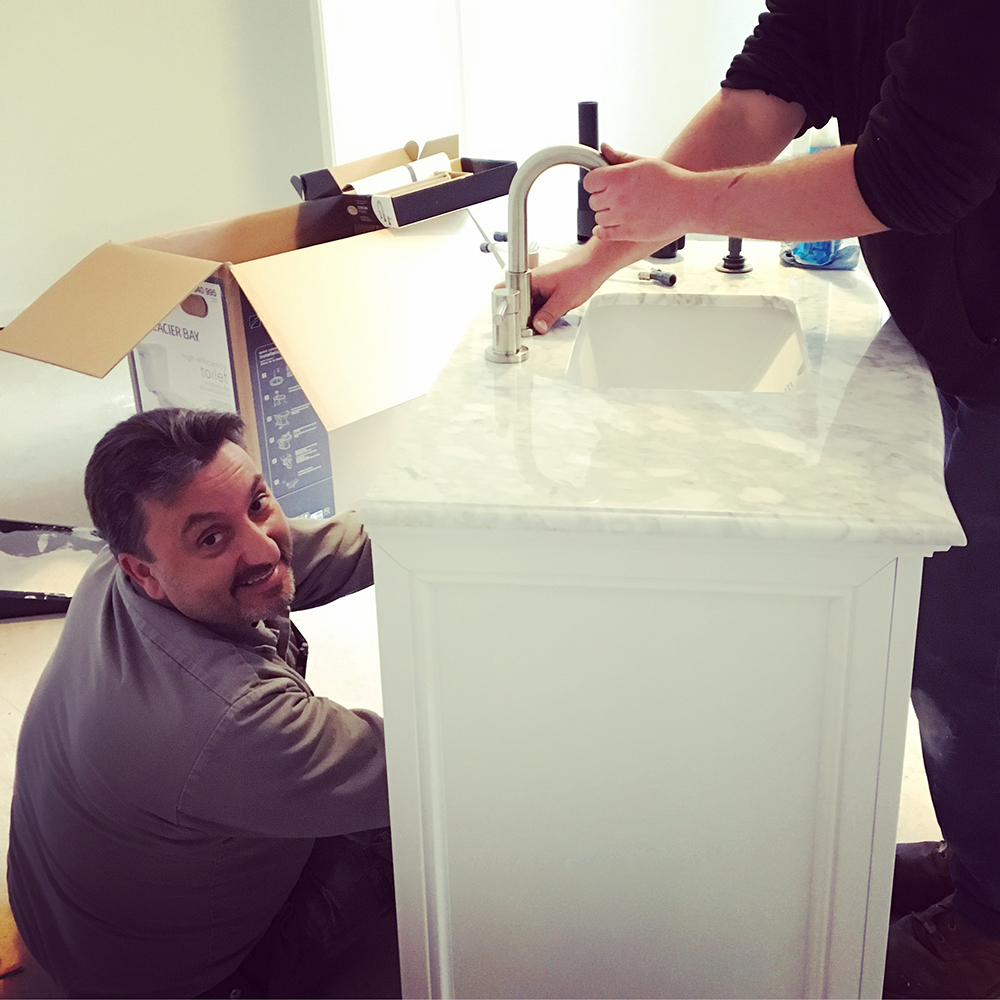 The mirrored cabinet was replaced with a simple framed mirror from Target, and lights from Lamps Plus were added above the mirror. Not shown is a new ceiling light with vent (and corrected to exhaust outside instead of into the attic).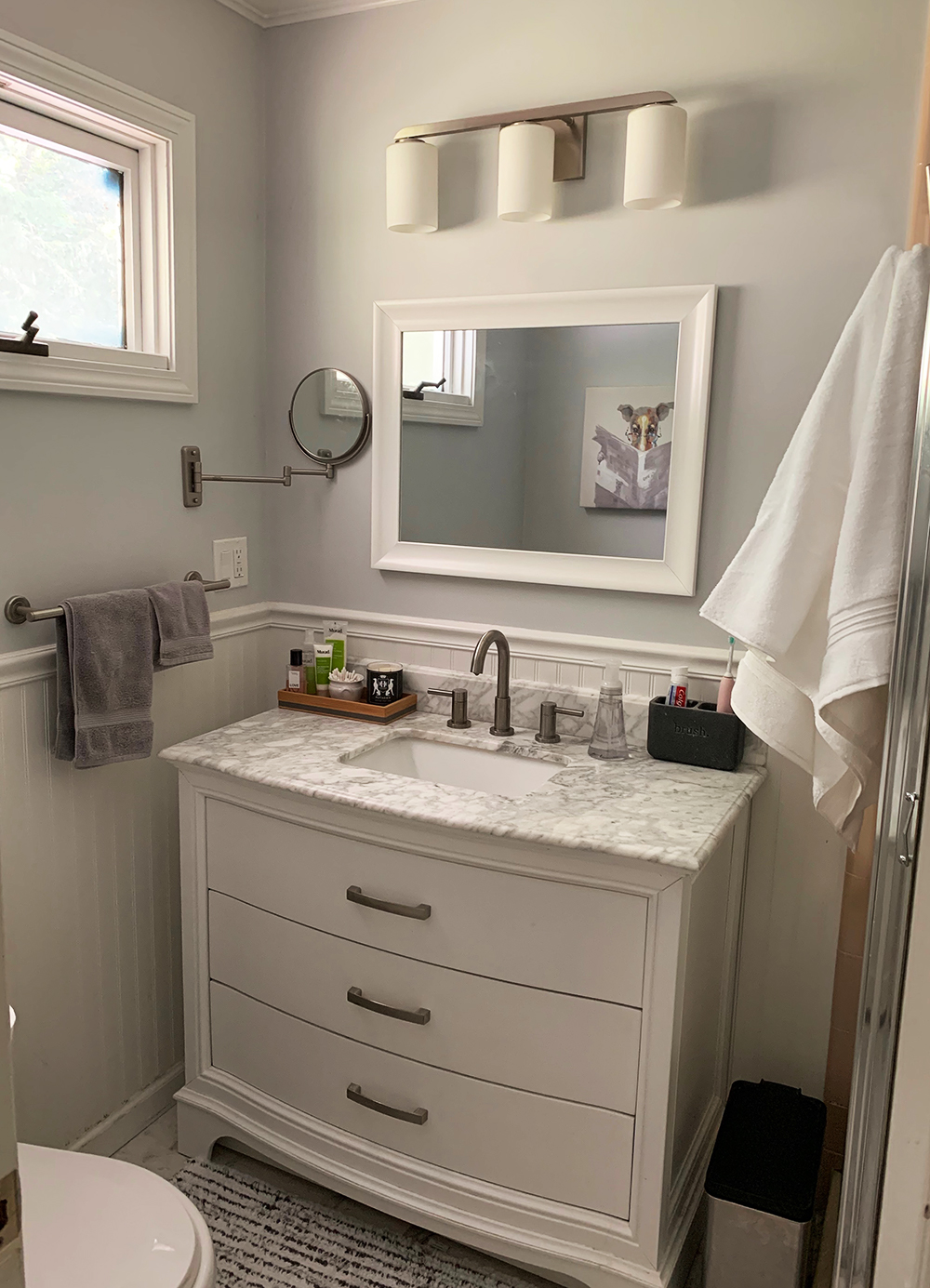 3 Small Space Tips
Admittedly, I have a crush on right-sized spaces. As someone on the spectrum of minimalism (more on that later), I love the challenge of only keeping what you need, and organizing your space to work efficiently.
1. Singular Focus
The room could afford one piece of art. I chose a whimsical piece of art (and nod to my Jack Russell Terrier) ironically reading the paper.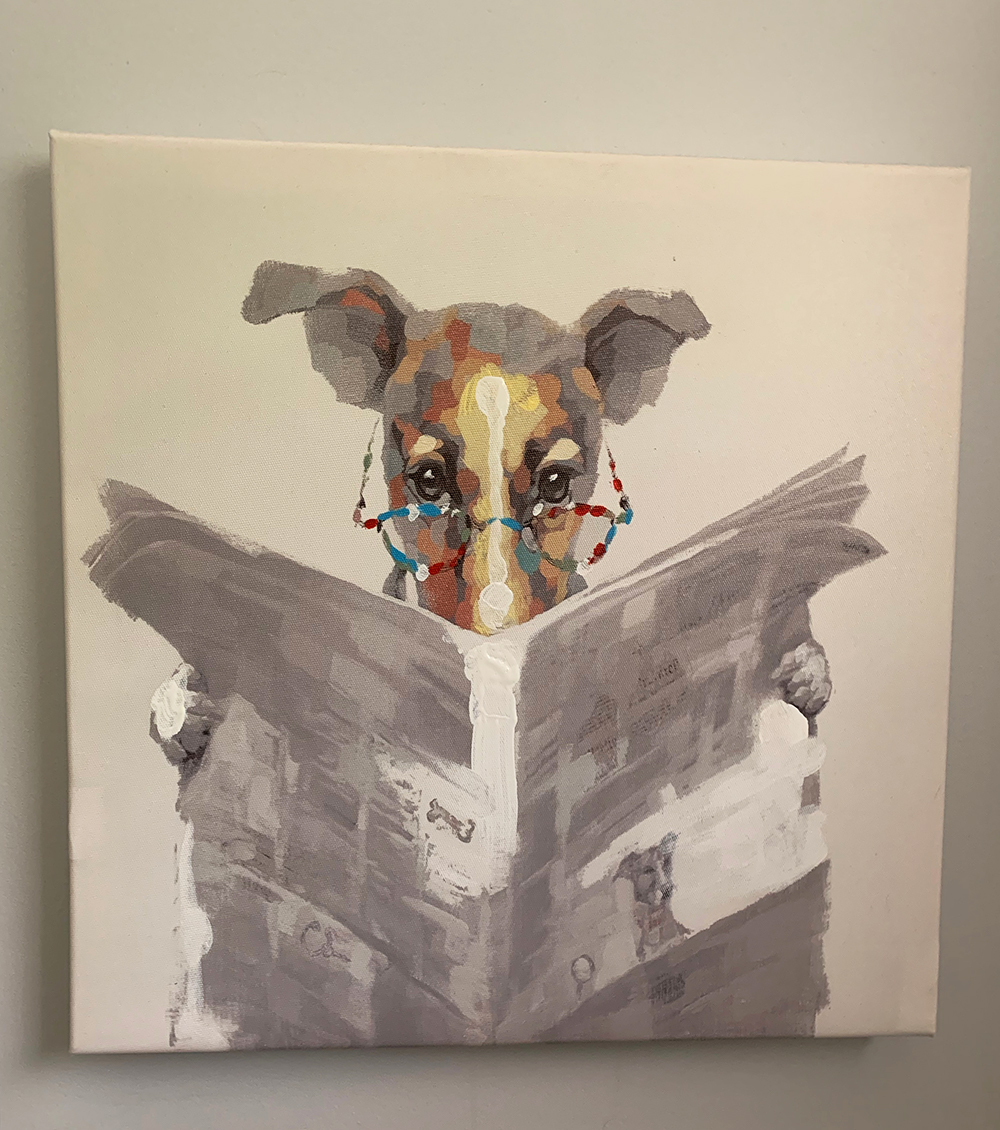 The colors worked well with both rooms, and it's not busy. Best of all, it makes me smile.
2. Drawers and Bins
As I mentioned before, I believe drawers are much more efficient than cupboards for the bathroom. Once a small space starts to get even a little cluttered, the battle is lost. To keep everything in its place, I added several small bins to organize regular-use items, such as make up.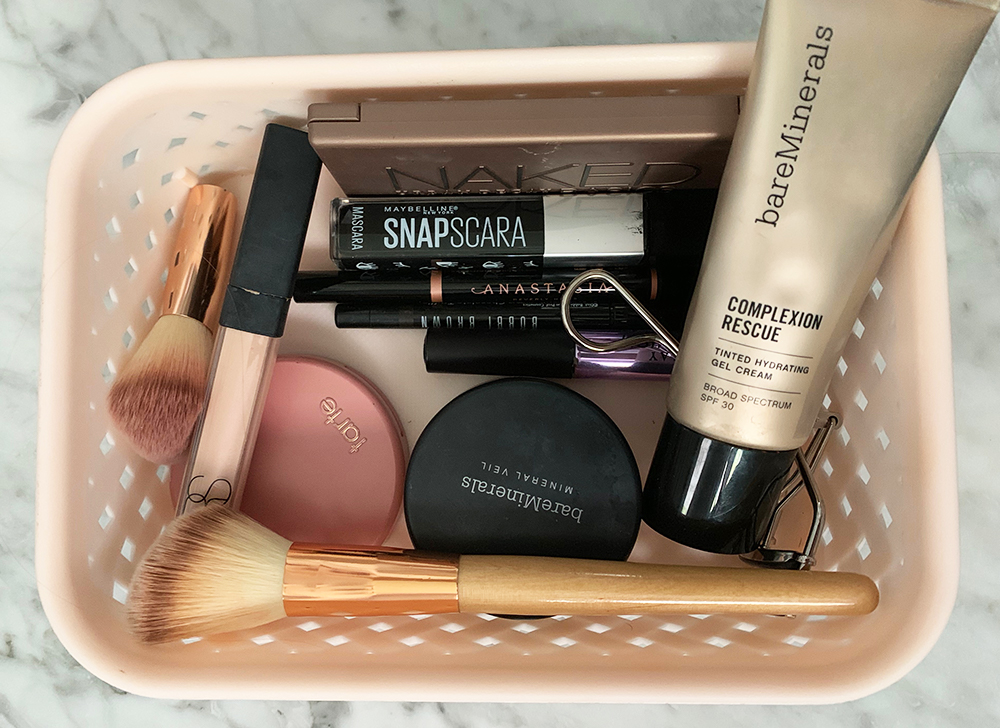 3. Wall Space
This is obvious, but worth mentioning. Counter space is limited, so I the towel bar on the wall, plus the round magnifier mirror (yes, I've reached that age) give a little breathing room for the counter.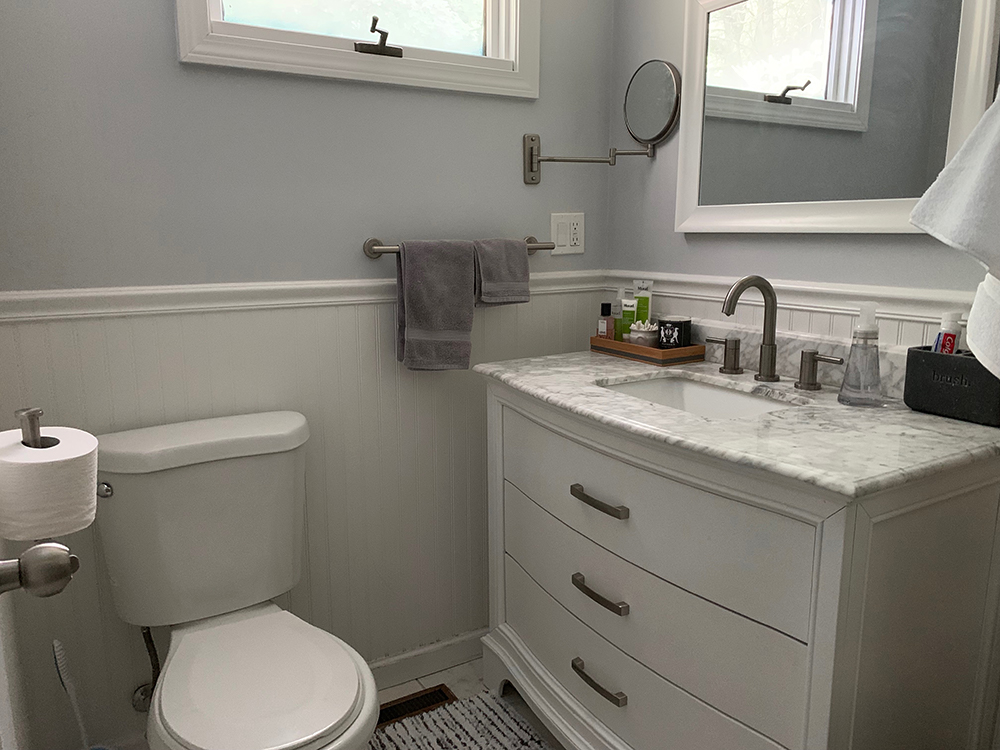 I was able to hang the bath towels on a hook that hangs over the side of the shower. Not shown are a few more wall hooks on the wall behind the door.
It's a hard little room, but everything works! For me, the key was having a place for everything and everything in it's place (yes, Mom, I hear your voice in my head!).
For more before and after stories from my as-is house, click here!