We've all been there.  You want to make a big change in your home, but now is not the time to be spending.  Whatever your situation, you still want to improve your room's form and function NOW.
Here's a case study of an ugly master bathroom that needed some interim love.
Dark green-ish walls, tan trim, yellow-ish ceiling, floral border, grimy shower door and dark rose shade made this master bathroom feel like it was from another era. And did you notice there are no knobs on the cabinets? A functional no-no!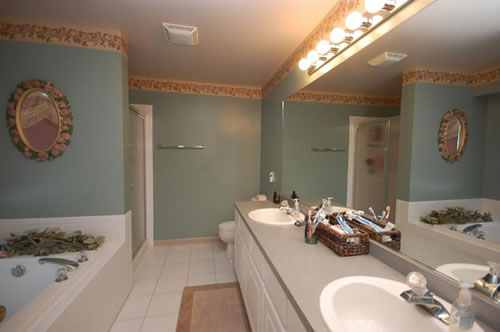 The Plan: hit the low-lying fruit with a budget of just $300. Here's what we did.
First (after removing the border) we painted the ceiling white, the walls a pale blue/green/gray (BM "In Your Eyes" – same color we used in the guest room), and the trim white ($60).
We then replaced the towel bar with hooks and added hardware to the cabinets. Cabinet hardware – Martha Stewart collection from Home Depot ($36) and hooks (actually a coat rack) from Stacks and Stacks ($30).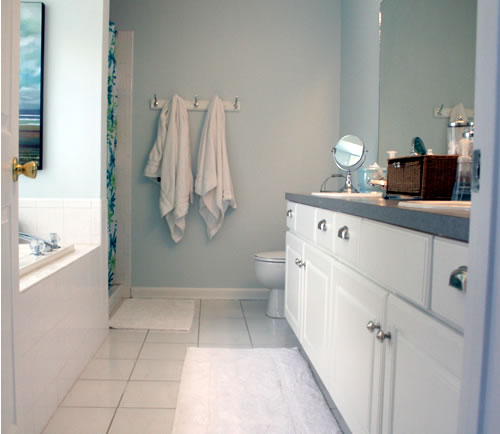 We tore down the shower door, and replaced it with a stall shower curtain. Much cleaner (I'll spare you the details) and easier to KEEP clean ($50). Note: had to order the stall-size shower curtain online (Amazon) – not many in stock in local stores).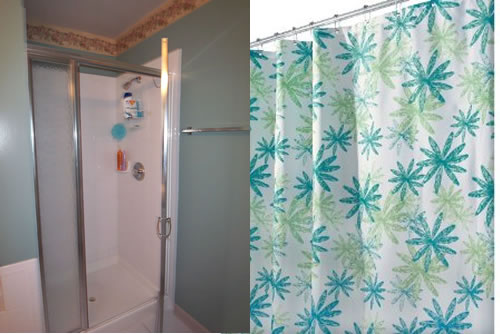 We finally, we replaced the foreboding rose shade with doily accent with simple café panels ($100). Rod from Crate & Barrel and panels from Pottery Barn (yes, same curtains we used in the guest room – we found they were perfect for letting light in while giving full privacy).
We also added a functional shelf with hooks from HomeGoods ($25). Great for drying bathing suits!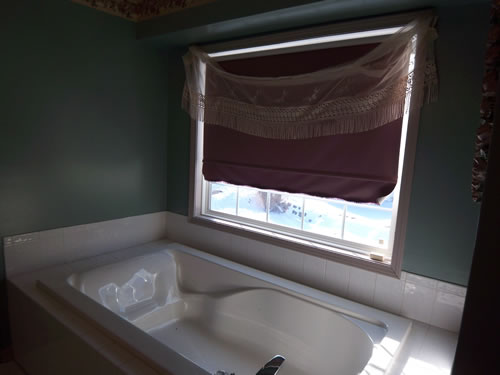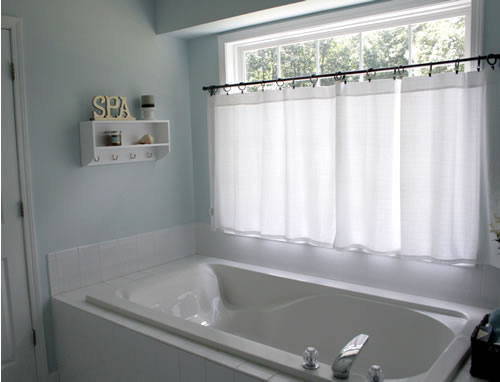 If you were counting along with me, that's a total of $301. Ok, so I went $1 over. 😉
Phase II of this bathroom will include a new counter top, sinks and faucets. Plus new lighting fixtures (two to replace the one shown) and two mirrors. But for now, this room seems to work fine for us. And for around $300! Here are few more pictures: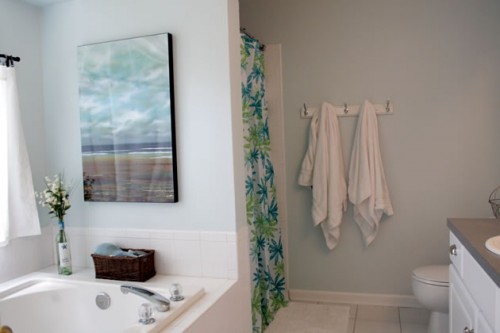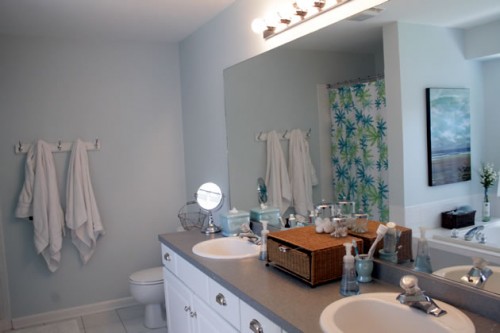 What quick fixes have you done for your rooms? And any suggestions for counter tops? I'm hoping to get to phase II early next year.