A blank canvas – a long room with awkward traffic pattern from the foyer through to the dining room (back left of picture below).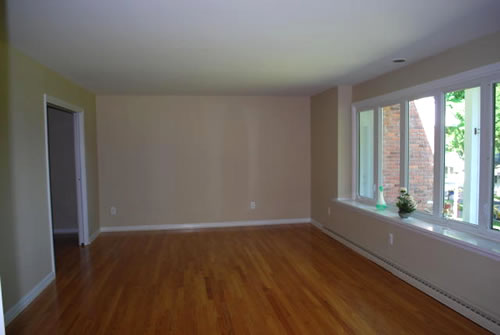 The challenges:
$600-ish budget, so I mostly had to use the furniture I already had.
Had to allow for flow to the dining room.
Had to be family/pet friendly.
The solution:
Follow the lead of an inspiration accessory.

Find a smart layout.
Distract with color and a "wow" art feature.
Inspiration piece: love the neutrals, blacks/browns and pop of orange.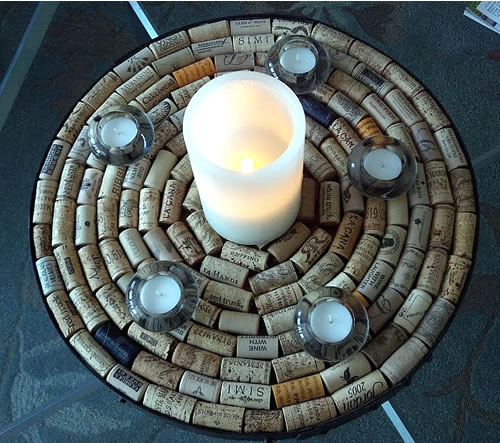 Here is the furniture from our last living room, to show you what furniture we had to work with. We also had previously upcycled the glass coffee table as shown here.
Note: this living room update in our last house was also a "use what you have" example. How many times can you play that card? Bahaha.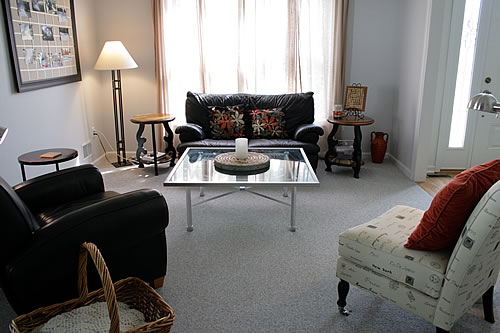 We did buy an area rug, leather chair, and 2 table lamps from HomeGoods for $660. I love finding deals!
We repurposed the curtains from our last living room. I used Stitch Witchery and ironed the hem rather than sew them. Not sure which is less fun – ironing or sewing.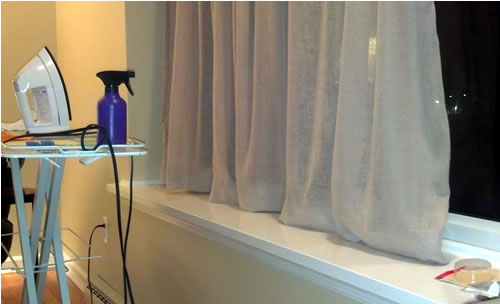 Next step was to decide on a layout.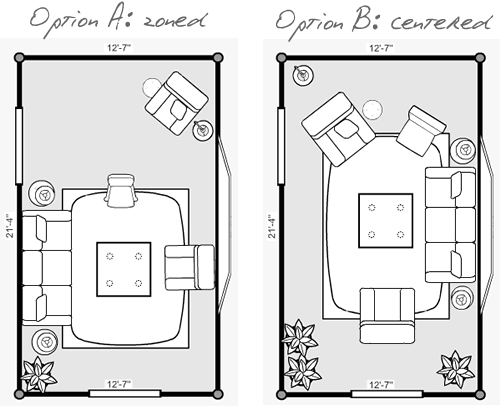 My initial thought was to zone the room. But that didn't work – not enough furniture and it made the traffic pattern to the dining room awkward. It never hurts to try different arrangements – you'll know when you get it right!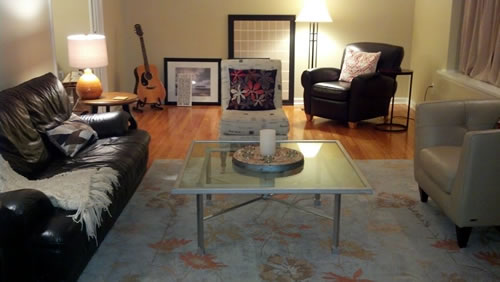 So we centered the rug, and made a single, spacious conversational area. I like the extra elbow room.
Adding an art wall at the back of the room helped to square the room, and add some pizzaz. For more on that project, check out the DIY Photography Feature Wall post.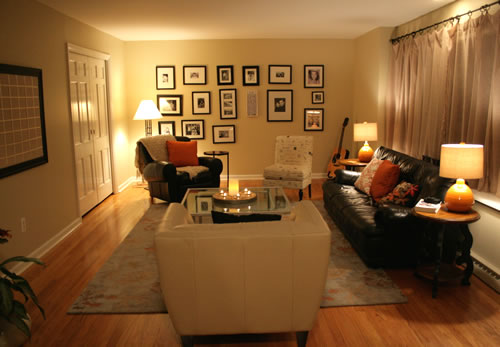 Oh, the power of pillows and colorful lamps! Helps minimize the black bachelor leather sofa.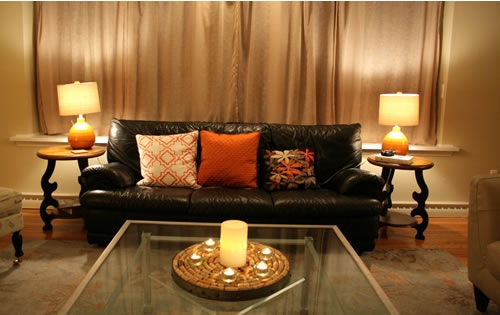 You don't have to spend an arm and a leg to make your room work for you. First look at what you have. Shopping in the basement and attic is cheap, in a smart way. And for the rest? There's always HomeGoods and upcycling!
Which room is the most challenging in your home? How have you used what you already had in a new way?