Annie from Pegasus Lighting gets it. We're busy! She shares 4 super easy lighting ideas that anyone can do. I'm always amazed at what a difference lighting can make to a room! ~Susan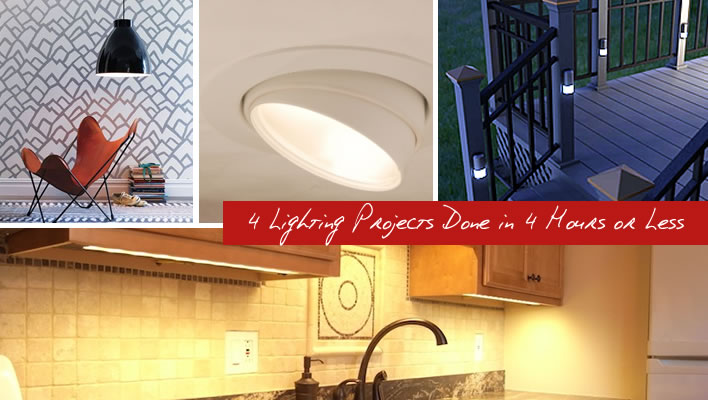 Home lighting projects can cause a lot of anxiety. Unlike simpler DIY projects, changing up your home lighting involves electricity and wiring, cutting into the ceilings, and drilling into the walls.  If you're new to the world of DIY, or just don't trust yourself around live wires and power tools, it's enough to make you want to give up.
Why does it have to be so hard?
Well, thanks to new lighting technology, this problem isn't quite so black and white (light and dark?). Today, there are tons of different ways you can update the lights in your home in hardly any time at all. And trust me – you don't need to be a lighting expert to do these projects on your own.
If you're looking to change the look of your room, make it more functional, or save some money with your lighting, check out these 4 lighting projects you can do in an hour or less:
1. Adding a dimmer switch.
Upgrading your light switch to a dimmer takes around 15 minutes. It only requires some minor wiring at the switch plate. This is probably one of the most versatile, impactful, and energy efficient changes you can make – dimming the lights in a room can change its look and feel in an instant. The more you dim a light, the more energy you'll save and the longer your light bulb will last.
2.  Installing plug-in under cabinet lights.
Under cabinet lighting is a fantastic feature to have in any kitchen. These handy task lights light your workspace perfectly, highlight your backsplash, and add a pleasant layer of light to the room. Plug-in under cabinet fixtures like xenon, fluorescent, or LED offer quality light, and don't take long to install at all. Just affix them to the bottom of your cabinets (close to the front), use connecting cables to join them together, and plug them in. By connecting the fixtures together, you'll be able to operate them all from a single plug.
3. Retrofitting recessed cans with LEDs.
When you add LED retrofit modules to your old, inefficient recessed cans, you'll be saving a lot of money on your monthly energy bills. LEDs are, after all, the most efficient light source on the market today. You can find retrofit modules with a number of unique decorative trims, so you'll also be sprucing up those sockets while you're at it. To install a retrofit module in your recessed light, just unscrew the old light bulb, remove the trim, and screw the retrofit right into the existing socket. You'll be done in minutes!
4.  Placing LED path and deck lights.
If your outdoor lighting is lackluster or nonexistent, adding a few battery operated path lights or deck lights can liven things right up. Today you can find a number of LED lights that sit right in the ground, or mount easily with a few screws or strong adhesive – adding safety and style to your yard at night. Plus, LED lights don't emit UV like other light sources, which is what attracts bugs.
Even a small lighting update can make a big difference in any room. Just a few simple lights can bring new life to an entire space – highlighting shapes, colors, and angles in fresh and exciting ways.
Annie Josey is a blogger for Pegasus Lighting, a lighting retailer committed to helping homeowners conquer every kind of lighting project. To learn more, you can connect with Annie on Google+.