Enjoy this inspirational guest post from Jessica, a fabulous designer from the Balsam Hill Tree company. I love a great "do's and don'ts" post – especially about seasonal decor! ~Susan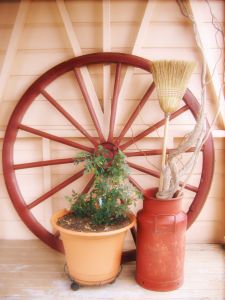 The rich colors of fall inspire even novice home decorators to take on a new project, and we at Balsam Hill Tree Company really get into the feel of the season, because it transitions into our favorite holiday, Christmas!
To us, the falling leaves means preparing for renewal, from hardship to ethereal beauty. For those who want to show off the beauty of autumn, we have these Do and Don't tips to help you create an easy, beautiful front porch that greets visitors from last falling leaves until December rolls in.
Do: Use the rich, earthy colors of the season in your decorations.
Stunning oranges and reds (the colors of pumpkins and falling leaves!) and earthy brown resonate with the season. Think of your favorite autumn scene and use those colors as your palette, and let their warmth envelop you and all who approach your front porch.
Don't: Go overboard.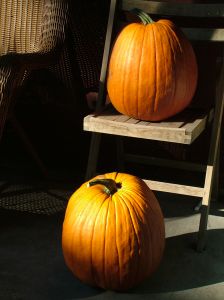 Too much of these colors can be overwhelming. Tone down bright oranges with soft beige, or add in a few green or yellow hues to your decor items. If it feels like you're standing inside of a pumpkin or if your eyes hurt, you've probably gone too far.
Neutralize with shades of brown, and incorporating an item with texture and color, such as cornstalks or jute rugs. Those of you lucky enough to have a wrap-around porch, colorful pillows and blankets go a long way.
Do: Use natural elements and play around it.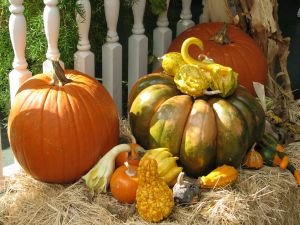 Use pumpkins and other gourds as decorative items around the porch. There are dozens of species of squash and gourds that can last through the whole season if you don't carve them. Just check with your grocer or the farmer selling them in the local market for an estimate of how long they last. Show off smaller gourds in baskets or bushels; larger ones can stand alone next to pots of mums. Beautiful leaves and twigs from your yard are a natural complement, and can be changed as often as you want.
Large vases or pots of flowers are also a stunning pop of color for the porch. Keep them in their soil and have them for longer. Asters, Russian sage, chrysanthemums and Monkhood are our favorites. With their amazing colors and wide availability, these flowers are beautiful to keep all year 'round but look best on the porch during fall. Another plus, these flowers are hardy, so even the most novice gardener can keep them alive.
Don't: Pepper your porch with decor.
You need room to move around on the porch, and too many decorative elements just looks messy. Pick a theme to work around, like gourds and flowers; smaller porches need just two or three small displays, while larger porches can easily support double that. This guideline leaves enough room for beauty and utility!
Do: Make it easy to transition into winter.
Choose items that look are good for fall and winter decor. For example, pinecone wreaths are beautiful for fall, and add berry sprigs to bring color to a dull wintry landscape. Painting artificial pumpkins and leaves gold will also add a rich, luxurious touch to formerly earth-tone decor, and create a magnificent holiday display. Artificial garlands can be brought out in late fall; dress them up with richly colored faux autumn leaves, purchased at any craft store. When winter comes, simply remove the leaves and Christmas lights! These transition your fall decor to the next season, which is much easier (and more resourceful) than scrapping everything and beginning from scratch.
Don't: Bring them out all at once.
As well as being exhausting, it can get messy and confusing to attempt changing fall decor to winter decor at once. Little by little, with the previous Decorating Do, you will be able to transition to from fall to winter with ease.
All the options for beautiful, elegant fall decor make any decorator excited! With our tips, make your front porch as eye-catching and beautiful as any professionally designed home.
Jessica Phan is a designer for Balsamhill.com, a purveyor of high-end artificial Christmas Trees. Living in the San Francisco Bay Area is perfect for her because she has a wide range of interests, including Art & Design, Fashion, Photography, Painting and Thrift Store Shopping.
Great tips Jessica – thanks! (And check out their customer pics on their Facebook Page). So how are you dressing up your curb for the upcoming holidays? And…have you started yet?