Thanks to Helen Davies from across the pond in UK for today's guest post. She is a bathroom designer and writer with ten years experience. She currently works at Better Bathrooms and has written for interiors magazines such as Real Homes, Homebuilding & Renovations and Period Living.  She just started her own personal blog and can be found on Twitter. 
If you have an en-suite bathroom that needs some work, or you're thinking of creating an en-suite from a small bedroom or a part of the master bedroom, your first thoughts are likely to be of the potential difficulty of furnishing the space. An en-suite is a small space that's sometimes oddly shaped, and you may feel that it will be difficult to find fixtures to fit the room.
But you don't need to have a large en-suite or think about extending the space you do have, if you opt for fitted bathroom furniture. There are some excellent small cloakroom designs and slimline units out there which will make the most of your space – without you needing to make more space.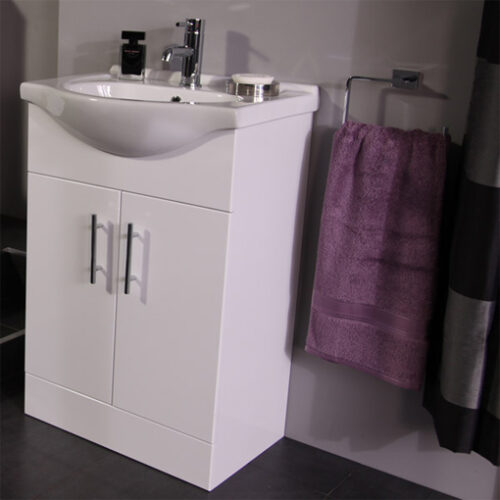 It's important to think about what you need in your en-suite before you begin. Think about how you use (or if it's a new build, plan to use) the room. Is it a space for a quick shower in the morning, and brushing your teeth before bed? Or are you hoping to create a private haven for pampering and long, luxurious soaks in the bathtub?
Decide what your priorities are, and focus on them. You may prefer a large or double vanity unit to allow you and your partner to share the space without fighting over a single sink. Or your priority may be a freestanding bath or large, walk-in shower enclosure.
Alongside these 'feature' fixtures, it's wise to think about adding some bathroom cabinets for storage. If you've opted for a vanity unit rather than a pedestal basin, you're already halfway there: the cupboard, shelves, or drawers below your basin in a vanity unit will provide you with some much needed storage space. But somewhere like an en-suite, where space is a t a premium, you can never have too much storage! Having well organised cupboards and drawers will mean that your overall space can be kept tidy and uncluttered. This helps add to a sense of space and calm – both very necessary qualities in a room which is part of your relaxing and sleeping space.
If you have a large bedroom, you could think about adopting a little boutique hotel style by reserving your en-suite bathroom area for the practical stuff – add a space saving quadrant shower enclosure, medium sized vanity unit, wall hung WC and some bathroom cabinets – and situating a large, freestanding bathtub in the bedroom.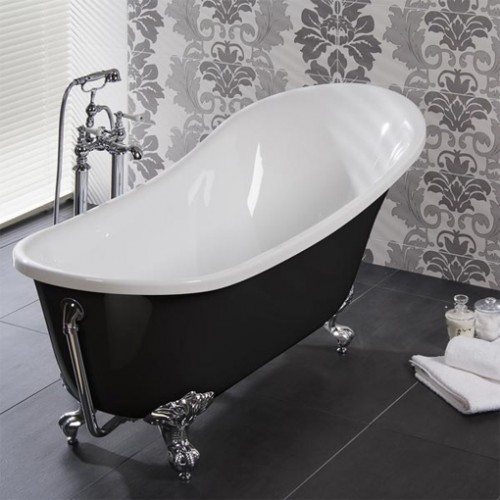 This look oozes luxury, and allows you to separate pampering from practicality.
Thanks Helen, for your ideas. And I'm positively drooling over that tub!