I cam across this absolutely amazing Verde Turkey Enchilada recipe at the Chi Wulff blog (they refer to this recipe as "Not 'Yo Mamma's Creamy Green Turkey Enchiladas." Love that!
So of course, I had to try it. Because…if I can make it, so can YOU! I made this with leftover Thanksgiving turkey, and it seriously elevated me to hero status here at home!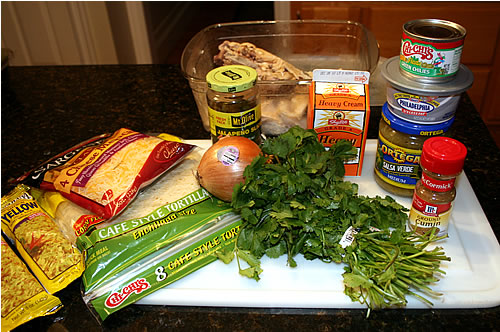 Ingredients:
For the verde sauce
2 – 7 ounce cans salsa verde (your favorite)
1 – 4 ounce can chopped green chiles
1 – 4 ounce can chopped jalapenos
2/3 cup cilantro leaves (a few stems are ok)
2/3 cup heavy cream
1 tsp cumin
For the filling
2 cups shredded roast turkey (best with some dark meat included) – note: bet it would be good w/grilled chicken too!
3 green onions, white and green parts, thin sliced
3 heaping tbs. room temp. cream cheese
2 cups shredded Monterey Jack cheese, divided
Other
8-10 corn tortillas (use used flour tortillas, worked just fine!)
Canola oil
Directions:
Preheat the oven to 350.
Verde Sauce – blend all six of the sauce ingredients in a food processor until smooth.
Filling – stir together the turkey, green onions, cream cheese and 1 cup of the Monterey Jack in a bowl, mix well.
Heat a bit of oil in a small skillet over medium heat, soften the tortillas in the oil for 5-10 seconds per side, place on a paper towel to drain.  (note: we skipped this part since we used flour tortillas)
Place roughly 1/2 cup of the filling in the middle of the tortilla and roll the tortilla snugly around it.  Place seam side in a oblong baking dish. Repeat to fill the dish….
Pour the verde sauce over the enchiladas in the baking dish and sprinkle with the remaining cheese.
Bake for 20-25 minutes until bubbly and hot.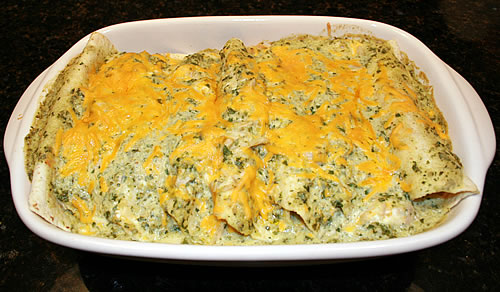 Next I need to learn how to make guacamole, like they do table-side at my favorite Mexican restaurant. If it's as good as the Verde Turkey Enchiladas are, I'm bound to earn some table-side tips!
Anyone have a favorite recipe I can try?