Welcome guest writer Taylor Roberts! I love her ideas for creative, personalized backsplashes for kitchens. I love anything that is both unique and functional. I can also imagine many ways to incorporate upcycling into your backsplash from her ideas. Thanks Taylor!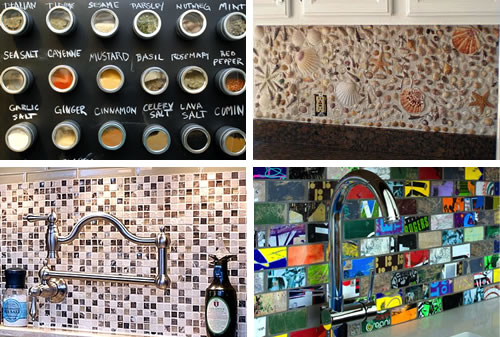 Kitchen backsplashes provide an easy-to-clean surface and prevent staining on your painted walls or wall paper. While they might be a necessary part of your kitchen, that doesn't mean they need to be boring. Personalizing your backsplash is the perfect opportunity to add color, style and true personalization to your kitchen.
Consider any of the following options to create a unique backsplash that reflects you and your family.
Chalkboard backsplashes
Applying chalkboard paint as a backsplash is not only a fun and unique option, it's also inexpensive and simple. In just an afternoon's time, you can transform your bare wall into a fun and functional surface for writing lists, notes, and reminders. Most chalkboard paints are magnetic which gives you even more space to personalize the area with children's artwork, photos, and keepsakes, while preventing your refrigerator from becoming too cluttered. If you really want to get creative, glue magnets onto your favorite spice jars for an easily accessible, show-stopping spice rack.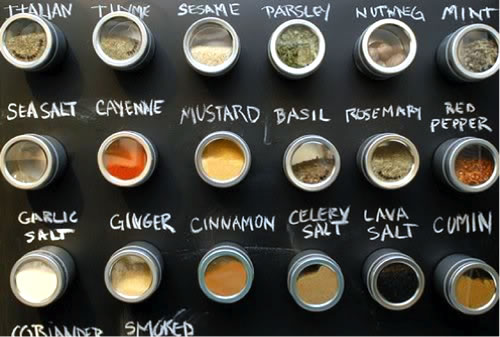 Spicy backsplash image courtesy of Home Stories A to Z
Creative tiles
Why limit your children's artwork to hanging on the refrigerator and walls when you could actually incorporate them into the wall? As a fun and creative activity, ask your children to paint and decorate tiles. You can then incorporate their artwork into your backsplash. This will create not only a functional surface, but a look that is uniquely yours and a sentimental work of art.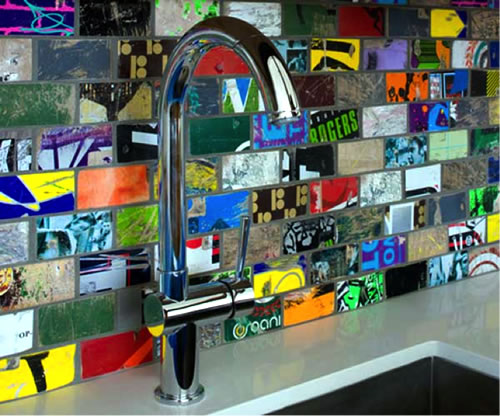 Colorful backsplash photo courtesy of Built by Kids
A twist on a traditional
Tile backsplash like this one below is eye-catching and functional. The pot filler extends from the tiled backsplash making cooking pasta easier than ever. And the built-in shelf can store salt, pepper, olive oil, and any other container you reach for every time you cook.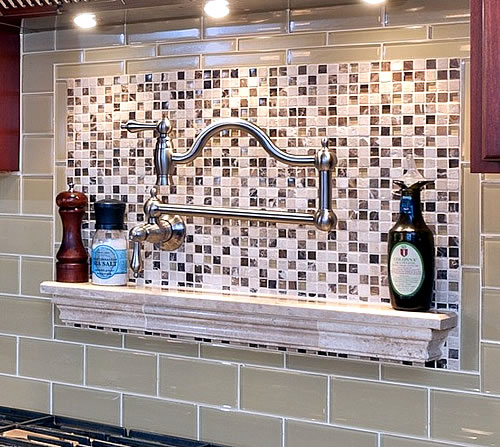 Custom kitchen backsplash by Case Remodeling of Charlotte
Textured backsplashes
Textured backsplashes are a sure way to add personality, interest, and drama to your kitchen. There is a never-ending assortment of materials available when creating a backsplash, but who says you need to stick to basic materials? Adding bold, interesting, and meaningful elements into your backsplash is the perfect way to personalize the space and to keep the look of your kitchen from falling flat. If you prefer more of an understated look, adding a focal-point inset, such as seashells from a family vacation, is a great way to downplay this look while maintaining a unique and interesting backsplash.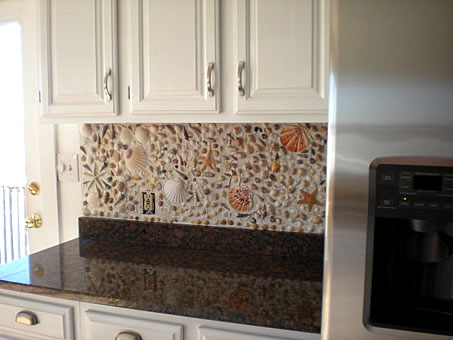 Seashell backsplash courtesy of SeaMaiden51
When it comes to selecting materials for your own backsplash, let your imagination guide you. Using materials that are meaningful to you and fit your style is the best way to ensure a personalized backsplash that reflects you and your family. Whether you are looking to add a dash of drama to a boring kitchen or to showcase family mementos, remember to keep it functional and keep it you.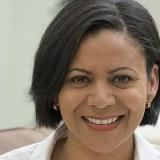 Taylor Roberts is a freelance writer. Follow her on Facebook.