I LOVE shrimp! And although it's nothing new as an appetizer, there is more than one way to serve it. It can be a party appetizer, a bit of bling for a sit down dinner, or even a warm main dish for the family.
Here are two EASY alternatives to basic shrimp cocktail, and two sauces to try. Feel free to mix and match to your liking! 😉
First, here's a very simple recipe from Ina Garten (Barefoot Contessa)
Roasted Shrimp Cocktail
Ingredients:
2 pounds shrimp (peeled and deveined – leave the tails) – note: go for fresh if you can get it. But frozen is a great option too – just be sure to get the Easy Peel kind rather than the already peeled – the shell protects the shrimp during the freezing process.
Olive Oil
Salt and Pepper to taste
Instructions:
Spread shrimp on a sheet pan w/the oil and salt/pepper in a single layer.
Bake at 400 degrees for 8 to 10 minutes (until pink, firm, and cooked through)
Garlic Shrimp
My wonderfully talented neighbor shared this recipe with me – it's delish!
Peel 2 pounds of raw, easy peel shrimp, then mix the following together in a ziplock bag with the shrimp – marinate for 1 to 4 hours in the fridge:
1/4 cup soy sauce
1/4 cup lime juice
2 TBSP olive oil
4 chopped cloves of garlic
3 TBSP fresh parsley
2 tsp crushed red pepper (some like it hot!)
To cook, just skewer the shrimps and grill them about 3 minutes each side. Or, you can saute them on the stove if the weather is not grill-friendly. 😉
Cocktail Sauce
This one is a classic Cocktail Sauce from Ina Garten:
1/2 cup chili sauce
1/2 cup ketchup
3 tablespoons prepared horseradish (this has a kick, so use to taste)
2 tsp lemon juice (feel free to squeeze fresh for extra credit)
1/2 tsp Worcestershire sauce (that's hard to spell)
1/4 tsp Tabasco sauce (temper according to taste!)
Don't like Cocktail Sauce? How about an alternative such as aoli sauce?
Aoli Sauce
Here's an easy Aoli Sauce my neighbor shared with me:
1 cup Mayonnaise
1 tsp garlic powder
1/2 tsp paprika
1 tsp Lime juice
1 tsp parsley
Red pepper to taste
Serving Tips
Ok, now that you have a shrimp dish and some sauce, it's time to put it together!
Party Appetizer:
Having a party? Serve it chilled. It's a great make-ahead appetizer that has a little twist on the traditional. Oh, and don't forget to garnish it with lemon slices and fresh parsley, or lime and cilantro!
Note: if it's going to be sitting out for awhile, be sure to add ice to your serving platter. To avoid mushy shrimp, nest the bowl of shrimp inside a larger bowl or platter of ice.
Appetizer for a sit-down dinner: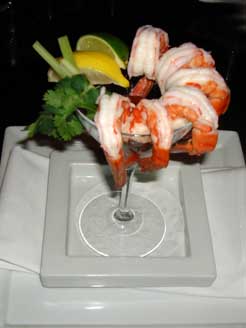 Have a little fun with martini glasses. Add a slice of lime and/or lemon on the edge of the glass and your dipping sauce of choice inside.
Don't forget a little greenery – parsley or cilantro would do the trick. Simple, yet lovely!
Main Dish:
Need a quick meal for the family? There are several ways for shrimp to take center stage as a warm main dish. Simply serve it over pasta or fresh garden greens.
Here's the Roasted Shrimp I served as a main dish (sides: rice and a nice salad)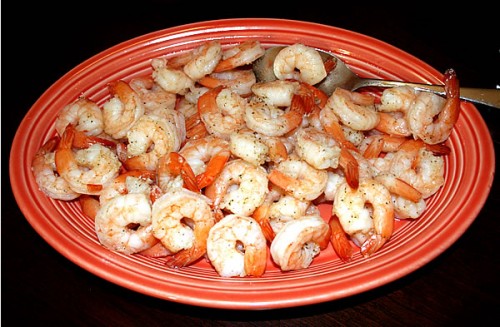 And here's the Garlic Shrimp I served warm over angel hair pasta (I sautéed the shrimp…it was raining).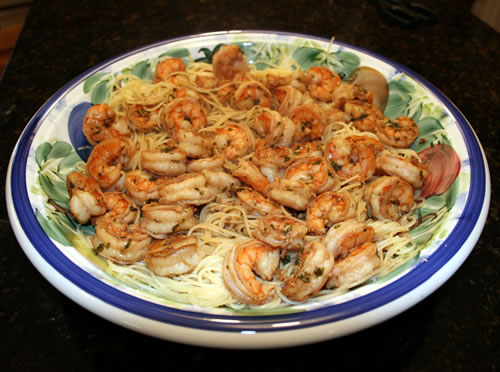 Best part is that I'll enjoy the leftovers chilled with a little Aoli tomorrow night!
What's your favorite way to serve shrimp? Any other recipes you'd like to share?