We've been renovating our you-know-what's off for almost four months now. But we couldn't rest until the guest room was ready for my Mother-in-Law (who is coming in two weeks!). Her sister is joining her, so we'll have twice the fun!
Here's what we had to work with…the room was pink with brown carpeting, and two country-style heart shelves super-glued to the wall.
We replace the carpeting, pried those stubborn shelves off the wall, and then (after some wall repair) painted the walls a pale blue (Benjamin Moore "In Your Eyes"). Then we added simple white panel curtains on a black rod with drapery rings for a crisp finish.
Because I didn't have any budget for furnishings or décor, I shopped at home. I went about rummaging through the linen closet, basement and garage.  We needed two beds, so we pulled the trundle mattress out from under the first bed and transformed it to a bed in its own right (we had a box spring and bed frame in the garage).
Now I know the beds don't match, so we went with the intentional mismatch approach. We mixed and matched the bedding between the beds and gave each bed a similar yet different look. Down the road I may opt for two matching headboards, but I'm ok w/a little mismatch for now. Sort of charming, isn't it?
We found old night table (painted pale green with a new glass knob), a vintage dresser (which I'm not allowed to paint), and a green chair that my grandmother embroidered.
We dressed the night table up with practical things, such as a tissue box, bottled waters and a basket of forgettables (toothpaste, sewing kit, lotion, etc.). We added paper and pens in the drawer.
It's tempting to fill up horizontal spaces with trinkets and décor, but remember to leave room for your guest's belongings!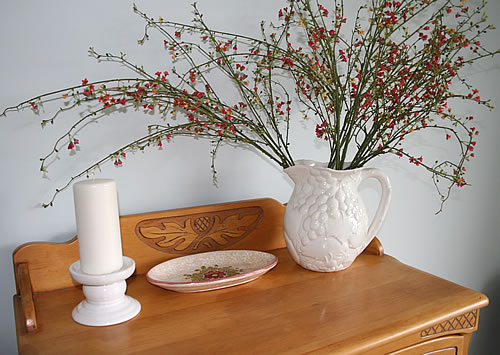 By adding a lovely Italian plate my Mom brought me from a previous vacation, it adds a touch of décor, as well as a handy place for guests to put jewelry, watches, etc.
A guest room must have a mirror and a place to hang purses, tote bags, jammies, towels, etc. I also made sure that half the closet was cleaned out for hanging items.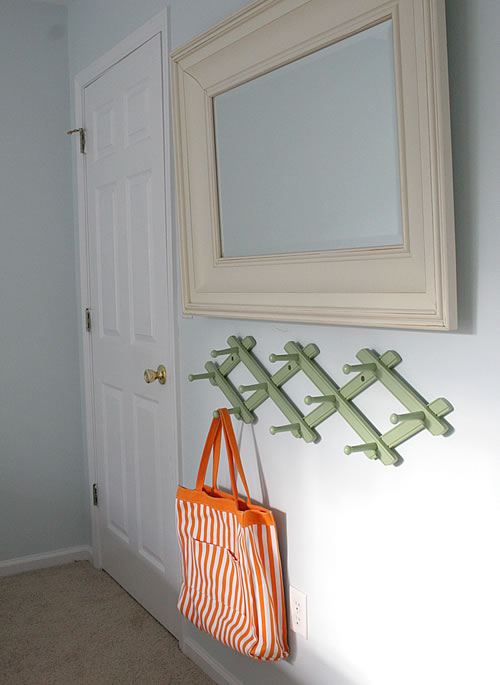 One more "before & after" – just for fun!
So how much did this use-what-you-have decorating project cost? Under $800 (and most of that was the carpeting).
Carpeting: $600
Paint: $40
Window Treatments: $150
So come on friends and family…we'll leave a light on for you! 😉