Today's guest post hits close to home for me as we're in the process of refinishing our basement after flood damage from Hurricane Irene.  Little tip here: spring for the battery back up for your sump pump!
If you are looking to add square footage to your home, the easiest and most affordable way to do it is to finish your basement. There are some tips that can help you do it yourself to save the money you would otherwise spend to hire a contractor.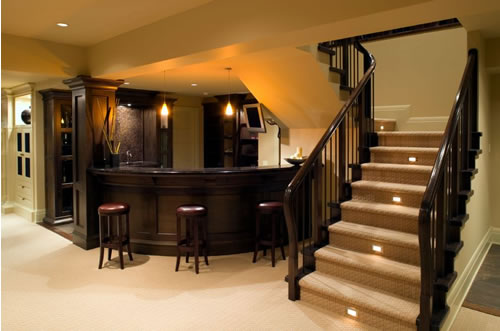 1. Start with a Plan
Look at your existing basement space. Decide how much of the basement you plan to finish. Some homeowners finish the whole basement while others only finish half and leave the rest unfinished for storage. Decide how you want your rooms placed. The easiest way to finish your basement is to create one open room. This works well if you are just looking to create a kids' play area or a family room.
If you need multiple rooms, you can use sidewalk chalk to draw out where you want the walls placed. The sidewalk chalk works well on the concrete floor, and you can use it as your guide when you start building walls. Think carefully and decide where to place each room. Think specifically about the placement of the bathroom, bedrooms, home office, or family room you want to build.
2. Build Your Walls
After you decide where you want your walls, build your walls, and put in needed doorways. You may need to run wires if you will be adding lighting or electrical outlets in the space. Then, you can put up your drywall or panelling. If you choose to use drywall, you will need to finish it before you can paint or put up wall paper. Panelling is a little more expensive than drywall, but it is ready to paint as soon as you put it up. You can also install your new doors.
3. Flooring
You will need to decide on the type of flooring you want to use. If you build a bathroom in the basement, you can install laminate flooring or tile. You can do it yourself either way. Laminate flooring will be cheaper, but a good tile job can last a long time. If you decide to tile, make sure you buy the right tools, and it will be pretty easy to put down the mortar, lay the tiles, and then grout the area. You can easily put in carpet, hardwood floors, or laminate flooring in the other rooms of your basement.
4. Adding Closet Space
Most houses need more storage space. It can be a good idea to go ahead and build some closets in the finished space. You will probably find that as you start to use the space, you will need more places to put things.
Building closets is very simple. Start by looking at your design plan to see where they could fit. Keep in mind that you may need to build closets to give you easy access to existing plumbing or electrical work in case of a problem later.
Start with a good plan to make finishing a basement easy. It can be as easy as building a few walls and installing new flooring.
Thanks Muzammil for this helpful info! He represents the site chcbuild.co.uk building loft conversions in West London.