Entertaining outdoors?  Party on into the night with clever outdoor lighting!  You've got lots to chose from…candles, torches, solar, lanterns, outdoor fireplace, and more!  Here are a couple quick (and easy) ideas using planters.
For a splash of ambiance, add up-lighting to the base of potted plants on your deck.  It creates a warm glow and really sets a dramatic stage for entertaining.  Use solar powered spot lights to keep it easy.  Here's an unexpected idea: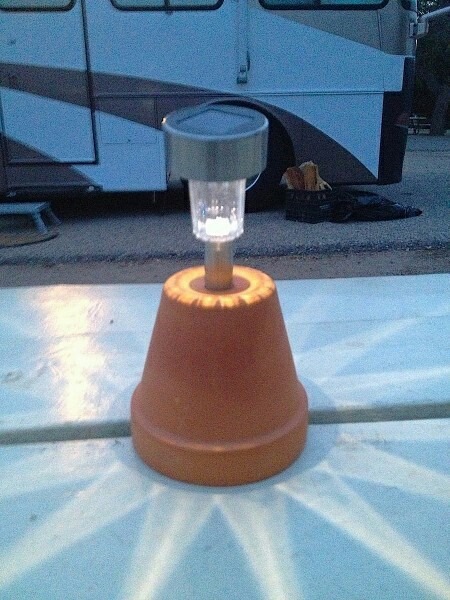 Don't have any presentable plants to light up?  How about "planting" decorative torch lighting in the pots, and placing small pots of flowers around the base.  Picture a tiki torch in a meadow of flowers!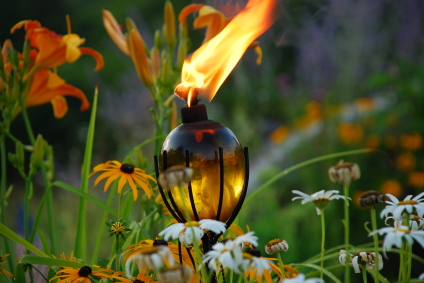 Still too much work?  How about a row of pots with potting soil or rocks in them, and plant solar lights along the edge of your deck or walkway?
Ok, here's a super easy lighting solution…just plop some candles in terracotta pots (I recently did this and am still lovin' it).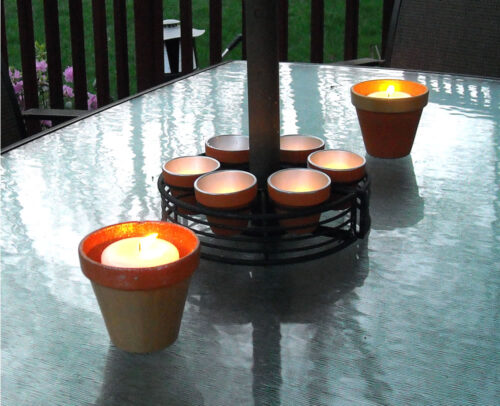 Of course the BEST party time nightlight has to be an illuminated pool!  And let's not forget the customary evening mood enhancer…hang white Christmas lights in select trees year round.
So when is your next outdoor entertaining event?  Tell me about how you're planning it!  I'm always looking for new ideas!