I don't live near my family, so we mail our gifts to each other.  This year, I got a huge surprise when opening the box from my parents.  The cling-on Nisse characters I played with at Christmas time as a little girl.  I'm half Danish – my Dad's parents were immigrants from Denmark.
Growing up we keep some Danish traditions alive in our Christmas – Danish pancakes, marzipan pig, opening presents Christmas eve (we really liked that) and the Nisse.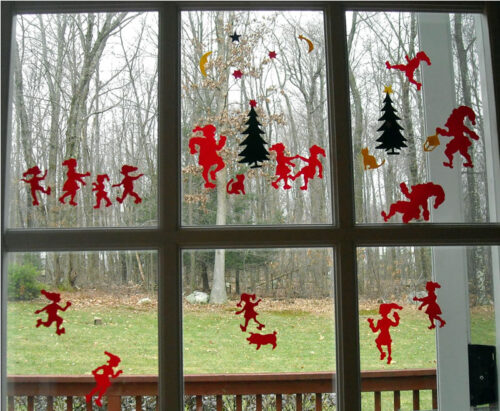 So who is Nisse? He is a small Danish mythical creature that you definitely want to stay best friends with, since (supposedly) he is able to control your fortune. Since Christmas is a family time, the Nisse also has a family.
My brother and sister and I played with these every year, MANY years ago (I won't say how long, but let's just say they don't cling to the windows as well as they used to!).  But it sure took me way back when I saw them!  Now my kids are playing with them.
Thanks Mom & Dad!