Over the past many years, I've talked (a lot) about a wide variety of topics relating to homes, from decorating functional laundry rooms to how to carve a disco pumpkin with power tools. All with the focus of making your home, well…better.
This year I'm adding a new focus to what I write about. Something has been brewing inside me for a while. I've not yet decided what to call it, but it includes aspects of minimalism, simplicity, and mindfulness. "Minplicfullness?" Ok, I'll keep working on that…
The Trigger
I think it all started on Mother's Day last year – when my daughter gave me the cheeky book "The life-changing magic of not giving a F*Ck: how to stop spending time you don't have with people you don't like doing things you don't want to do."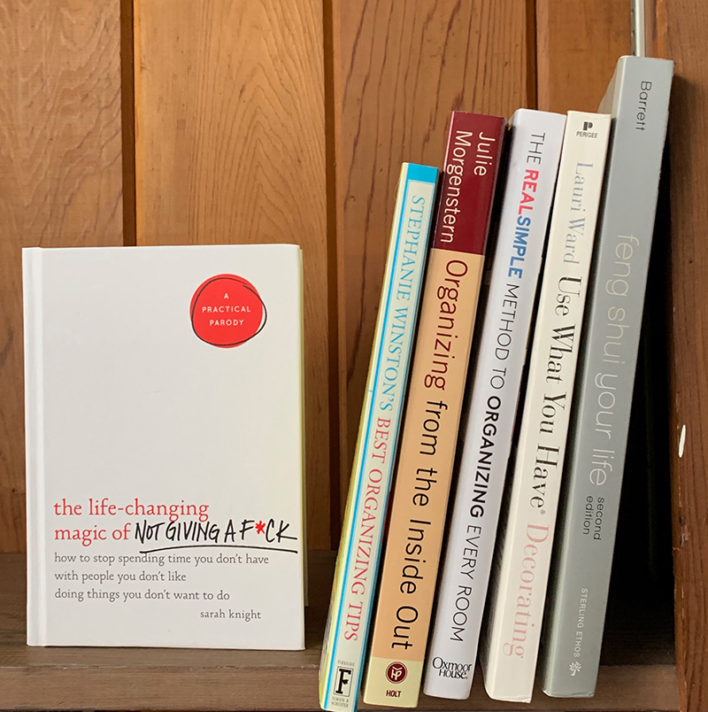 I thought it would just be a fun little read. But the more I read it, the more it boiled down to one hard-hitting truth. We only have so much time and energy to give in this life/week/day/moment – so removing things that aren't important to us gives us time and energy to focus on what really matters. A concept that fit right in with my organizing and feng shui books.
What does this have to do with my home?
A big part, I think. The daily care and feeding of a home are very time-consuming efforts. If I can spend less time dusting, looking for misplaced items and figuring out what's for dinner, just think how much extra time I'd discover! It's time to let my house start serving me instead of the other way around!
It's time to live life! In fact, I have those words framed to remind me everytime I walk down the steps to the kitchen.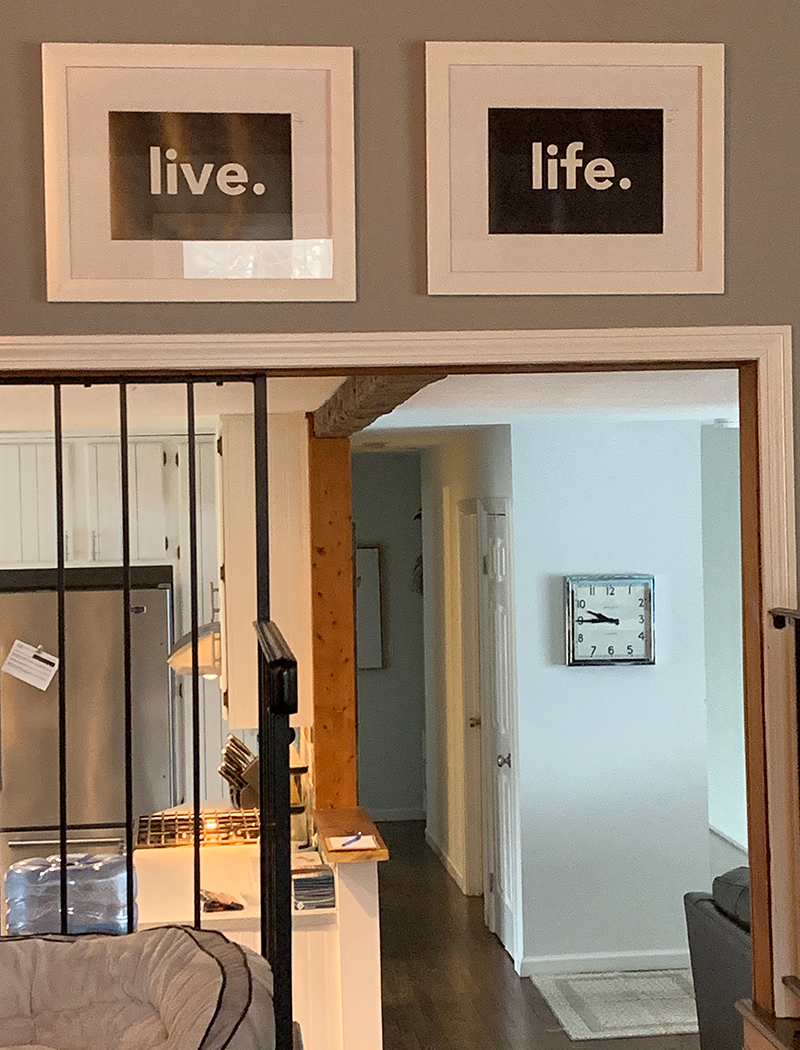 Living more simply at home doesn't mean living in a spartan, boring box. There's plenty of room for the things that make you happy. It gives you the freedom to create a space you can actually pull energy from, rather than your home sucking all the energy out of you with unnecessary clutter, distractions, and expense.
It's not being swayed by current trends just because they're popular. Find out what makes you tick and create a home that feeds your soul!
Nice concept, but seriously, how do I actually do this?
Now I'm not proposing to sell all my belongings, move into a tiny home off the grid and grow my own food. I've got two kids, three dogs and a full-time job. I'm talking about how to be more mindful in how I spend time and money as it relates to my home.
It's a broad topic, but one that will be fun to explore together. For example, how I organize my closet to minimize the time it takes to get out the door in the morning. How spending less on impulsive décor takes away from the vacation budget. How storage solutions aren't necessary if I don't have too much stuff in the first place.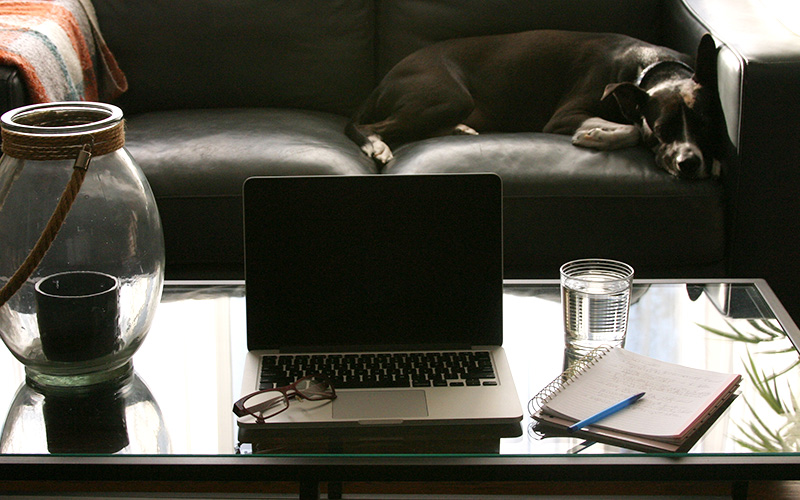 Let's start with one thing at a time – as you go through your home, room-by-room, you'll gain momentum and spur ideas on how to make your home work for you!
So, what's next?
This year I have more room renovations from my As-Is project house to share with you, as well as organizing ideas for real-world clutter problems, easy recipes (trending more vegetarian), and functional décor solutions to problems we all seem to have. If you haven't already signed up for YHOB emails, please join me!
Life is busy. Let's work together to make sure we're busy doing the things most important to us. We can start with making our homes a little better, and little simpler. What you do with the extra time and energy you discover is up to you! It's about simply living well.
Happy New Year!