It's not the complexity of the seasonal decor, it's about finding the right balance between time and budget. Sometimes, less is more. Sprinkle a little fall decor around your home for a big festive impact!
Keeping it simple also helps transition from fall decor to Christmas bling. There is not much wiggle room for switching gears once the turkey has been sliced.
Here are a few little ways I added fall decor in my home this year.
1. Fall Bookcase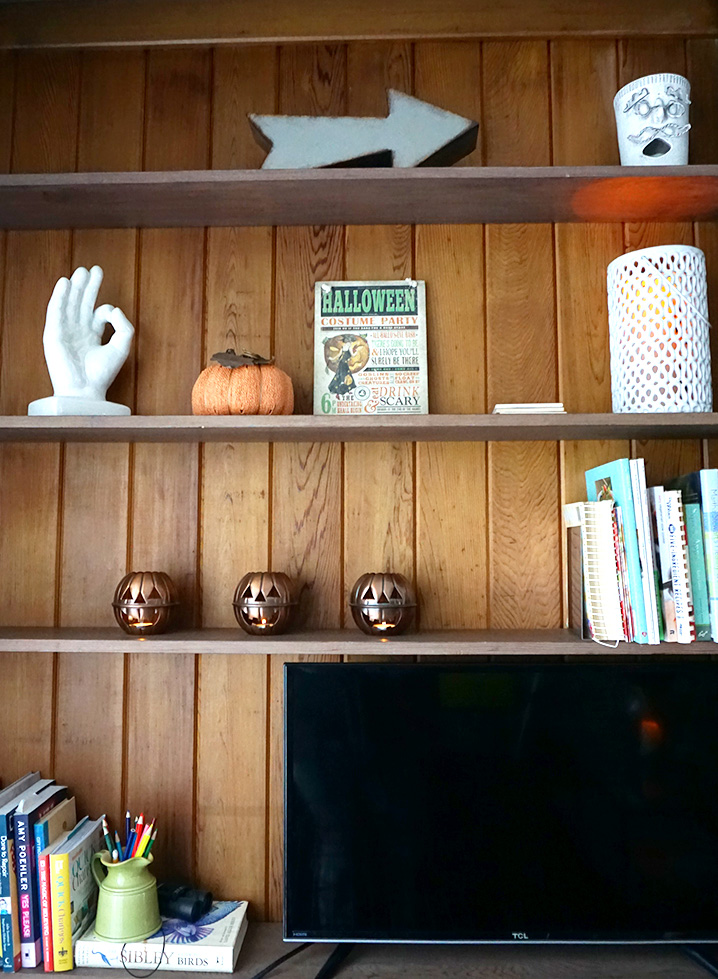 I peppered my bookcase with jack-o-lanterns and a little Halloween art. I traded out other non-seasonal candles for these copper cuties. Less is more here.
2. Halloween Hearth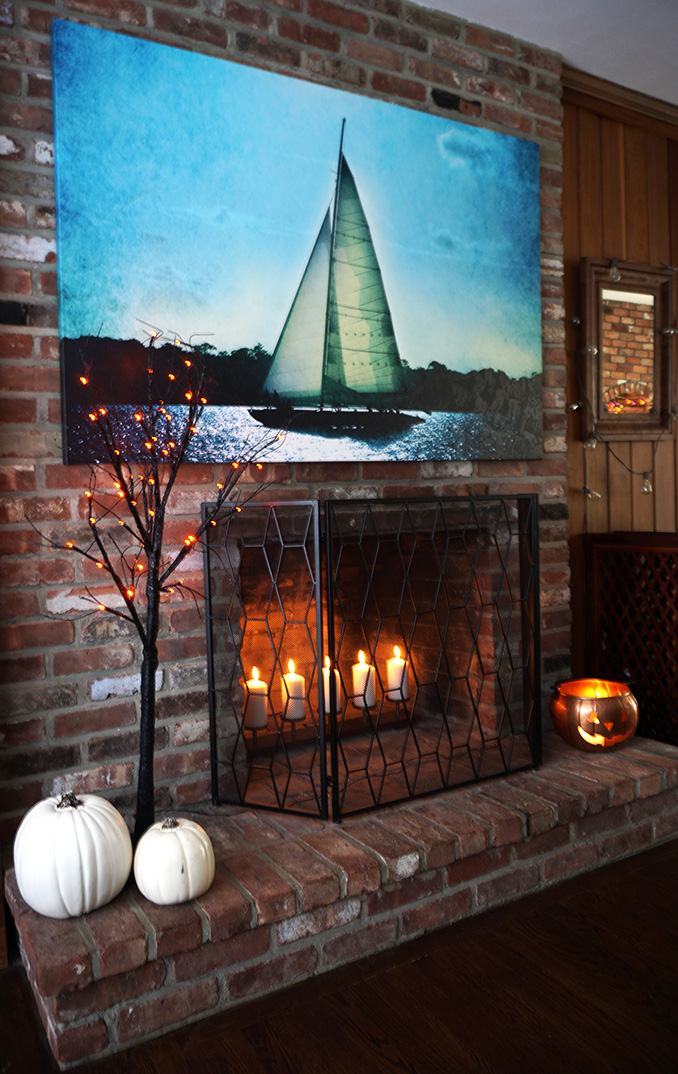 I found the black tree with orange lights at Homegoods a few years ago. The white pumpkins and glowing copper jack-o-lantern balance it out the simple display. Candles-as-fire in the fireplace makes for easy cleanup.
3. Spooky Vase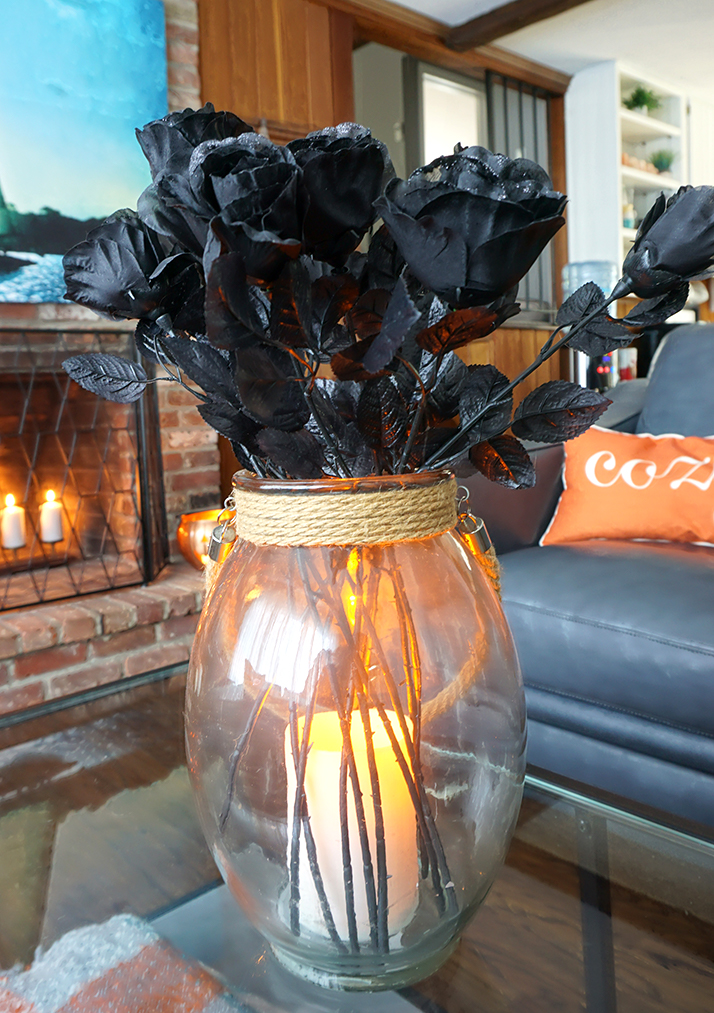 Who wouldn't like a dozen roses? Even if they're black  and plastic! I picked up this reusable noir bouquet and candle from Target a couple years ago. The flameless candle (with a remote) gives it a nice glow.
4. Seasonal String Lights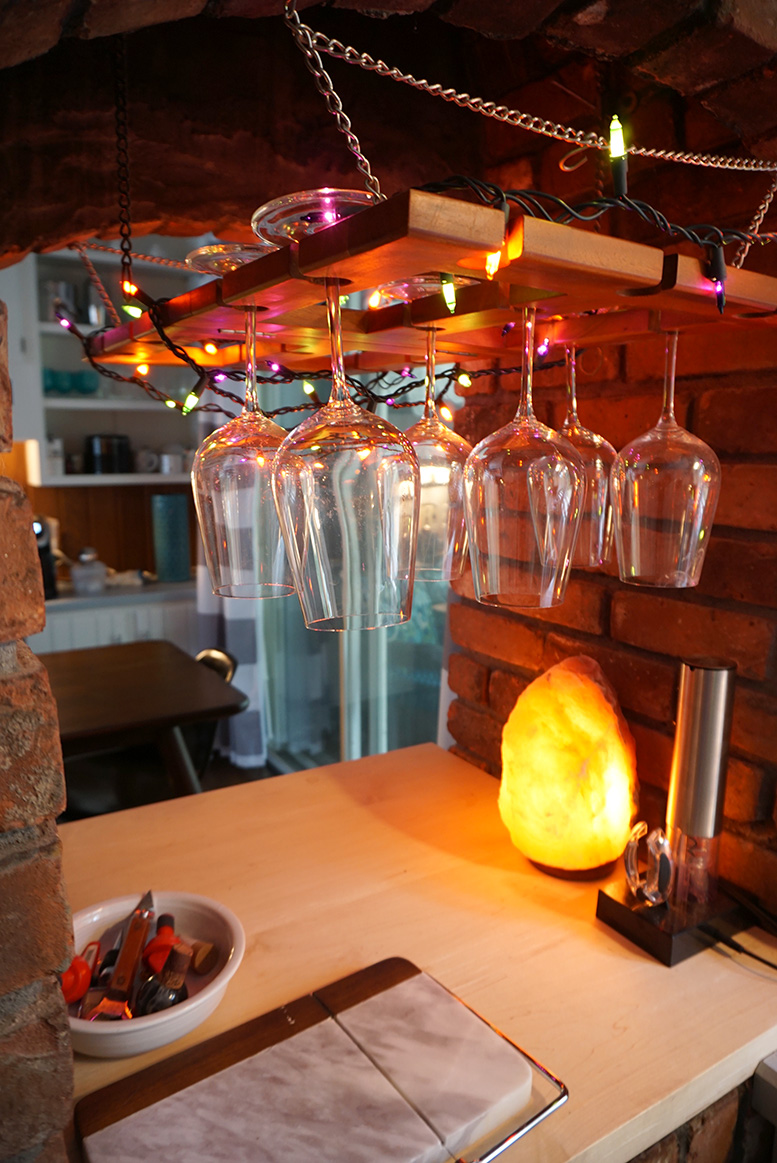 I actually picked up these orange, purpose and green string lights from Walgreens. I decided to string them along the wine glass holder in my wine bar.
5. Warm Up Media Center
Adding fairy lights and a wreath to the empty frame hung on the brick added a little light and color. Throws, candles and a jack-o-lantern finish it off. Now I'm ready to watch Charlie Brown's Great Pumpkin!
6. Nod to Fall Vignette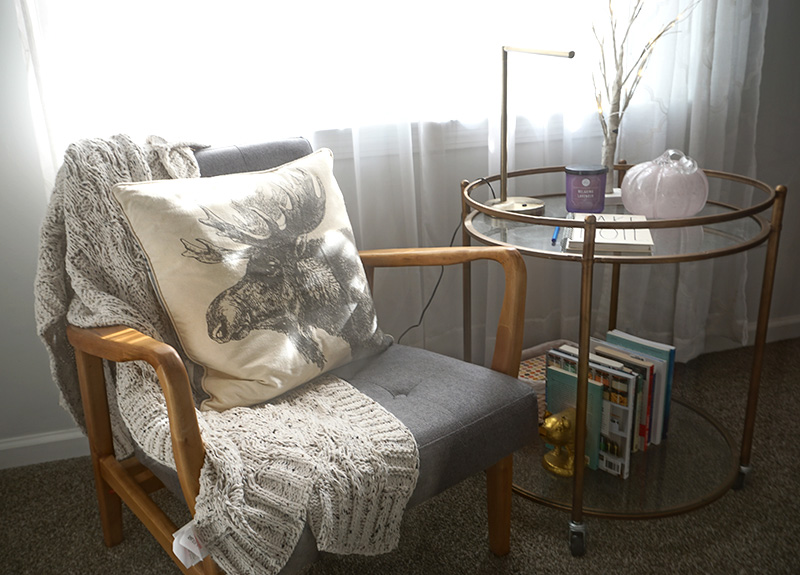 Sometimes traditional orange just won't work. The soothing hues give a subtle nod to the reading corner.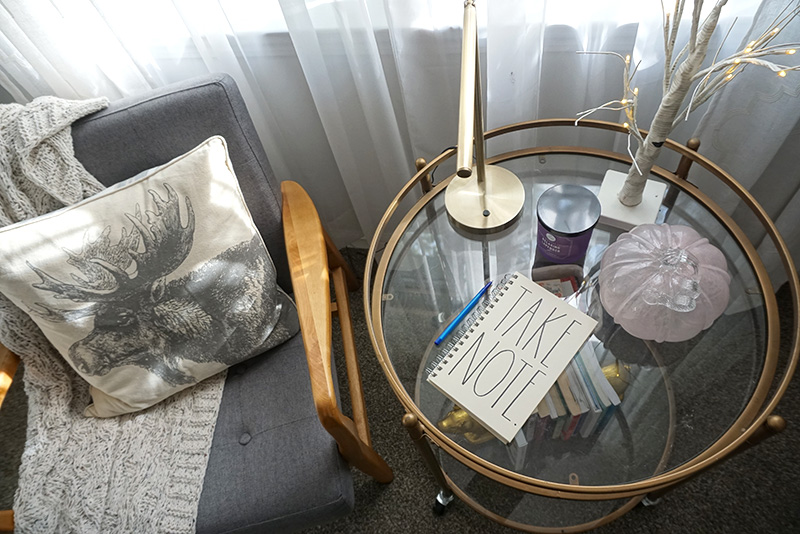 A frosted pink pumpkin, cozy throw and a traditional moose pillow changes the mood in keeping with the room's vibe.
7. Front porch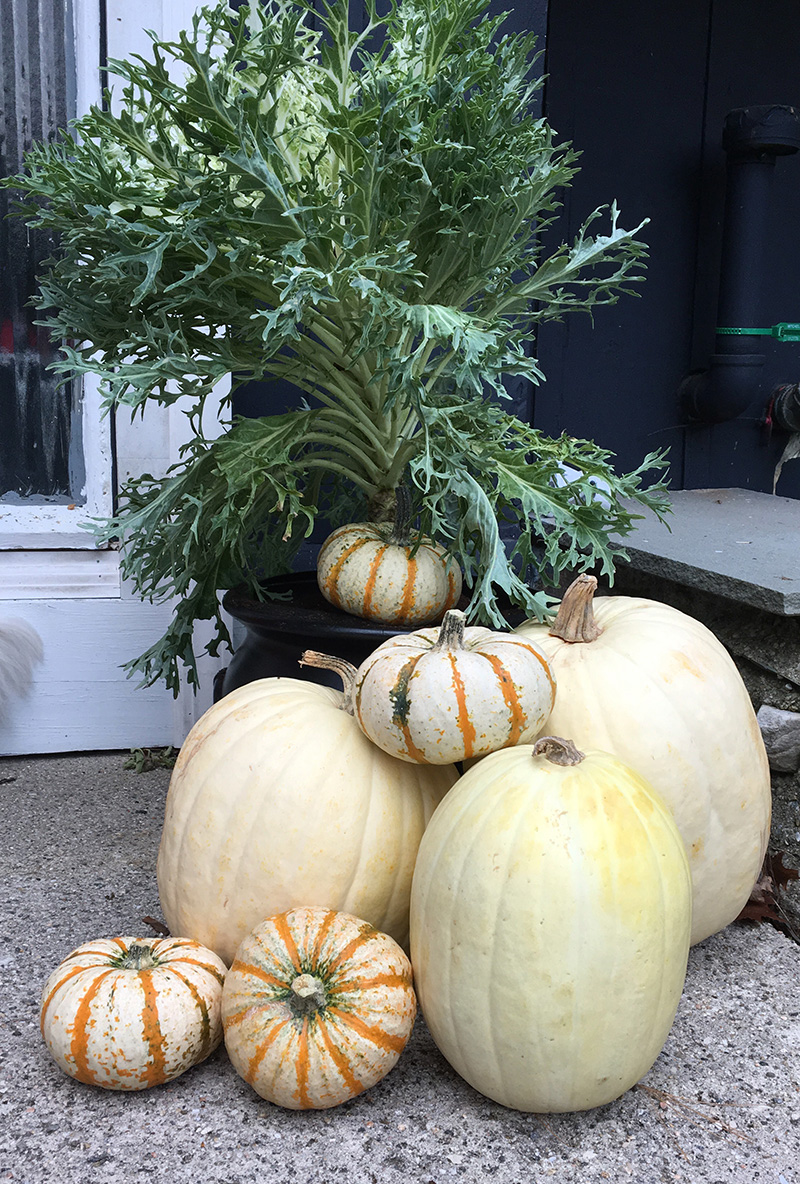 I didn't want to go with traditional pumpkins and mums for the entryway. So I switched it up just a bit with Flowering Kale and white pumpkins.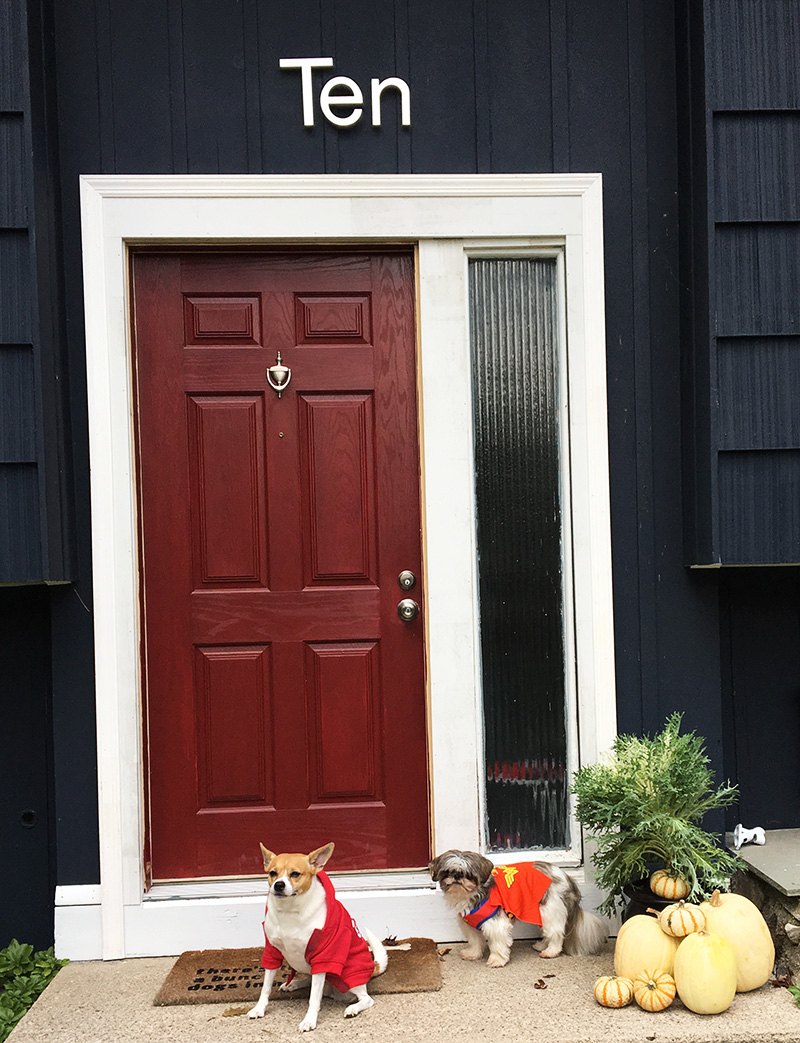 Have you ever tried to get three dogs to pose for the camera wearing Halloween costumes? Trust me, it's not easy. So here are two dogs instead.
With Halloween and Thanksgiving decor in the bag, I can now start dreaming of vision of sugarplums and everything Christmas! (Wait, too soon?)
How do you balance time and budget when decorating for holidays?